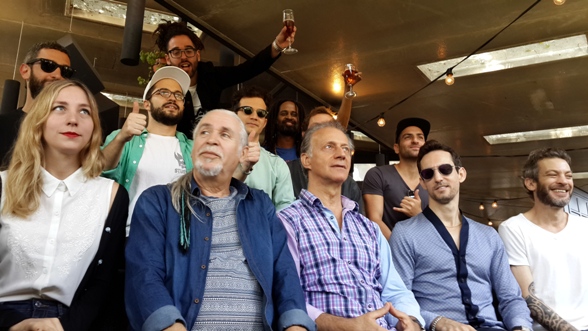 5 solid weekends of music (and one night of contemporary dance!) – that's the American Express Live Experience 2016! Irit Battat, VP Marketing and Business Development at American Express and Guy Beser of BlueStone Productions, made the announcement at a press meeting this morning in the delicious ambiance of the Vicky Cristina in Tel Aviv, attended by a lively cohort of musical talents. The concerts will take place at the Raanana Amphi Park, from June 23, 2016 – July 28, 2016.
Here's the full schedule:
Saturday, June 23rd
Muki's Block Party – hip hop rules with an incredible lineup of musicians: Tuna, Nechi Nech, Kafe Shahor Hazak, Cohen@Mushon, Static & Ben El Tavori, Axum, E-Z , Peled, and more… They'll be performing originals as well as covers of international faves, a night of exciting onstage collaborations and mashups!
Saturday, June 25th
Mashina  & T-Slam – Israeli rock history, alive and kicking onstage. The ever-popular Mashina in an expanded ensemble with vocalist Rudy Bainsay, Galia Hay on viola and Omer (Jo) Naveh on guitar and percussion, as well as a brass section will be joined by T-Slam. Founded in 1980 by Izhar Ashdot, Danny Bassan, and Yair Nitzani, this band really changed the sound of Israeli rock!
Thursday, June 30th
The amazing, talented dancers of the Batsheva Ensemble with a cohort of select guest dancers will perform Ohad Naharin's Super Decadance in an open air performance! The exciting choreographic mash-up covers 25 years of Naharin's unique choreography.
Saturday, July 2nd
Ivri Lider  and Jane Bordeaux – Ivri Lider, one of the most popular Israeli singers (and incidentally, composed the music for Ohad Naharin's Kaamos and Z/NA), will perform his successful show "This Love is Ours," combining favorite hits from his repertoire with large scale video and lights. Bringing an indie-folk feel to this evening will be the trio Jane Bordeaux.
Thursday, July 7th
From Here to Balkan – Mosh Ben Ari, the talented multi-instrumentalist (acoustic and classical guitar, Indian sarod, Persian tar, Turkish jumbush, Moroccan ginberi & bass) will be wearing two hats this evening – as artistic director and performer. He'll be hosting Goran Bregović, the internationally known Balkan musician and composer (he's composed the score for three of Emir Kusturica's films: Time of the Gypsies, Arizona Dream, and Underground), who is arriving in Israel to participate in this concert. Ben Ari will be performing as well, along with some more guests… to be announced!
Thursday, July 14th
Shalom Hanoch, Asaf Avidan, Shlomi Shaban – this is an exceptional evening, a meeting of different Israeli musical worlds – from the 'classic' Israeli rock of Shalom Hanoch, to the extroverted introspection of Asaf Avidan, and the original piano stylings of Shlomi Shaban.
Saturday, July 17th
Revolution – the joint performance of Moshe Peretz  and Omer Adam will feature a range of musical styles – Mizrahi (Middle Eastern), pop, ethnic, Irish and World Music.
Thursday, July 28th
Matti Caspi with the Raanana Symphonette Orchestra and some very special guests: Yasmin Levy,  Suyan Caspi, Shlomo Gronich and Shimon Buscila. Matti Caspi is one of the best contemporary songwriters, with a very individual sound – this should be an incredible evening!
Ticket prices range from 124 NIS to 464 NIS, the price varies according to type of performance and seating. American Express card holders will enjoy many benefits: a 25% discount on any ticket at all prices ranges, 1 + 1 on drinks at the shows, and a surprise goody bag that will be handed out at the show. Full details on card holder benefits on the American Express site. Best benefit of all – the opportunity to order tickets ahead of the crowd. Tickets go on sale April 4th at 18:00 for American Express card holders, April 8th at 8:00 am for the general public. Tickets may be purchased online via this link, or call: *9964.