What does it feel like to be a teenager in Jerusalem? How does it feel when a friend from school sets out to celebrate the freedom to love and is brutally murdered? What does it feel like to inherit a legacy of conflict, to be born into a never-ending war? How does it feel to be told that things are going to get better, that someday there will be peace, understanding, tolerance, justice, equality – and waiting, waiting, waiting, for those promises to be fulfilled?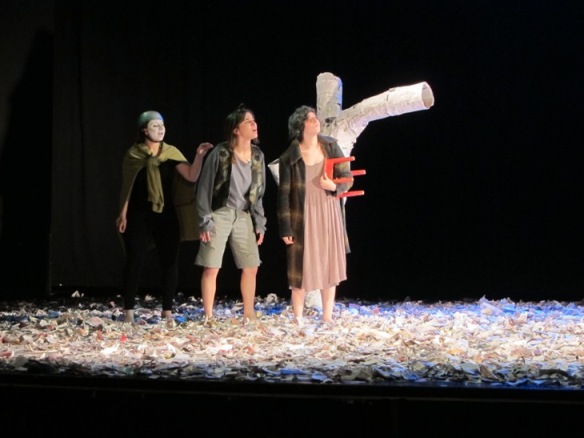 Considering the circumstances of their lives, it is not too surprising that a group of high school seniors at the Hebrew University Secondary School feel a strong connection to Samuel Beckett's Waiting for Godot. It is astonishing to see the serious intention, intelligence, feeling, and talents that they bring to a deep reading of this play. Lehakot (To Wait) is an original play in Hebrew, inspired by Beckett's Waiting for Godot. In this play, Didi and Gogo wait under the big tree in the cemetery for Godot, while they wait, they encounter people from all walks of life who have come to bury, mourn, and find closure with the dead. They grapple with the questions that trouble us all: is there meaning to our lives? how does one go on living a life so full of pain? is it enough just to go on, is there meaning to a life that consists only of waiting and routine? where do we find solace? how can we find meaning?
Lehakot tackles these questions with humor, honesty, intelligence, sensitivity, song, and excellent performances. The entire show – text, dramaturgy, set, costumes, music, movement, sound, and acting – is by the students, under the guidance of Hadas Har-Lavan. The themes explored in this play – war, rape, murder, suicide – are perhaps not what one would expect from high school students. After all, they're still kids. They're spending hours chatting with friends on every digital media in sight, listening to music, dreaming of romance, reading, dancing, watching movies, perhaps even thinking about 'what I want to be when I grow up.' Yes, they're doing all that, but they are also living in the midst of so much more.
These high school students lost a former schoolmate, Amit Yeori, First Staff Sergeant in the Israeli Defense Forces Engineering Corps who was killed in combat during Operation Protective Edge, and last summer, another schoolmate,  16 year old Shira Banky, was stabbed to death when she participated in the Jerusalem Gay Pride March on July 15, 2015. These teenagers are using all their heart and mind to make some sense of it all, to find healing and inspiration through art; and in that act of creativity and compassion, there is hope.  Lehakot is as moving as it is entertaining, its words and images linger long after the curtain closes.
Ehud Lussin, a high school senior, wrote, directed and did the sound for Lehakot, the production team is (in alphabetical order): Tamar Alterman (production manager, messenger, Jormé, grieving mother, commenter); Denise Anteby (dramaturgy, Didi); Shahar Dror-Tabak (set design, Jormel, friend B, just a woman, Shauli); Ella Kacowicz (movement, Gogo); Sivan Pinhasi (costume design, Jormi, friend A, commenter, chorus); Itay Varshavsky (keyboard); Chorus: Eyal Goldberg, Shimon Chodorovsky, Dana Levin, Gilad London, Tamar Porges.
Following successful performances at the Hebrew University Secondary School, and the National Youth Theatre Festival in Bat Yam, Lehakot will hold one final performance at the Gerard Behar Center in Jerusalem on Wednesday, April 13, 2016. Tickets are just 20 NIS, advance purchasing information is available on the facebook event page (recommended!), and tickets may also be bought at the door.