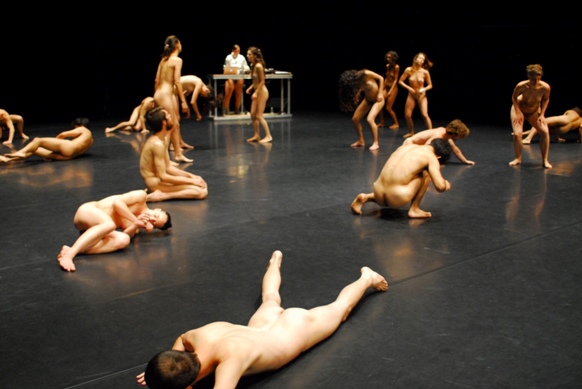 Cultural adventurers will find much to explore as the Israel Festival presents its 55th edition, with a diverse and intriguing program. Taking place from May 24 – June 11, 2016, the Israel Festival presents a unique opportunity to experience new Israeli works and original productions, as well as artists and performers from Austria, Italy, Belgium, France, Portugal, the Czech Republic, the United States, and China, representing the wide spectrum of contemporary arts. CEO Eyal Sher and artistic director Itzik Giuli are entering their second year in these roles, with a clear commitment to presenting performances that reflect the artistic concerns and creativity of our time, engaging actively with cultural history and traditions, and dedicated in their effort to bring these artistic experiences to a wide audience.
Reviewing this year's program, some recurring themes emerge: the relationship between performers and audience as it is explored in Jean Fabre's Mount Olympus, the work of Adina Bar-On, Philippe Quesne, and that of Doris Uhlich, to mention but a few; the body as physical presence and focal point, and questions of endurance are also very prevalent, as in the work of Fabre, Uhlich, and Alessandro Sciarroni. Another recurring thread is the connection to tradition, in its various configurations, from tributes to Shoshana Damari and Israeli rock band HaClique, to Wang Chong's contemporary reworking of Thunderstorm, a classic play from the early 1930s by Chinese dramatist Cao Yu, while choreographers Cecilia Bengolea and François Chaignaud take their inspiration from the club scene, incorporating twerking, the krump, house and Jamaican dancehall.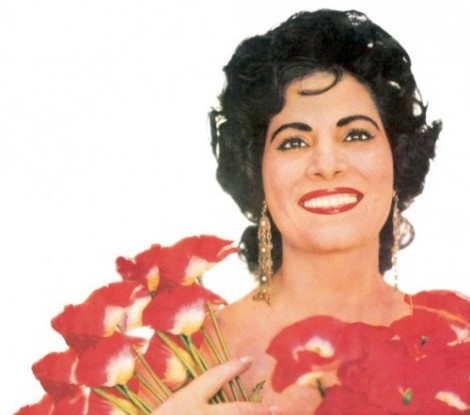 Opening the festival is a salute to Shoshana Damari (1923 – 2006), the queen of Israeli song, by an exciting ensemble of contemporary Israeli performers – Miri Mesika, Karolina, Ravid Kahalani and Shai Tsabari. Damari was born in Yemen, and came to Israel with her family at age two. She began her musical career within the community, accompanying her mother, a mourner, on the drum and in song. Although she first thought of becoming an actress, her warm, deep voice soon set her on a musical path. Her first solo musical performance was at age 16, accompanied by Nahum Vardi on piano. Her career spanned decades, reflecting Israeli culture and history. One of her most recent collaborations was with Idan Raichel, singing the opening and closing tracks on his 2005 album MiMa'amakim, Aleh Nisa Baruach, and Haer et Einav. The show "Ma Omrot Einayich" will feature new arrangements of well-known songs that were composed for Damari by the best of Israel's composers and lyricists, including Moshe Vilensky, Yaakov Orland, Nahum Vardi, and Ehud Manor, with each singer bringing his or her own individual interpretation to the songs. Damari was a singer who transcended the boundaries that divide people, whether by ethnicity, accent or age, bringing people together in the love of songs. The performance will take place in Safra Square, on Tuesday, May 24th.
FESTIVAL HIGHLIGHTS
Mount Olympus – To Glorify the Cult of Tragedy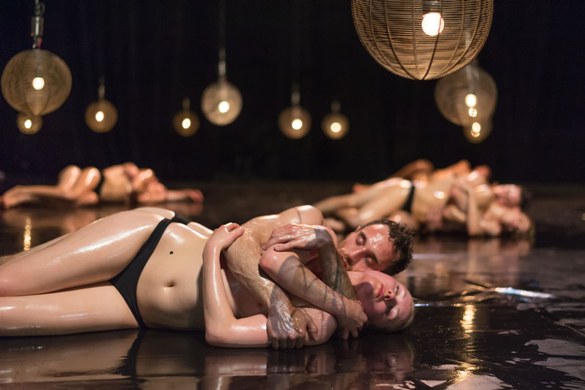 Jan Fabre is internationally known for his intriguing and provocative works, which have included burning money, and drawing with his own blood, as well as the Bic-Art project in which he spent three days inside a white cube, covering the interior with drawings made in blue Bic pen. Mount Olympus is a 24-hour long theatre piece, with a cast of 27 actors, exploring Greek mythology from a very physical, visceral perspective.  Artistic Director Itzik Giuli commented on the work at a press meeting held this morning at the Eden Tamir Music Center, saying that Mount Olympus "returns to the cradle of Western culture, the place where Western theatre began, presenting society's problems and celebrating them, and he creates an event that asks anew:  can you create catharsis in our time and what is the significance of ecstasy?"
The theatre will be transformed into a space offering Greek mythology resource stations, enrichment meetings, stretch and relaxation areas, oracle sessions, food and drink. The audience may enter and leave the auditorium freely during the performance. Thursday, June 9th, beginning at 17:00. This work contains nudity, admission from 18 and up.

The Melancholy of the Dragons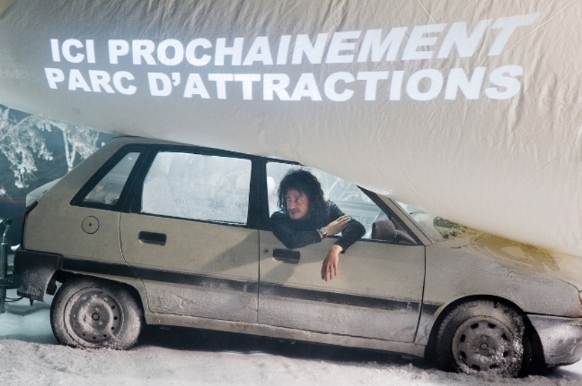 Six aging rock musicians are stranded in the snow when their car breaks down. A woman who stops to help them becomes their audience, when they tell and show their dream: creating an amusement park with a heavy metal theme. Philippe Quesne and the Vivarium Studio Company create a dreamy, visual experience. Thursday, June 2nd at 20:30, in English with Hebrew translation, Friday, June 3rd at 13:00, in French with Hebrew translation and will be followed by a discussion in English with the actors. Seating in rows 1 through 5 is recommended for French speakers. Sherover Theatre, Jerusalem Theatre. Duration: 80 min, no intermission.
Thunderstorm 2.0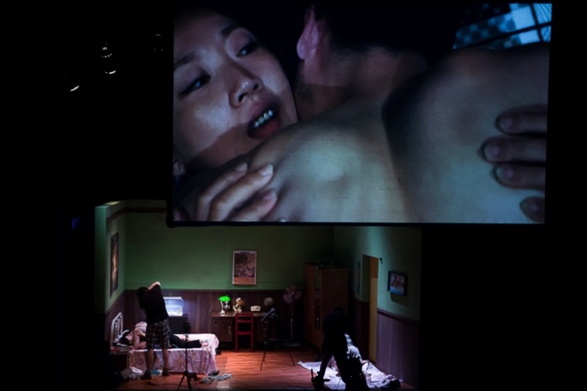 The classic Chinese play Thunderstorm, telling the story of a wealthy family's decline, receives a contemporary cinematic reworking by experimental artist Wang Chong. In this version, a film crew films the actors onstage, and the footage is edited and projected in real time, creating multiple layers of image and story. The performance on June 5th will be followed by a discussion in English with the director. Saturday, June 4th at 21:15, Sunday, June 5th at 20:30, Rebecca Crown Hall, Jerusalem Theatre. Duration: 60 min, no intermission.
FOLK-S, will you still love me tomorrow?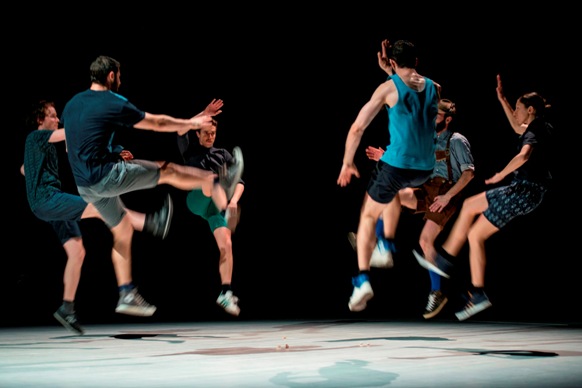 Italian choreographer Alessandro Sciarroni takes a look at the dark side of folk dance, pushing his dancers to the limit of their endurance. Based on movements of the Bavarian and Tyrolean dance form the Schuhplattler, the dancers use the palms of their hands to strike their legs and shoes, creating a very rhythmic dance. Sciarroni works with the traditional movement elements to create a contemporary ritual to a soundtrack that includes music from the Romantic era, British synth-pop, and hip hop. Monday, May 30th, at 21:30, Tuesday, May 31st at 20:30, Beit Masie. Duration: approx. 90 min, no intermission.
More Than Naked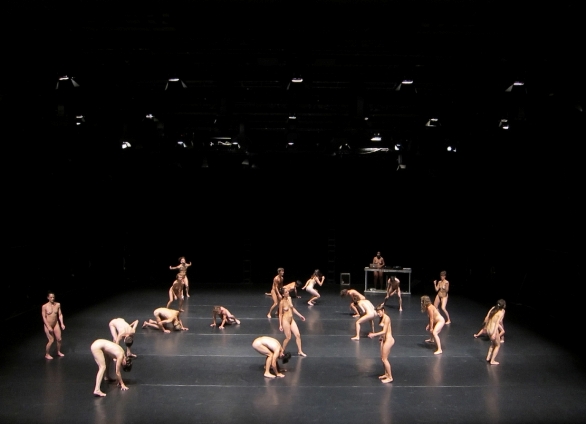 More Than Naked, Austrian choreographer Doris Uhlich, is a playground on which twelve dancers, move and explore, presenting the body as is, with humor and candor. Artistic Director Giuli, in discussing this work, noted that "questions of which body is legitimate are something the dance world is still asking, the body remains a very charged territory." Against this background, Uhlich has created a dance in which Giuli says, "Sexuality and desire have been taken out," the space of the dance is one that is, in his words "before the apple, we don't know anything, and the body is just a body, to be discovered." Friday, May 27th, at 15:00, Rebecca Crown Hall, Jerusalem Theatre. Duration: 60 min, no intermission. The performance contains nudity, and will be followed by a discussion in English with the choreographer.
Castle in Time Orchestra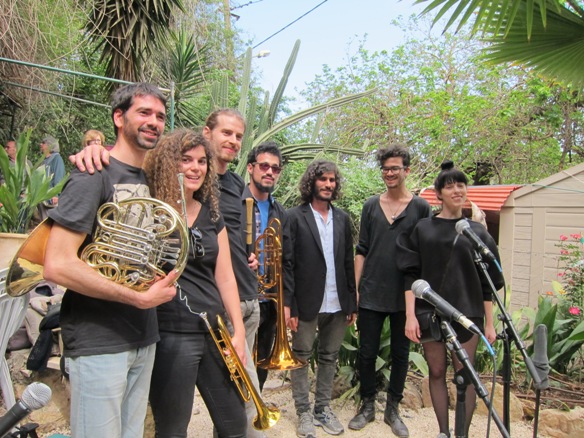 Castle in Time Orchestra is a new and different ensemble, composed of 23 instrumentalists and singers, a computer, and a conductor, merging multiple influences in their work – classical, modern, indie and electronic music. An all too brief example of their intriguing work, performed in the green glad of the Eden-Tamir Music Center, evokes a meditative, uplifting groove. Music: Shalev Ne'eman and Matan Daskal (conductor); .Musicians: Rachel Mazor (flute); Lior Halili (oboe); Noa Ya'akov (clarinet); Michael Rosler (bassoon); Ofer Etzioni (French horn); Tal Avraham (trumpet); Bar Tal (trombone); Shalev Ne'eman (percussion); Roi Brum (drums); Asaf Meidan (computer); Eden Nir (electric guitar); Nitai Marcus (bass guitar); Yonatan Daskal (synthesizers); Tal Vaknin (harp); Daniel Krief, Anna Lann, Josef Laimon (vocals); Gilad Rivkin, Nadav Fast (violin); Michal Berkovich (viola); Mayu Shviro (cello); Michael Edwards (double bass); Eden Nir (electric guitar). The concert will take place on Thursday, June 2nd at 22:00, Zappa Jerusalem. Duration: 60 min, no intermission.
Dudu Tassa and the Kuwaitis Host Yehudit Ravitz and Mira Awad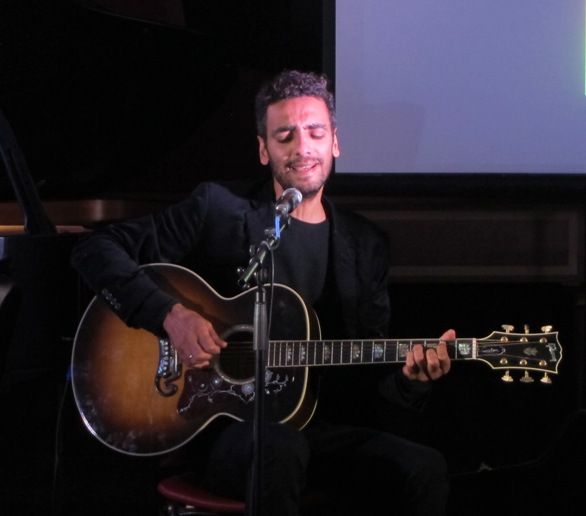 Dudu Tassa has explored his rich musical heritage – the repertoire of the Al-Kuwaity brothers of Iraq – Daud, his grandfather, and Saleh, his great-uncle. Iraq 'N Roll, a documentary film by Gili Gaon, follows Tassa on that emotional journey, as he rediscovers his musical roots, recording the album Dudu Tassa and the Kuwaitys in 2011. Saleh and Daoud, Tassa's grandfather, were celebrated musicians in Iraq. Yet when they immigrated to Israel in 1951, they remained on the margins of Israeli culture, performing at weddings and Bar Mitzvahs, and operating a small store selling kitchen utensils in the shuk to eke out a living. Crushed by circumstances, they forbade their children to become musicians or even learn to play an instrument.  Yehudit Ravitz participated in that album, and she will join Tassa onstage at the Israel Festival, along with singer-songwriter Mira Awad, who participated in Allah Shawaiti (2015). In this second album Tassa returns to the Al-Kuwaity brothers' collection of songs from a deeper knowledge, featuring guest appearances by Ninet Tayeb, Riff Cohen, Mira Awad and Iraqi singer Ismail Fadel, who made a special trip to Israel for the recording. Dudu Tassa (vocals and guitars); Nir Maimon (bass); Barak Karam (percussion); Ariel Qassis (kanun); Neta Maimon (cello); Nitzan Kanety (violin); Maya Lee Roman (viola); Idit Mintzer (trumpet); Eyal Yonati (keyboards and effects); special guests: Yehudit Ravitz, Mira Awad. Sherover Hall, Jerusalem Theatre. Saturday, June 4th at 21:30, Duration: 60 min, no intermission.
Tribute Concert to HaClique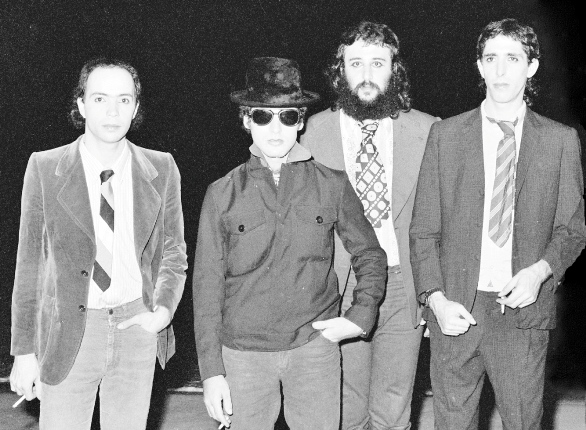 HaClique (The Click) were an influential rock band founded in 1980 by Dani Dotan (vocals), Ovad Efrat (bass), Eli Avramov (guitar), and Jean-Jacques Goldberg (drums). Working way outside the mainstream, they paved the way for alternative musicians in Israel, their song "Don't Light a Candle for Me" became an anthem for soldiers fighting in Lebanon. Five leading indie bands will perform new arrangements of songs by The Clique, as well as their originals. Performers: Vaadat Charigim ("Exceptions Committee"), Hamasach Halavan ("White Screen"), I Was a Bastard, Aviv Mark and HaNetzah ("Eternity"), and Hila Ruach. Thursday, May 26th, 21:00, The Yellow Submarine. Duration: 120 min.
Rest
Adina Bar-On was the first performance artist in Israel, creating performance art at a time when this genre was as yet unknown. Her first 'show' was created when she was a student at the Bezalel Academy of Art, where she studied painting. The Israel Festival is presenting a revival of her work Rest, inspired by Natan Alterman's poem, and which premiered in 1999. Adina Bar-On lies on a vertical bed suspended above the ground, and recites Alterman's Lullaby, a poem set against the background of the Jezreel Valley: "What is happening tonight of all nights?…/Dark is Mount Gilboa,/A horse gallops from shadow to shadow./The sound of a cry soars upward/From the fields of the Jezreel Valley./Who has fired, and who is the one who has fallen there?" Performances will take place in the Jerusalem Theatre Lobby: Saturday, May 28th, 20:30; Sunday, May 29th, 19:00; Tuesday, May 31st, 17:00; Thursday, June 2nd, 19:00; Sunday, June 5th, 19:00. Duration: approx. 20 min, admission free.
Classical Music Concerts at the Eden-Tamir Music Center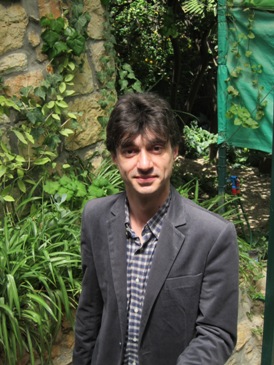 The Eden-Tamir Music Center in Ein Kerem will continue their 40-year-old tradition of classical music concerts. Two series under the artistic direction of pianist, composer and teacher Alexander Tamir will be presented: The Symphonic Piano, a selection of symphonic works adapted for piano, and a concert series of works by Johann Sebastian Bach performed by young pianists. Michael Zerzekel enchanted the audience this morning at the press meeting with a dramatic rendition of Beethoven's 5th, then, in keeping with the Israel Festival's spirit of exploration, the music transformed at the touch of his hands into Gershwin's Rhapsody in Blue, creating a connection between two composers who were worlds apart. Performances will take place: Friday, May 27th 12:00; Saturday, May 28th 11:00; Friday, June 3rd 12:00; Friday, June 10th 12:00; Saturday, June 11th 11:00.
The full schedule and additional information may be found on the Israel Festival website.

Festival events will take place throughout Jerusalem, in venues including: The Jerusalem Theatre, Masie House, Beit Shmuel, the Gerard Behar Center, the Jerusalem Music Centre in Mishkenot Sha'ananim, Safra Square, Zion Square, The Yellow Submarine, The Zappa Club, the YMCA, the Jerusalem Biblical Zoo, and the Islamic Art Museum. Ticket prices for performances range between 20 NIS and 150 NIS (except for Mount Olympus and The Melancholy of Dragons) with a special Friends subscription program available for the culturally ravenous: tickets to 8 performances (including Mount Olympus and The Melancholy of Dragons) for 1,200 NIS (do the math -it's a really good offer). Tickets to Israel Festival performances may be purchased at Bimot: *6226
The opening performance, A Salute to Shoshana Damari, is offered at a special price: 30 NIS per ticket. Discounts: Four or more tickets 15%, students/soldiers (with valid ID) 50%, seniors 20%.
The Israel Festival team: Dan Halperin, chairman of the public board; Eyal Sher, executive director of the Israel Festival; Itzik Giuli, artistic director; Emmanuel Halperin, music consultant; Miri Menirav, Israel Festival producer; Elisheva Baron Lapidot, marketing director; Shira Vitaly, content manager and international relations; Ora Lapidot, public relations