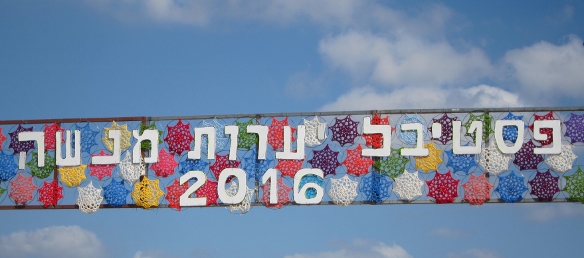 I don't know what's going to happen to my soul when I die, but I have a feeling my body will still be dancing at Yearot Menashe. The day after the festival, I feel like I'm somewhere on the edge of a dream, still listening to the music.
Looking up at the trees and sky, surrounded by music – literally surrounded, there were so many different music stages, big and small, throughout the festival grounds – the Yearot Menashe music festival is one of my favorite places to be. Being there is listening to the pulse of Israeli music and feeling a sense of community with all the different people who love the music. Live and let live is the festival vibe: people of all ages, shapes and colors, straight-edge or wavy, all sharing the space of the forest.
So many things to love about this festival! It has so much to offer, and so well organized that even as it grows, it still feels intimate and always friendly. And the music, the music! Here's what I heard:
Noam Rotem is a singer-songwriter with a warm, clear voice and songs that have an urban Tel Aviv contemporary sensibility. Listening to him amid the trees was my musical bridge between everyday city life and the festival.
Writ large on my festival is trumpeter Avishai Cohen and his project The Big Vicious – with two ferocious guitarists, Uzi Ramirez and Yonatan Albalak, and two terrific drummers, Dan Mayo and Aviv Cohen. Nothing is predictable about their music, there are no words to guide you, no musical sign posts to tell you where you're going, you just listen and go with it, and your journey is your own. Special guests for this evening's show were Ninet Tayeb and Yossi Mizrahi (Joseph E-Shine) – electrifying!
Then the music called me down through a thorny path to the smaller, Armageddon stage, where I heard the Water Knives live for the first time. Yair Yona on bass, Ofer Bymel on drums, and myriad rhythms, melodies and genres and a mesmerizing sound that takes you up into that storm and makes you move!
On to A-WA (pronounced Ay-wah) – Tair, Liron and Tagel Haim with traditional Yemenite songs in electro-pop arrangements that retain all the colors of their cultural resonance. A highlight of this performance was guest Bracha Cohen, a traditional singer of Yemenite songs, whose voice and presence filled all the great outdoors.
Tree took me to a trippy, psychedelic dream world – beautiful!
Waking up in the forest and wandering over to the Armageddon stage, I always know that I'll find something surprising. This year it was Yaron Ben Ami, the blues musician, talking about gospel and spiritual music and its development, with a succinct explanation of original sin along the way, and lots of inspiration. He not only talked the talk and walked the walk, but got everyone singing as well. Saying "let's begin our Friday morning with a prayer for peace" he led the choir of early risers in Down By the Riverside.
The Ragtime Vampires bring a knowing, articulate wit to their songs, delivered in undead deadpan style.
Gal de Paz has a powerful voice, tender and tough she rocked the stage with her band, featuring the wonderful Ofir Ventura on harmonica.
Uzi Ramirez is a songwriter with a deep, deep, voice I always love to hear, matched only by his far-out guitar solos – it was a great set with many of his best known and loved songs, as well as new material.
The Cedric Burnside Project brought Mississippi Blues brewed with Funk, R & B, and a powerful groove. Cedric Burnside is a colossal drummer, and together with Trenton Ayers flying on guitar, they get the room dancing! Hearing them in the forest, almost felt like being in Mississippi, the only thing missing is the river…Uzi Ramirez and Ofir Ventura joined them for some festival jamming onstage.
Ramzailech make every stage they play on feel huge, their impact is tremendous. I've said before that their hardcore Klezmer is the sound of the past slamming into the future, and this time I felt the truth of those words more than ever. Ramzailech are Gal Klein and Amit Peled, often joined by other musicians. Singing in Yiddish, possessing the stage with manic electric ferocity, their music rips your heart right out of your rib cage. It's immersive, explosive, it's a time capsule-time bomb hybrid, Klezmer with Punk rage and Mediterranean-infused mojo.
Lucille brought their "mother fucking ruckus" to the forest, and kept the vibe going high, very high with Big City, What the Hell, Grandma's Hands and more… brass and guitar, bluesy vocals from Gal de Paz and Rebel Sun's rhymes. The crowds so dense at this point that I couldn't even get in to take a picture!
And the rest of the night is a blur…
Eran Zamir on oud with an accomplished ensemble of musicians began my Saturday in the best way imaginable. This is the place to mention trumpeter Idit Mintzer, who was a pleasure throughout the festival in the many ensembles she graced with her music.
OSOG (On The Shoulders of Giants) are a fun group with compelling music. Their originals have all the flavor of old-time folk-country but with a very contemporary edge.
Tamar Eisenman is a fiery performer that sets the stage ablaze. She made the festival shine brighter with her seriously radical guitar, piercing lyrics and eternal groove. Drummer Karen Teperberg lent some lovely vocals to one of my favorite songs, Tam. A fun version of Limbo with acrobatics courtesy of Gal and Ziv, standing amid hundreds of people with everyone singing along – bliss.