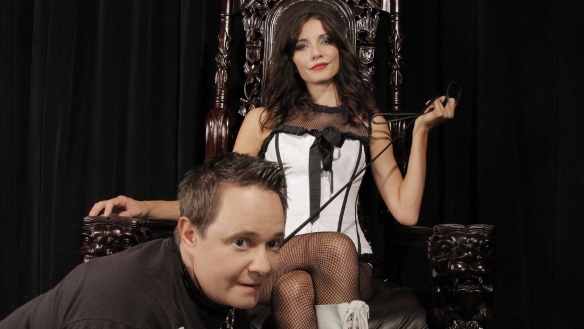 S & M Sally, a romantic comedy with a satiric bite, explores the joys and trepidation of flagellation, meditation, polyamory and other aspects of contemporary relationships with a light and sure touch. Anxiety, as we all know, is very funny, and Jamie (portrayed by writer/director Michelle Ehlen) is an anxiety virtuoso. From her first hesitant "umm" and ever so slightly raised eyebrows as her very lovely partner Jill (Jen McPherson) holds a candle in one hand and holds on to Jamie's arm with her other hand, Jamie's expansive repertoire of nervous facial expressions and intonation is hilarious. Jamie's anxiety is even more amusing in contrast with Jill's composure, her sweet smile exuding confidence and calm, as she tells Jamie: "It could be really sexy."
Jamie, willing to experiment, and possibly also anxious about holding on to the very sexy, very femme Jill, says: "I think we should go to a BDSM club after you tell me what BDSM means." As the two begin their explorations, the film is a humorous guide to BDSM, offering practical information and reassurance (there are snacks), while taking the scenic route through this exotic territory. Yet the most daring aspect of Ehlen's excellent film is her very precise and candid look at relationships – the shifting dynamics of power, the tensions, jealousies, insecurities, desires, and all our awkward, human vulnerability.
It's not just sex toys and romantic relationships that come under Ehlen's satiric scrutiny. Friendships, with their depths and dangerous waters are also plumbed to their full laughter potential. The not-so-subtle competition between Jamie's ex-girlfriend Lola (Shaela Cook) and David (Scott Keiji Takeda) for Jamie's friendship is taken to the next level when sex enters the arena. David begins a relationship with the very hot Sebastian (Adrian Gonzalez), who introduces him to a variety of new experiences, from yoga to vegan raw lasagna and beyond.
Ehlen has an unerring ear for dialogue, and her characters are as funny as they are relatable. The soundtrack, featuring Count Boogie's Death to Vanilla Sex and other jazzy delights, mesmerizing fire play scene and the quirky meanderings in pursuit of an answer to the eternal question 'who's on top' all work to make this an extremely pleasurable film.
S & M Sally will be shown on Tuesday, May 31st at 20:15 and Saturday, June 4th at 15:45.
There will be a Scriptwriting Master Class with Michelle Ehlen, intended for scriptwriters who would like to develop LGBT comedies. Wednesday, June 1, 14:00, Cinematheque Library
Michelle Ehlen will also participate in a discussion on Porn and Sexuality in LGBT Cinema, with Olivier Ducastel and Jacques Martineau (Théo et Hugo dans le même bateau), Händl Klaus (Tomcat), Buck Angel, Colby Keller, and Goodyn Green, hosted by festival director Yair Hochner. Saturday, June 4th at 18:00, in the Lecture Room, Tel Aviv Cinematheque.
The full festival program may be found on the TLVFest website in English.
S & M Sally (USA, 2015, 90 min, English with Hebrew subtitles)
Written and directed by Michelle Ehlen; Cast: Jen McPherson, Michelle Ehlen, Shaela Cook, Scott Keiji Takeda, Adrian Gonzalez, Dolly Gray, Christopher Callen, Shaun Landry.