Guys and Dolls is a vivacious, colorful trip to a fantasy Broadway of yore, when guys were guys, and women were dolls, singing and dancing their way through the exigencies of life. The Chichester Festival revival, directed by Gordon Greenberg, and currently showing in Tel Aviv, is sheer delight! Great songs, lovable characters and a wonderful cast (many from the London production) make Guys and Dolls the kind of musical that puts a spring in your step!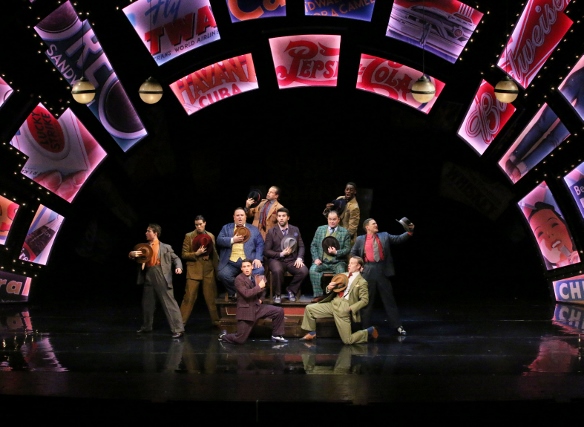 Inspired by Damon Runyon's stories and characters, the book boasts a tight, character-driven story with a plot that sets a snappy pace. Frank Loesser's songs and the dance numbers (choreographed by Carlos Acosta and Andrew Wright) are an integral part of the storytelling, so that everything has a copacetic flow. The costumes add to the fun, establishing a stylish retro-vibe from the first.
Fun is what it's all about, and everything is seen from a humorous perspective as gamblers, police, dance hall gals and mission workers clash and connect in unexpected ways. Nathan Detroit (Simon Lipkin) is a small time hustler, trying to make a living by running the "oldest established permanent floating crap game in New York." Is that a crime, he asks – then, like a kid caught with his hand in the cookie jar, answers his own question: "Yeah, it is when you think about it." But Nathan is not a guy who does too much thinking, and Lipkin imbues the character with a child-like sweetness as he earnestly tries to figure out a new venue for the game, and – just as critical – how to hold on to his girlfriend Adelaide, without getting married.
Adelaide dances at the Hot Box, and is as set against gambling as she is fixed on Nathan. Lucy Jane Adcock is very appealing as Adelaide; caught in the confining mind-set of the times, her goal is to wed, yet the vision of this bliss is amusing and oh so wrong, as she tells Nathan in a very broad New Yawk accent: "I kinda like it when you forget to give me gifts, it makes me feel like we're married." Her risqué dance numbers at the club are a lot of fun, especially the gingham bedecked "Bushel and a Peck," and her ode to the insights of psychology (Adelaide's Lament) is a hilarious treat.
The complicated plan to secure a venue for the craps game will involve Sky Masterson (Ollie Tompsett), a "high player" willing to risk all on a bet. Roped into this scheme, all unaware, is the virtuous Sarah Brown (Siubhan Harrison), who marches around Broadway, hoping to reclaim lost souls from this "jungle of sin." The chemistry between Sky and Sarah really makes the stage sizzle, making their eventual duet "I've Never Been in Love Before" all the more romantic. Harrison deftly balances the transitions as buttoned-down Sarah, inspired by one-part Bacardi, one-part infatuation, lets her hair down. Her ever so slightly awkward drunken-wanton dance is perfect.
Sit Down, You're Rockin' the Boat, is a fabulous, show-stopping number. Jack Edwards as Nicely Nicely Johnson really makes this shine!
The Chichester Festival revival production of Guys and Dolls, directed by Gordon Greenberg, is currently running at the Israeli Opera/Tel Aviv Performing Arts Center with a cast of 40, a live 14-person band, and the large-scale set and costumes that make a stage musical magical. The performances in Israel are in English with Hebrew surtitles.
Performances:
Thursday, September 15th at 21:00; Friday, September 16th at 13:00 and 21:00; Saturday, September 17th at 16:00 and 20:00; Monday, September 19th 20:00; Tuesday, September 20th at 20:00; Wednesday, September 21st 20:00; Thursday, September 22nd 20:00; Friday, September 23rd at 13:00 and 21:00; Saturday, September 24th at 16:00 and 20:00.
Tickets and additional information are available on the Israeli Opera/Tel Aviv Performing Arts Center website.