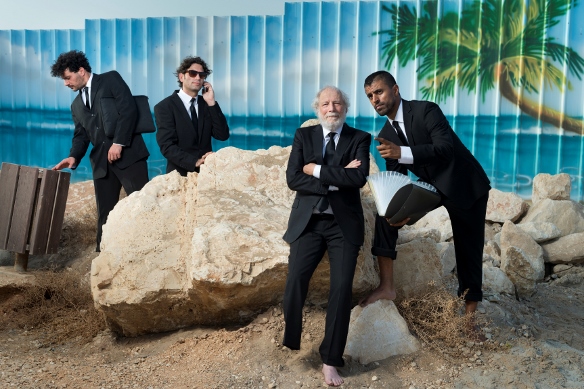 "Who killed the Dead Sea?" – that is the bluesy, dirge-like refrain, part question, part accusation, of The Back Yard's latest song, Yam HaMavet (The Dead Sea – which usually, in Hebrew is referred to by its alternate name, Yam HaMelach, the salt sea).

The poetic indictment documents our collective abuse and neglect of the natural beauty and wonder of the Dead Sea: Lot's wife standing at the hotel entrance with tears in her eyes, sink holes swallowing up roads and buildings, the leopards are gone, factories sending smoke into the air, "Arugot stream bottled and sold" – and the sea has no water.  It's a moving cry of mourning and protest, its beauty and sensitivity making it all the more powerful.
The lyrics were penned by Yaakov 'Yankele' Rotblit, who knows the secret places of the Israeli spirit, and knows to express them so well; and Itamar Zeigler's music takes these potent words to a universal groove, permeating the soul of every listener. The song is the first single from The Back Yard's upcoming second album. The Back Yard are: Yaakov Rotblit – writing; Itamar Zeigler – vocals, bass, guitar; Tomer Yosef – drums, vocals; Gedi Ronen – piano, vocals.
The Back Yard will be performing a special concert in collaboration with The Revolution Orchestra at the Israeli Opera/Tel Aviv Performing Arts Center, on September 29, 2016, at 21:00. The Revolution Orchestra is under the artistic direction of Zohar Sharon and Roy Oppenheim, the latter will be conducting the concert. Ticket prices are 135/155/175 NIS, and may be ordered online from The Israeli Opera via this link.