The St. Petersburg Eifman Ballet returns to Israel this October with a new version of Red Giselle, and Up & Down, a ballet inspired by F. Scott Fitzgerald's novel Tender is the Night.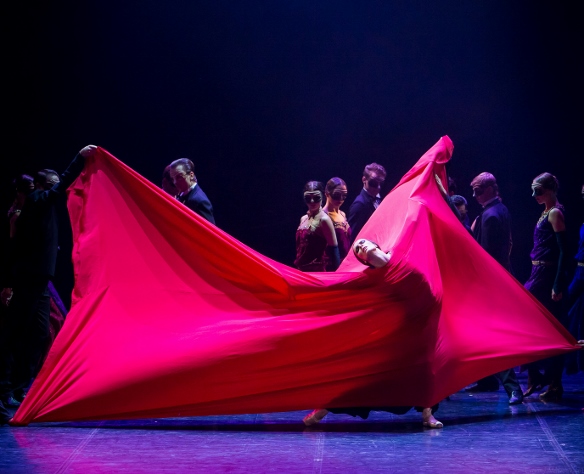 Red Giselle is the first work that the St. Petersburg Eifman Ballet performed in Israel in 1999, at the Israeli Opera. Audiences were enthusiastic, and the neo-classical ballet company has been performing regularly in Israel ever since. Choreographer and Artistic Director Boris Eifman was recently invited to present the work at the Vienna Opera Ballet, and in the process of rehearsals introduced changes in the original version from 1997. The new version of Red Giselle premiered in 2015, and will now be performed in Israel for the first time.
Red Giselle is Eifman's tribute to the legendary dancer Olga Spessivtseva (1895 – 1991). She studied with Vaganova, joining the Mariinsky Theatre company in 1913 upon her graduation. Promoted to soloist in 1916, she was known for expressive roles such as Giselle and Odette/Odile in Swan Lake. In 1916 she toured the United States with Diaghilev and the Ballets Russes, where she partnered with Nijinsky. Spessivtseva left Russia in 1924 and joined the Paris Ballet, where she danced as an étoile (prima ballerina) until 1932. In 1932 she made a guest appearance in London, dancing Giselle with Anton Dolin (former dancer in the Ballets Russes as well) of the Royal Ballet. Spessivtseva continued to perform and tour, often billed in other countries as Spessiva. Yet her emotional health suffered, possibly also affected by the trauma of the revolution and her exile from Russia. She emigrated to the United States in 1939, where she suffered a nervous breakdown and in the latter part of her life was hospitalized for many years. The BBC produced a documentary about her, and Anton Dolin wrote a book The Sleeping Ballerina, published in 1966. The 1982 documentary film, A Portrait of Giselle, directed by Muriel Balash, features Anton Dolin rehearsing the role with Patricia McBride of the New York City Ballet, interspersed with scenes of famous Giselles of the past, with a rare clip of Olga Spessivtseva dancing.

Eifman's Red Giselle is not a biography of Spessivtseva in dance, but rather an attempt to analyze and express the fate of many artists compelled to leave Russia, and the tragic impact of exile on their lives. The set and costumes of the ballet have been updated, and the new version of Red Giselle will be performed in Israel with dancers who appeared in the original, as well as young dancers who are performing in this ballet for the first time.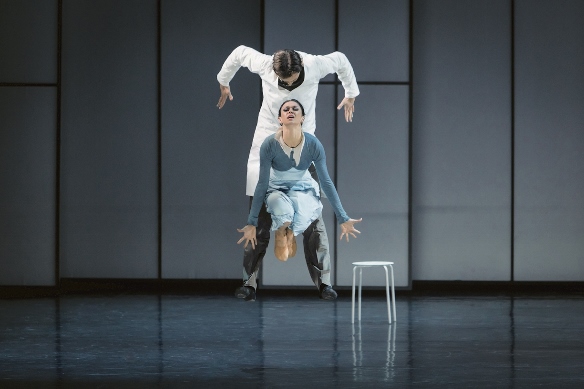 Artistic Director and choreographer Boris Eifman is inspired by literature, as may be seen in his ballets, such as Russian Hamlet, Anna Karenina, The Seagull, and Onegin. Up & Down, based on F. Scott Fitzgerald's Tender is the Night, reflects his interest in psychology and human relationships as explored and expressed in dance. Eifman evokes the mood and spirit of the roaring twenties, and a romance torn by mental illness.
In Fitzgerald's novel, successful doctor Dick Diver and his wife Nicole lead a glamorous lifestyle, undermined by Nicole's mental illness and Dick's alcoholism. Fitzgerald's novel was based on his own tumultuous relationship with his wife Zelda, who was diagnosed with schizophrenia, and spent the latter years of her life in a psychiatric hospital. It is interesting to note that Zelda too drew on their private lives for material, and one may read her version of the marriage in her novel Save Me The Waltz.
Program A: Red Giselle (new version)
Choreography: Boris Eifman
Music: Pyotr Tchaikovsky, Alfred Schnittke, Georges Bizet
Set and costumes: Vyacheslav Okunev
Performances:
Israeli Opera/Tel Aviv Performing Arts Center: Tuesday, October 25th at 20:00; Wednesday, October 26th at 16:00 and 20:00; Thursday, October 27th at 20:00.
Beer Sheva Performing Arts Center: Sunday, October 30th at 20:00.
Program B: Up & Down
Choreography: Boris Eifman, based on the novel by F. Scott Fitzgerald
Music: George Gershwin, Franz Schubert, Alban Berg
Sets: Zinovy Margolin
Costumes: Olga Shaishmelashvili
Lights: Gleb Filshtinsky, Boris Eifman
Performances:
Israeli Opera/Tel Aviv Performing Arts Center: Friday, October 28th at 21:00; Saturday, October 29th at 16:00 and 20:00.
Ticket prices are 219 NIS – 369 NIS, and may be ordered online on The Israeli Opera website, or call: 03-6927777/7700.