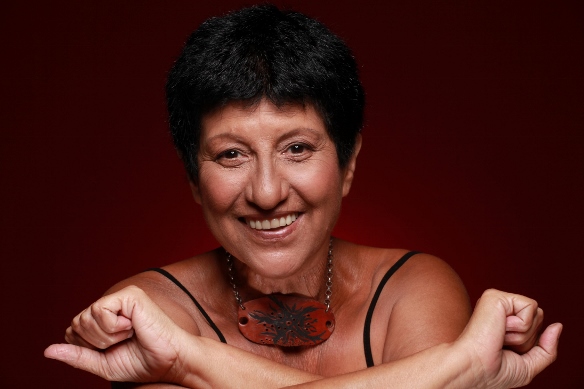 Greet Rosh Hashanah with music and love – Ahuva Ozeri, a wonderful composer and musician, will be performing at the Neve Schecter Legacy Heritage Center for Jewish Culture, with special guest Ravid Kahalani (Yemen Blues), on Thursday, September 29, 2016.
Ozeri is a wonderful composer, a true living legend blazing a trail in a field that had been predominantly male.  Her instrument is the bulbul tarang, an Indian string instrument. Although Ozeri permanently lost the use of her voice due to cancer, she continues to perform, with young vocalist Shiran Avraham giving a beautiful interpretation to the songs. Musical production and arrangements are by pianist and composer Shaul Besser, whose rapport with Ozeri's music is superb. Besser produced Ozeri's latest album Maalei Dmama (Silence Above Me), with 16 of her songs performed by leading Israeli musicians, such as Ehud Banai, Chava Alberstein, Berry Sakharof, Shai Tsabari and more.
The album's title song, Maalei Dmama (performed below by Shai Tsabari) reflects the beauty and power of Ozeri's song.

Thursday, September 29th at 20:00. Neve Schechter Center, 42 Shlush Street, Neve Tzedek, Tel Aviv. Tickets are 50 NIS in advance, 60 NIS at the door, and may be purchased on the Neve Schechter website, or call: 03-5170358.