Uncensored, uncut – let me share with you my impressions of an evening with Playground, a cosmically talented ensemble of musicians and dancers in a tantalizing improvised performance at The Zone in Tel Aviv. The players are: Yonatan Albalak – guitar and vocals; Ron Almog – percussion; Offir Benjaminov – bass; Nitai Hershkovits – keyboards; Yaron Ouzana – trombone; dancers – Inbal Shahar, Gavriel Spitzer, Shani Tamari, Korina Fraiman, Etay Axelroad, and Gilad Jerushalmy; lighting design – Liran Itzhak; general manager and all-around very cool person – Kobi Farhi (read about Every Monday and Thursday). Instead of a formal review, here is the stream of associations inspired by the music, movement and the moment –  as I wrote it, uncensored and almost unedited (punctuation was added for clarity), in between taking pictures… read at your own peril…
Smoke and an air of mystery, then a beat. A couple walks forward and a woman looks over their shoulder from behind. Who is the man in the black trench coat? Everything is for sale here. Your secrets are not safe, and neither is your soul. Where will you go?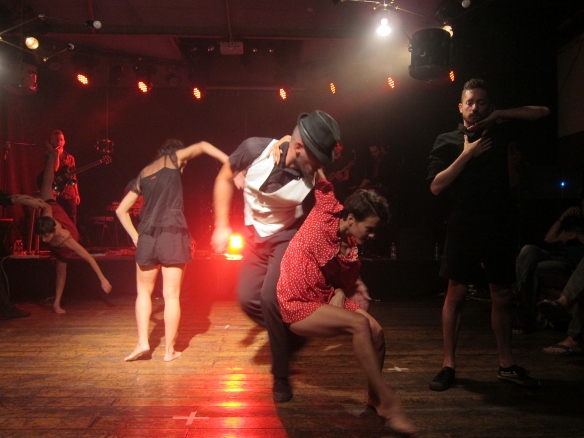 Yonatan Albalak: "Meharega shehi nichnesa yadati shehi betzarot" private detective
I knew this dame was trouble the minute she walked into my office
Predatory sexual dangerous red
Marlowe
After the orgiastic frenzy couples dance
The man in the trench coat
Her smile was taunting him it turned into a game and the game was death.
It looked like death. JFK's voice a strange dream from which we would never wake, caught in a beam of light.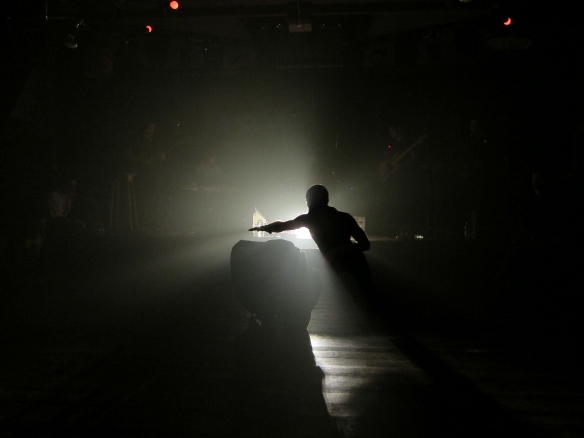 We are shadows. Shade and density. Destiny. Yonatan Albalak: "Kshehayinu bifnim…" Really deep voice. Lights flash. All jump. Jump higher.
Love is what you lost before you were born.
Now there is only desperation and fear.
The occasional lucky escape, the random win.
Who can run faster. Longer. If you are alive, they haven't caught you yet.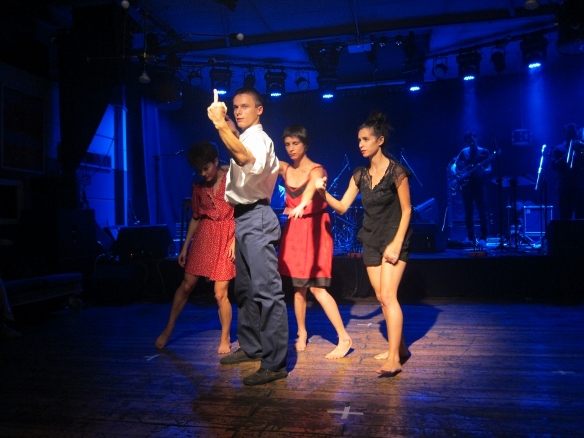 This is where the people who have seen too much come to get their eyes put out.
If you are lost, this is where you will never be found.