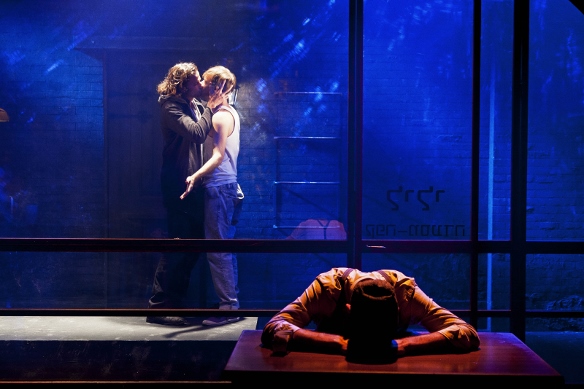 A Far Away Song From Long Ago merges theatre, life, memory, dreams and longing into a palimpsest of shifting contexts, tears, and laughter. Written and directed by Michael Gurevitch, it is a work of theatre made of the stuff of life – the life of the theatre, a work in which life bleeds into theatre. A poetic play replete with images, associations, and moving performances by the Khan Ensemble actors.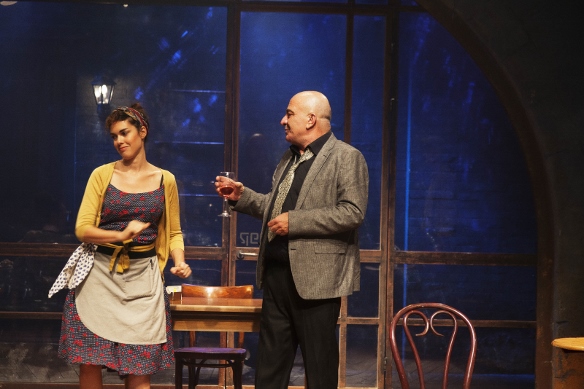 The premise has a deceptive transparency: 8 actors meet in a café late at night, after the performance, to come up with an idea for a new play. We, the audience, are invited into this private inner sanctum to observe creation in real time. We are not quite insiders, but almost. The set, designed by Svetlana Breger, reinforces the appearance of inside and outside. The stage is the interior of Café Lily, the unseen street is at the back of the stage, with the glass walls and door of the café facing the dark street. Ilana (Nili Rogel), the sole waitress, peeks out that door, and seeing no one coming, begins to close up. But it is all just beginning…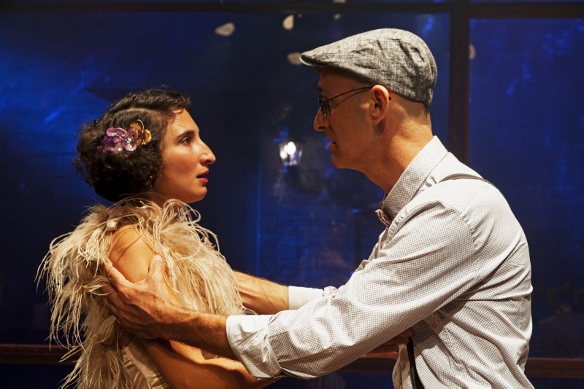 Martin (Nir Ron) addresses the audience directly: "We decided to create a new play. Our spirits were kind of low because of all that was going on and we were apprehensive about what is yet to come…" There is a blurring of lines between reality and fiction – are the Khan actors portraying their real selves, the people who walk out the door wearing street clothes and have an entire life offstage, or perhaps what one might call their true selves – their dreams and desires, or are these characters Gurevitch has created, inspired by the life within and around him, friends and strangers. The illusion of reality is enhanced by the fact that some of the characters share the same name as the actor portraying the character: Itai, Guy, Yoav, Ariel.  Yet Khan actor Arie Tcherner, who stands out in recent memory as Uncle Vanya, portrays a character named Anton, and certainly Chekov, or the idea of Chekov and what it represents, is a presence in the play. The Khan Theatre has a tradition of presenting two classic and two modern plays in each season, the strongest expression of an equal commitment to both. The relationship of theatre to classics as I see it, is like a family relationship: you love and appreciate them, they are always a part of you, but you don't want to hang out with them all the time…sometimes you want to do your own thing. This tension is another one of the threads that run through the play.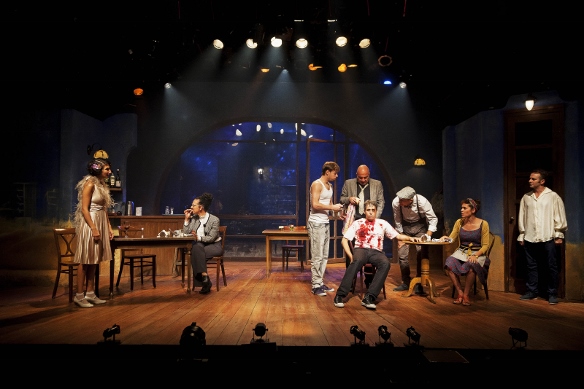 Venturing out into the new is not without its dangers. The new does not yet exist, it is entirely unknown, uncertainty reigns absolute. As the night deepens, different narratives open, unfold and intertwine. Fragmented and permeated with ambiguity, A Far Away Song From Long Ago does not have the solidity of a classic play, reflecting perhaps the fragmented reality it seeks to describe. Most compelling is the narrative line of Yoav (Yoav Hyman), touching the two extremes of political reality and utter fantasy. Hyman portrays this character with the kind of restraint that allows ample room for the viewer to enter the journey with him, wherever it leads. One feels for him and with him. It is to Yoav in his rather allusive transformation that is given the line that expresses what this writer feels is the heart of the play: "I am so alone. I don't feel safe anywhere." (translation from Hebrew is mine)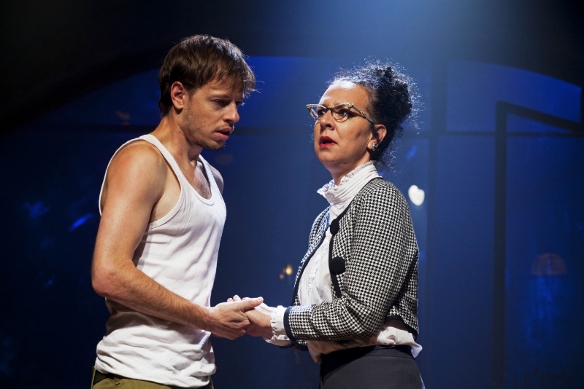 Alienation and loneliness cry out from the characters, their memories, dreams, and the night's story as it plays out in the café.  But wait, this is a comedy, isn't it? A Far Away Song From Long Ago is most emphatically a comedy, and had me laughing out loud at several junctures. The characters, while not caricatures, evoke a feeling of recognition with their quirks and foibles. We know these people and their circumstances, we have been these people. The distance between desire and its fulfillment is full of laughter amid the tears.
A Far Away Song From Long Ago
A lyrical comedy
Written and directed by Michael Gurevitch
Choreography: Renana Raz; Music: Daniel Salomon; Set design: Svetlana Breger; Lighting design: Roni Cohen; Costume design: Judit Aharon; Cast: Nili Rogel (Ilana), Nir Ron (Martin), Itai Szor (Itai), Natalie Eliezerov (Avigail), Guy Gurevich (Guy), Arie Tcherner (Anton), Irit Pashtan (Gizela), Yoav Hyman (Yoav), Ariel Wolf (Ariel).