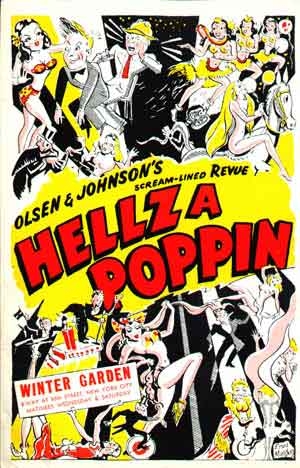 Rain on Purim? No worries. The same crazy crew who are responsible for the cult film "Israeli Intelligence" will present a rare screening of "Hellzapoppin" on Sunday, February 28, at the Tel Aviv Cinematheque at 13:00.
Alon Gur Arye will take the audience on a wild tour of the history of comedy, stopping to view: Charlie Chaplin, Buster Keaton, Laurel and Hardy and Abbott and Costello. Gur Arye is expecting the Marx Brothers to make an appearance, but in the event of an unforeseen cancellation, will show clips from their movies.
The presentation will be followed by a screening of HELLZAPOPPIN', a screen adaptation made in 1941 of the musical by the same name directed by H. C. Potter. Starring Ole Olsen, Chic Johnson and Martha Raye, it's a wild parody of a movie about a movie, produced by "Miracle Pictures" whose motto is: "If it's a good movie, it's a Miracle!"
Hard to find anywhere, the movie is unavailable in Israel – so come in from the rain on Purim and join Midnight East at the cinematheque!
Tickets: 03-6060800, Tel Aviv Cinematheque, 2 Shprintzak St.
The lecture will be in Hebrew with film clips in English. HELLZAPOPPIN' is in English with Hebrew subtitles.