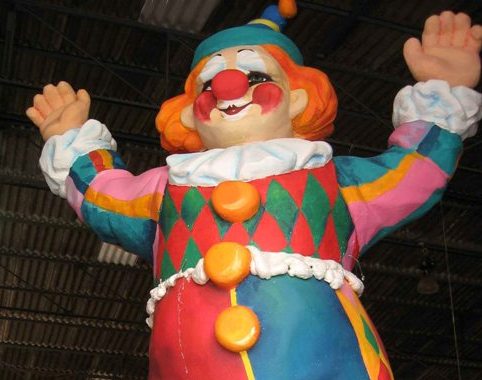 It won't rain on this parade!
The traditional Adloyada parade will take place on Shushan Purim – Monday, March 1 in Holon. The great figures of the opera – Rossini's Cinderella, Verdi's Aida and Mozart's Magic Flute – will join nearly 4,000 dancers, musicians, acrobats, drummers and clowns in this larger than life celebration of the Israeli Opera's 25th anniversary and the 70th anniversary of the city of Holon.
 Hosted by Itzik the Clown, the parade will begin with a 5 meter high puppet of Holon's Child, along with other symbols of the City of Culture and Children: models of the new Holon Design Museum, Israeli Children's Museum and Holon's Mediatheque. Rossini's Cinderella will ride in a huge pumpkin, along with her prince – who is apparently undismayed by her 5 meter long foot encased in the famous glass slipper. Turnadot, Puccini's Chinese Princess will show off her magic as her head opens to reveal her father the emperor searching for a bridegroom, assisted by soldiers of the empire who will search the crowds. Flamenco dancers, matadors and two bulls will escort Bizet's Carmen, and Madame Butterfly with her young son will frolic in a garden made of 8,000 fresh flowers.
The event is held in cooperation with Israel TV Children's Channel, as in previous years, and the winners of the TV costume competition will also reign as Adloyada King and Queen.
Prominent world leaders have been invited to the parade's concluding event: Verdi's Masquerade Ball. US President Barack Obama will take a turn on the dance floor with Madame Butterfly, while Israeli Prime Minister Binyamin Netanyahu shakes a leg with Carmen and Moti Sasson, Mayor of Holon will dance with Turnadot. In the event that the politicians can't make it, their role will be played by impersonators.
The parade is produced by Doron Shalom, Director of the Events Dept. of the Holon Municipality, with Artistic Director Yedidya Amram, Designer Zipi Yifat and in consultation with Michael Eisenstadt, Artistic Coordinator of the Israeli Opera.
The parade will begin at 12:00 starting out from Sokolov Street at the corner of Sderot Yerushalayim, continuing down Sokolov, turning at Weizman Street and concluding opposite the Holon Municipality on 58 Weizman Street.