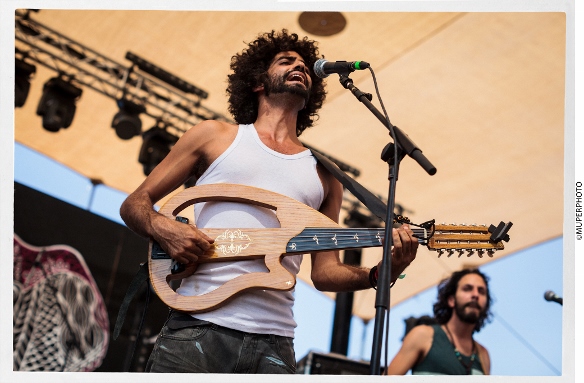 The Tel Aviv Jazz Festival will take place from December 7 – 9, 2016, with a terrific lineup of musicians, original productions and cool collaborations. Performances will take place at the Tel Aviv Cinematheque, and Zappa Tel Aviv, Herzliya, Jerusalem and Haifa. Free outdoor performances in the festival tent will take place every night at the Tel Aviv Cinematheque, in addition to the ticketed concerts. On Friday afternoon, there will be an outdoor jam – free and open to all. Festival Artistic Directors are Barak Weiss, Gilad Emilio Shenkar and Avi Yosef. The festival is produced by the Tel Aviv-Yafo Municipality Performing Arts Department in collaboration with Zappa.
Tickets may be purchased online via Zappa, or call *9080.
Some festival highlights:
The Sama Trio – Hamid Drake (drums & percussion), Ari Brown (saxophone), Joshua Abrams (double bass, guimbri – three string North African bass lute) – will be performing on Friday, December 9th at 13:00. Hamid Drake is a mesmerizing performer of amazing intensity, hearing him perform at the Tel Aviv Jazz Festival in 2011 with Albert Beger was a memorable and moving experience. In Drake's words, from that concert:  "the stage is really an illusion…we discovered there is a circle of energy that creates this whole thing. Where does it begin, does it begin with us or with you?…I feel the energy just is, and we are lucky enough to tap into it, to be a vessel that it can flow through."
Guitarist Al Di Meola will be performing songs from his latest album Elysium on Wednesday, December 7th at 22:30.

Jane Monheit will be performing songs from her latest album Songbook Sessions: Ella Fitzgerald, with new arrangements by acclaimed trumpet player Nicholas Payton, on Friday, December 9th at 13:00. The album is a tribute to Fitzgerald's series recorded between 1956 – 1964, dedicated to the great composers Cole Porter, George Gershwin, Irving Berlin, Duke Ellington and more. Enjoy Monheit singing Payton's arrangement for Johnny Mercer's song Something's Gotta Give:

An exciting Israeli collaboration at the festival will be Quarter to Africa hosting Ester Rada – an evening of musical fusion on December 8th at 22:30. The instrumental ensemble has an intoxicating groove fusing traditional Arabic maqam scales and African rhythms with jazz and funk – all this and the powerful vocals of Ester Rada!

Links: Tel Aviv Jazz Festival on facebook