Moana is the adventurer so many girls (and girls at heart) long to see on screen – curious, brave, and strong. John Musker and Ron Clements (The Little Mermaid, Aladdin) have created a story with the force of myth, powered by nature, magic, and character, infused with music and humor, and with a visually compelling island aesthetic expressed in use of traditional designs, tattoo art, glowing underwater scenes, dramatic storms and serene green exotica.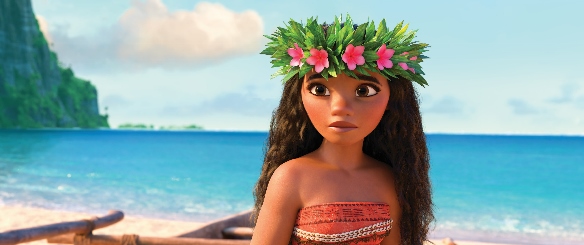 Moana means "ocean" or "deep sea" in Maori and Hawaiian, and the mythic connection between the young girl and the wide ocean surrounding her Polynesian island home is established from the start, as is her fearless sense of adventure and curiosity. This likeable island girl clearly does not spend a lot of time fixing her hair (unless there is a special tribal ceremony), and she looks credibly strong, with sturdy legs. Yes, this is a girl who could climb a tall mountain. One of the film's strengths is that balance between character and destiny, with Moana's inner qualities contributing as much to her story as the touch of magic necessary to every Disney princess. As for that, the film takes an amused, self-aware approach to the familiar tropes of Disney-princessdom. When Moana, the daughter of a Chief, rejects the designation of "princess," her companion Maui responds: "If you wear a dress and have an animal sidekick, you're a princess."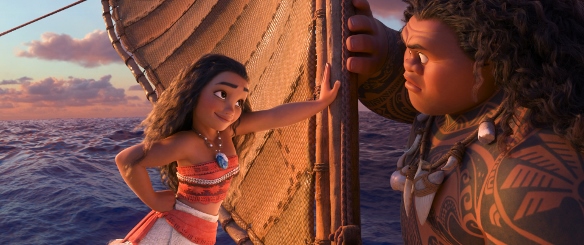 I really enjoyed the way that Moana's conflicts in the movie are not at all gender-based. She is the daughter of a Chief, and her parents expect her to take on the responsibilities appropriate to one who will someday lead her people. This is very much in line with Polynesian culture, which historically was matrilineal and matrilocal. Moana does not reject her intended role in life, the conflict resides elsewhere. The rule of the tribe is to remain within the confines of the reef surrounding the island, while Moana is drawn to the open sea. Ultimately, history and legend will come together, and there is something very satisfying about Moana's connection to her people's history. She may be a rebel, but she is also drawing on the forgotten traditions of her people.
Despite nostalgia and my appreciation for hand-drawn animation, it must be admitted that some wonderful things happen in the CG world created here. The ocean is very much a character in this story, at times lovable and even, dare I say, cute, and at times awe-inspiring in its grandeur and power. The deep underwater scenes and their fluorescent glow provide an alluring background for the resplendent sinister crab Tamatoa's glittering show-stopper "Shiny." The lava demon has a fiery appeal, while the bountiful greens and but perhaps my favorite animation in the film are the abundant tattoos that cover Maui's muscular form (very appropriately voiced by Dwayne Johnson). The geometric designs are culturally informed, but the real kicker is that they are alive and move, offering commentary and critique to Maui in movement-language.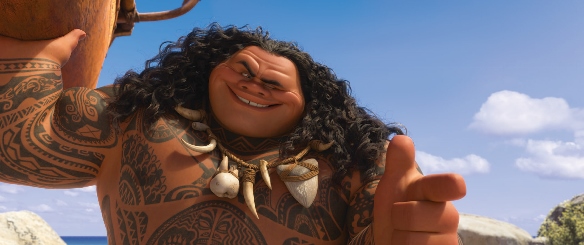 What would a Disney princess movie be without the songs? Here too, the Polynesian connection is very authentic as Opetaia Foa'I, lead singer of the South Pacific fusion band Te Vaka joins Hamilton composer/star Lin-Manuel Miranda and Disney composer Mark Mancina to create memorable tunes in English and Tokelauan. Tamatoa, the sparkly crab, is voiced by Jemaine Clement, the New Zealand comedian (Flight of the Conchords) and multi-instrumentalist.

Yet it is not without trepidation that one approaches a film that draws so heavily on a culture remote from its own. Musker and Clements have done their research, and it shows in the costumes, tattoo designs, decorative patterns, dances and songs that are in English and Tokelauan. They not only made several visits to Polynesia (the first in 2011), but established an advisory council of people from the islands of Samoa, Tahiti, Mo'orea and Fiji, that included anthropologists, cultural practitioners, historians, linguists and choreographers. These advisors helped shape the film in many ways, and there were a few controversies along the way.
One of the most dramatic changes made is the look of Maui the demi-god. Original sketches for Maui depicted a large, obese, bald character. This was objectionable not only for the stereotypical characterization of Polynesians as obese, but because traditionally in their culture, the god's power resides also in his hair, and a Polynesian god would never be depicted as bald. Disney made the changes. The result is a film inspired by Polynesian culture that creates its own imaginary tale.
*Spoiler Alert*
Moana signals a revolution in the Disney oeuvre as there is no love story at all in this film. Finally, a princess can have a heroic adventure and even achieve that fairy-tale happy resolution that is not dependent on love or romance. Even though Frozen broke new ground in its revolutionary interpretation of the true love's kiss trope, Moana takes it all a step further, going beyond the reef as it were, to present a suspenseful, satisfying story in which romantic love plays no role at all. Yes, this about a girl who dares to think independently, learns to sail and confronts demons. Hurray!
Moana
Directors: John Musker, Ron Clements; Co-directors: Chris Williams, Don Hall; Screenplay: Jared Bush; Story: Ron Clements, John Musker, Chris Williams & Don Hall, Pamela Ribon, Aaron Kandell & Jordan Kandell; Cinematography: Rob Dressel, Adolph Lusinsky; Editor: Jeff Draheim; Cast: Auli'i Cravalho, Dwayne Johnson, Rachel House, Temuera Morrison, Jemaine Clement, Nicole Scherzinger, Alan Tudyk, Oscar Kightley.