Ibrahim Mahama's Fracture transforms the Lightfall in the Tel Aviv Museum of Art. The site-specific installation covers the smooth walls with jute sacks, their rough texture marked by time, and imprinted with traces of people and transactions; human labor translated into visual, textural expression. There is a stark contrast between the intended design of the Lightfall, allowing light to enter the building, and the impact of the jute sacks absorbing the light and creating the effect of a dark abyss. The sudden opacity of the space creates an opening for questions and reflection.
Ibrahim Mahama met with journalists at the Tel Aviv Museum of Art this week and discussed his work while it was in the process of installation. Fracture will open to the public on Friday, December 9, 2016, and a conversation with the artist will take place at 12:00, in the Lightfall, (Herta & Paul Amir Building) with curator Ruti Direktor.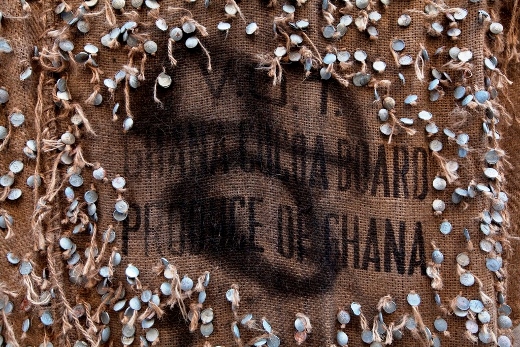 Born in 1987 in Tamale, Ghana, Mahama studied art at the Kwame Nkrumah University of Science and Technology in Kumasi. Most of his formal training was in painting, and while initially focused on painting and sculpture, he was always interested in experimenting with objects and materials, such as using plaster applied to the body and removed, as a material for his art work. Once while traveling from Ghana to a neighboring country, he was stuck waiting at the border for a long time, and he noticed the trucks going by, transporting goods in jute sacks, and became interested in this material "as a vessel that can take the shape of anything and move from one space to another."
The jute sacks, stamped "Produce of Ghana," come with a history, even before their first use, as they are made in India or Bangladesh and then shipped to Africa from Brazil. They are typically first used to transport cocoa (a valuable commodity in Ghana), then used to transport other things, and eventually charcoal, which use then renders it obsolete for use with food. Mahama explained that he was interested in this "tension between an object and what it contains."
Mahama, who created a site-specific installation for the 56th Venice Biennale in  2015, has primarily situated his art in Ghana, in places that are "most of the time are in crisis": train stations, buildings under construction and other public spaces. He works with anywhere from 20 to 200 people to install the jute sacks in the space, and is concerned with the nuances of the material, the way the sacks are sewn together, the interaction between the space, the people and the way this interaction impacts the details of the work.
Mahama: "It's not so much about succeeding, it's about experimenting and then asking questions over and over again."
Fracture will be on exhibit from December 9, 2016 – April 22, 2017 in the Lightfall, Tel Aviv Museum of Art, Herta & Paul Amir Building.
A conversation with the artist Ibrahim Mahama, will take place on Friday, December 9, 2016 at 12:00, in the Lightfall. Admission to the talk is included in the price of the museum entrance. Link: Tel Aviv Museum of Art. http://www.tamuseum.org.il/en/default.aspx