Friendship, betrayal, and the scintillating minutiae of schemes and suffering are the raw materials of Éternels Vagabonds production of Hanoch Levin's Ya'akobi & Leidental, performed at the Cameri Theatre, a hilarious and quite musical romp, as amusing as it is disturbing. Why does it disturb? Because one of Levin's many talents as a playwright is his painfully accurate description of the humbler, more awkward and irredeemably ugly human weaknesses and failures. Even as one laughs at the antics of the brash Ya'akobi (Daryl Green), the insecure Leidental (Cole Michaels), and the not-as-sweet-as-she-looks Ruth Shahash (Adi Lev), here and there are unavoidable moments of recognition – I've thought that, done that – and we see ourselves.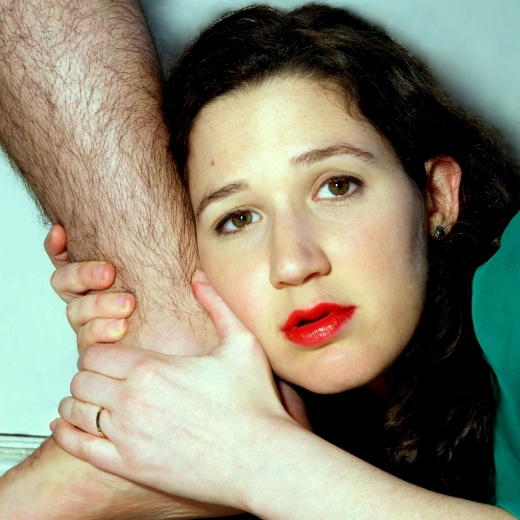 The two friends, Itamar Ya'akobi and David Leidental, are already in the midst of a hot and heavy game of dominoes as the audience enters. Ya'akobi in a hat and suspenders, and Leidental in a more subdued sweater vest, both men wear ties. There is something at once dated and timeless about their costume, and the mimed game of dominoes, with its hand and facial gestures, suggests a sense of eternity, they have always been playing this game and they will continue to play it forever. And yet it is not so. Ya'akobi decides to rebel against this narrow existence, insisting that he and Leidental are not the same, and can no longer be friends.
It is not enough for Ya'akobi to go out and seek new thrills, he must claim his superiority to Leidental, proclaiming "I will prick him and hurt him." This and other monologues are addressed to the audience, giving the viewer an omniscient perspective on the action taking place. The unassuming Leidental, meanwhile, is all innocence, as the two sing of their friendship and drinking tea together in the moonlight.
The songs, accompanied by the bright, gentle, tone of the piano, stand in contrast to the cruelty that ensues between the friends, and softens the mood of the play. The rhythm and melody of the songs lull the audience into entertainment, let us laugh at the scene we see before us, and at the same time, the contrast emphasizes the ugly harshness of these words, emotions, and actions. Leidental is bewildered by his friend's abandonment, and Michaels does this to perfection. It's sheer delight to watch him in his misery, trying to cogitate himself out of this confounding situation.
The inevitable comes in the form of a prominent protrusion, a soft cushion of promise draped in a red skirt, all belonging to Ruth Shahash. For what comes between two guys? A gal. And what a gal she is. Shahash is the epitome of female false pretenses, her dulcet tones and captivating curves belie the cold calculations behind every word and gesture.
One of the many fascinating aspects of Hanoch Levin's plays is that his writing is so quintessentially Israeli, and yet, in its unrelenting poetics of human frailty, captures a universal quality in its documentation of desire and suffering. In Shir Freibach's translation the play has a very natural feel and rhythm that captures the quirky poetry of Levin, yet does not mark it in any way as foreign or other. It is a story that might take place anywhere, its bizarre, extreme qualities turning one's revulsion at the character's behavior into laughter. Ya'akobi & Leidental is a comic escapade through the failings of friendship and love, a provocatively entertaining performance.
Ya'akobi & Leidental is presented at the Cameri Theatre International Theatre Festival. There will be one more performance on Saturday, December 10, 2016 at 21:00, at the Cameri Theatre. The play is performed in English, with subtitles in Hebrew. Tickets may be purchased via the Cameri Theatre website.
Ya'akobi & Leidental
Written by Hanoch Levin; Translated by Shir Freibach; Music by Alex Kagan; Musical Direction by Alex Kremakova; Directed by Bence Kalo; Produced by Adi Lev & Bence Kalo; Cast: David Leidental – Cole Michaels, Itamar Ya'akobi – Daryl Green, Ruth Shahash – Adi Lev, Piano – Alex Kremakova.