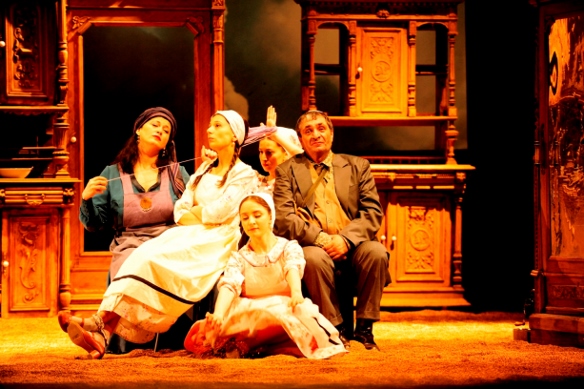 Begalut – In Exile, is a vivid, humorous and poignant portrait of a people and time, Jewish family life in Europe, in a play without words. A production of the Kote Marjanishvili State Drama Theatre, directed by Levn Tsuladze, the play was performed at the Cameri International Theatre Festival. It is an impressive feat of visual and movement theatre, accompanied by excellent Klezmer music that sets a mood and lively tempo.
The set is composed of wood cupboards and frames, with ornate carvings, that serve different functions throughout the play. A comic mood is set from the start, when the father of the family emerges from one of the cupboards, soon to be followed by the mother, her ample back end emerging first. It is clear from the father's wary expression and the suitcase he carries, that he is looking for a place where he can stay and feel safe. The white kippah on his head and the mother's head covering makes it clear that they are Jewish. The family – a father, mother and three sisters – gathers and begins to set up a home. They are soon joined by another family, a mother with her two sons. Differences in status and wealth are expressed in the way they set up their space. The mother of the two boys has a fancy lampshade. The other family makes do with a bit of newspaper shaped into a shade.
Wonderfully inventive in movement and expression, the story unfolds and the relationships between the characters develop. Character is established with a look, a gesture, movement and action. One comes to know these people and their relationships. Between the two families there is a visual tapestry of warm and playful moments, and flirtations that grow into romance and love. Yet not all is harmonious. One sister is perpetually unhappy, and excluded by the others. Romance does not always lead to happiness, and intimate duets may sometimes become awkward trios.
Yet if overall, family life is good, the relationship with the surrounding, Russian, community is ambivalent at best. Their arrival announced by a certain melody, there is an underlying tension to the encounters between the Jewish families and the Russians. For Jewish audiences, the family's journey is a familiar one, yet no less engaging. One enters so fully into this play that when the tension erupts, it comes as a shock, unexpected and with a strong emotional impact. The performances are excellent, and one comes to care about these characters and follow their loves and losses with feeling.
Begalut – In Exile
Director / Scenographer: Levan Tsuladze
Composer: Vakhtang Kakhidze
Costume designer: Nino Surguladze
Choreographer: Gia Marjania
Assistant director: Nino Kalandadze
Jewish lullaby performed by Neka Sebiskveradze
Cast: Beso Baratashvili, Guranda Gabunia, Ana Grigolia, Barbare Dvalishvili, Ana Vasadze, Nato Kakhidze, Manana Kozakova, Nika Kuchava, Eka Nijaradze, Giorgi Kiknadze, Konstantine Roinishvili, Teona Kokrashvili, Nino Tsuladze, Giorgi Khurtsilava, Givi Chuguashvili.