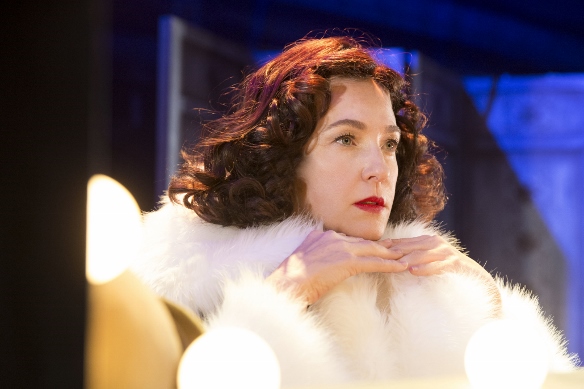 Maya Dagan is incandescent as Fanny Brice, dazzling, gutsy, and endearing every step of the way! The Cameri Theatre production of Funny Girl, directed by Tsedi Sarfati, is superb, a romantic interlude of song, dance, and one woman's path to stardom, with excellent performances, beautiful costumes and set, vibrant choreography, and great music. The dance numbers are stunning, exuberant and elegant, the music is bright, vivacious and moving, and the star is radiant and very, very, funny – in short, Funny Girl is everything one hopes for in a musical.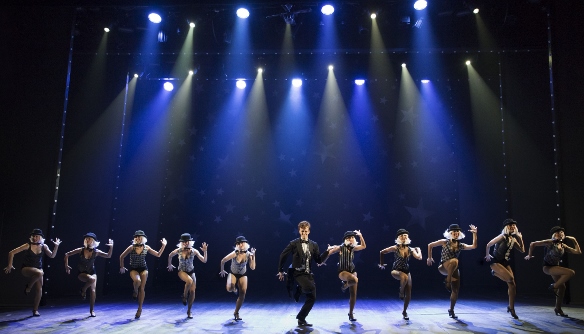 The musical concentrates, simplifies and intensifies events in the life of comedian Fanny Brice (1891 – 1951), with fiction softening some of the harsher truths of the talented star's relationship with Nick Arnstein. The chemistry between Dagan and the suave Amos Tamam (far more handsome than his real-life counterpart Nick Arnstein) sets off sparks, and makes Brice's attraction to the less than trust-worthy Arnstein easy to believe.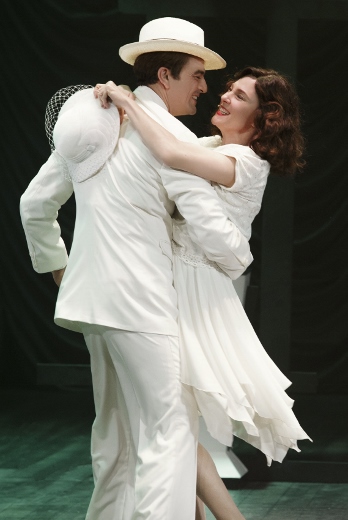 Originally premiering in 1964, the show features songs by Jule Styne and Bob Merrill, such as Don't Rain on My Parade and People, that have lost none of their glow and still have the power to move audiences. For some, Barbra Streisand's rendition of these songs is indelibly imprinted on their memory, and it is those people I implore – don't hate me for what I am about to write.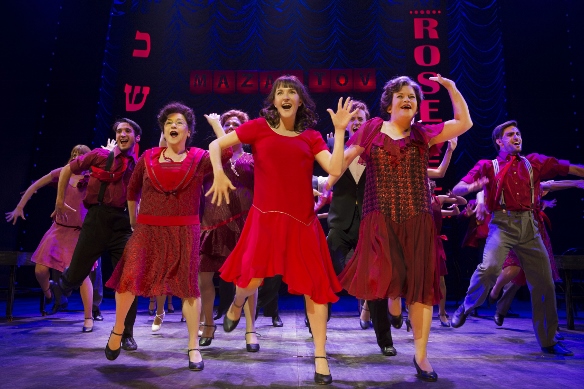 Maya Dagan imbues the character with the zany energy, the gleeful mischievous spark that for me, feels much closer to conveying the spirit of Fanny Brice. Dagan, who offstage has a very delicate beauty, immerses herself entirely in the character, revealing a flair for comedy with bold physicality and impeccable timing. The real-life Brice, while not at all unattractive, did not fit the prototype of American beauty sought after by the entertainment business of her era, and was relentless in her pursuit of a niche that would suit her talents. Apparently indefatigable, Brice worked right up to her death, and raised two children for the most part single-handedly, working until the seventh month of pregnancy with both (only her daughter, Frances, is referred to in the musical), returning to work just weeks after giving birth. A strong, talented, woman, she had one weak point – her attachment to Nick Arnstein, and this provides much of the drama in the musical. Dagan captures this contradictory quality of the tough professional, overflowing with a zest for life, drive to succeed, energy and creativity, yet at the same time, so very vulnerable.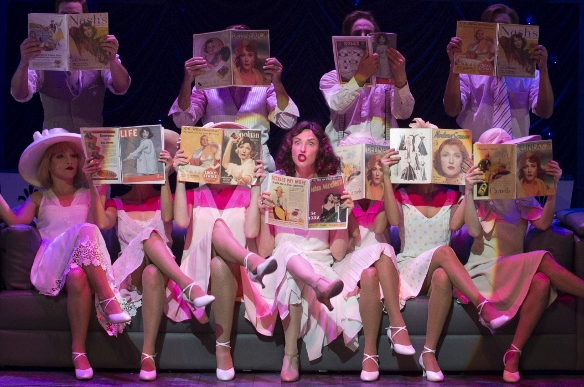 Funny Girl
Music by Jule Styne; Lyrics by Bob Merrill; Book by Isolbel Lennart from an original story by Miss Lennart; Originally produced for the Broadway stage by Ray Stark; Original New York production supervised by Jerome Robbins; Original production directed by Garson Kanin
Translator: Dori Parnes; Director: Tsedi Sarfati; Musical director: Tal Blecharovitz; Choreographer: Oz Morag; Set design: Bambi Fridman; Costume design: Moni Mednik; Lighting design: Keren Granek; Vocal coaching: Maya Avidan; Sound design: Nirel Sharon; Assistant musical director and corepetitor: Ohad Ben Avi; Assistant director: Haim Filiba; Assistant choreographer: Dana Shoval; Producer: Haim Sela; Cast: Fanny Brice – Maya Dagan, Nick Arnstein – Amos Tamam, Mrs. Brice – Orna Rothberg, Eddie Ryan – Amit Reiss, Mr. Keeney – Shlomo Vishinsky, Florenz Ziegfeld – Avi Termin, Mrs. Straykosh – Esti Kosovisky, Mrs. Meeker – Osnat Ben Yehuda, Emma – Lior Galron, Renaldi/Paul/Tenor – Shoham Sheiner, Blacky/Director – Roi Malka, Stage manager – Avry Arbel, Bloo Bloob – Vera Shimrit Sasson, Maud/Mimsy – Shani Shauli, Polly/Jenny – Lior Cohen, Dancers: Matan Onyameh, Adir Bublil, Matan Ben Shimol, Or Danon, Noa Dagan, Rotem Yehuda, Sapir Izhak, Liron Cohen, Maor Levy, Nophar Levinger, Katia Rozenfeld, Ella Rosenzweig