Vegan Friendly (Geva Alon's new band), Vaadat Charigim, Eifo HaYeled, and Daniel Davidovsky on amplified bicycle, will be performing at Beit Ariela, on Thursday, December 29, 2016 – admission free! What's the occasion?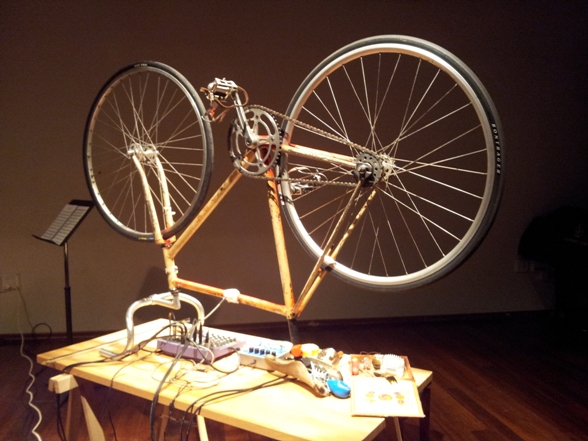 A newly renovated Beit Ariela (Shaar Zion Library, 25 Shaul Hamelech St) will be opening soon, and celebrating the completion of the first stage of improvements, will open its gates to a night of music and fun on Thursday, December 29, 2016, starting at 20:30. Open to the public, admission free!
Here's the program:
On the Beit Ariela stairs – 20:30 – Daniel Davidovsky on amplified bicycle – I've heard him in performance before, and found it fascinating.
Entrance level – 21:00  onwards  – DJ Avigil Emmanuel
24:00 Eifo HaYeled with all their well-known hits.
Information Center at 21:00, 21:45, 22:30, 23:15 – Video Killed the Radio Star – video clips and art
Mezzanine level new reference library – 21:00, 21:45, 22:30, 23:15 – "If music be the food of love, play on" – texts by William Shakespeare set to music and performed by the New Israeli Vocal Ensemble, conducted by Yuval Ben Ozer.
1st Floor Auditorium – 21:00 Vaadat Charigim – if this be the music of desolation and disaster play on – one of my favorite shoegaze bands

22:00 – Vegan Friendly – Geva Alon – guitar & vocals, Amir Rosiani – bass & vocals, Asaf Reiss – drums.

23:00 – Nag Hamצadi – band of journalists, literally.

Administrative floor – classroom 301 – 21:00 onwards Studio Gavra presents a platform to shout out whatever excites, angers, makes you scream in agony or ecstasy – and your scream will be photographed!
302 – 21:00 onwards – Oz Malul and Gili Avisar will transform the space into a temple of Karaoke. Experimental drag with costumes designed for the event. The audience is invited to join in.
Basement floor (-1) – Conference Room – 21:00 onward – A Return to A Primitive State – sound & light installation.
Events Room – 23:00 onward – Uri Misgav will talk about the songs that made the Tel Aviv scene.
Lower Basement Floor (-2) – 21:00, 22:00, 23:00 – Girls in Arms – Jenny (Nadav Bossem) and Jana  (Adili Liberman) will take you on a tour of the library archives unlike any other… excellent political satire! They parody to perfection military and general Israeli tropes that will be hilariously familiar to most Israelis, and non-Israelis are sure to have a laugh too, even if they don't get every single in-joke. Bring an open mind & sense of humor.
Check the facebook event for updates.