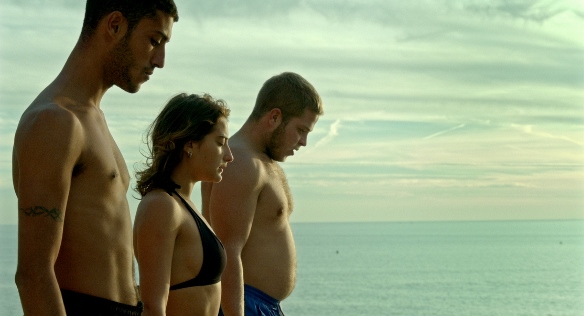 Sensual, edgy, relentlessly honest and tender, Corniche Kennedy, directed by Dominique Cabrera, is one of several films participating in the 14th French Film Festival, that focus on young people, their lives, dreams, and relationships. The festival will take place from March 16 – April 5, 2017. Based on the eponymous novel by Maylis de Kerangal, Cabrera's film is set in Marseilles. The title refers to the Corniche du Président-John-Fitzgerald-Kennedy, a boulevard along the coast, and the plot centers on a group of contemporary teens, in the eternal now of summer.
There is something about a stretch of road on the edge of a rocky cliff with the sea below that makes teenagers want to jump. There are so many reasons why: the burst of excitement and energy ignited by fear, defiance of norms and laws, the thrill of flight, the pleasure of the plunge into the water, and the confrontation with death that makes a body feel immortal, if only for a few seconds. Awa (Aïssa Maïga), a young policewoman, watches a group of young people leap into the Mediterranean. She warns them of the danger, from her perspective, they are risking their lives for nothing, in this, as in other pursuits. Yet for Suzanne (Lola Crèton), a well brought up teenager from the better part of town, they represent something else, something she longs for, a sense of freedom, a sense of belonging.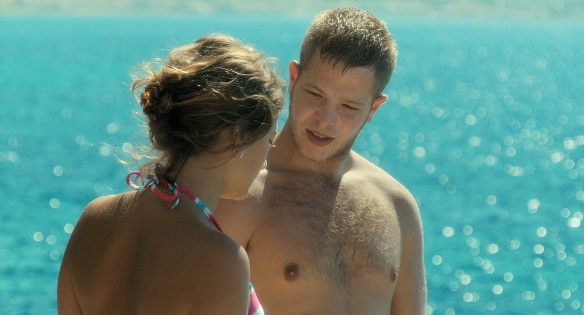 The unique quality of Cabrera's film is in its ability to convey both these perspectives, as well as the nuances within the group of young people.  The ensemble cast all give excellent, understated, performances. Coming from a background where money is scarce, and there are often other problems to contend with at home, the future does not seem to hold many options for these young people, and day-to-day survival is not trivial either. In their friends, they know they have someone they can count on. In their days in the sun, jumping into the water, they have a way to prove themselves, to face danger and come out a winner.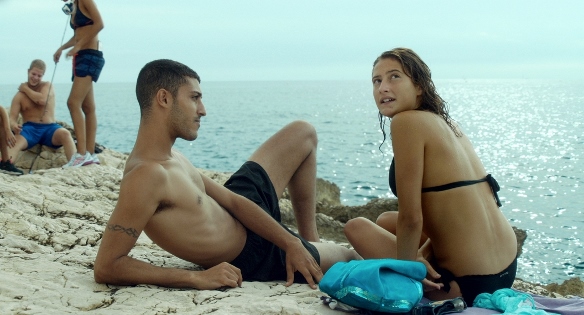 Suzanne is an outsider. She comes from a comfortable home, unlike most of the others, she is still in school, preparing for her final exams. Yet she is intensely drawn to the group, eager for their acceptance. One does not know her backstory, Suzanne is seen only from the moment that she sees the group on the Corniche, and that is one of the strengths of the film: in its cinematography, and its mode of storytelling, the emphasis is on the moment, a perspective very close to that of a teenager. In this eternal now, every word, every glance, every touch, is significant. Corniche Kennedy is a visually compelling, fascinating film, that offers much food for thought.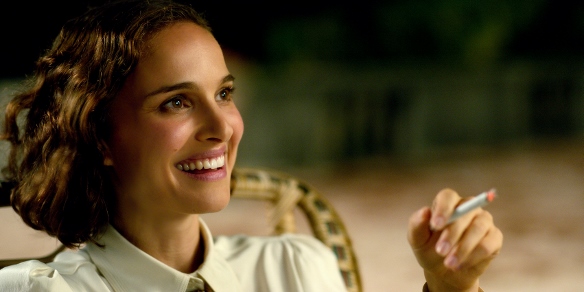 Survival, memory, and the bond between sisters, are explored in Rebecca Zlotowski's Planetarium. Natalie Portman and Lily-Rose Depp star as Laura and Kate Barlow, two sisters who perform séances to communicate with the dead. Kate, the younger sister, is the one with the gift, while Laura, in her sturdy-rimmed glasses, manages everything else. Luminous and enigmatic, with a nice period feel, the film takes place in pre-WWII Europe, describing a time when, as Laura says: "You never know that you are living before a war."
The film leaves much to be inferred, it is not clear why these American sisters are in Europe and why, despite clearly depleted finances, they don't just simply go home. Not earning enough from performances and private séances, a glimmer of hope comes when the sisters meet André Korben (Emmanuel Salinger), a movie producer intent on capturing ghostly apparitions on film. Entering Korben's affluent circles, and the world of film, their lives change, and the world around them is changing too. The plot is diffuse, and very little is explicitly stated or presented, it's really more of a mood piece. Planetarium is less preoccupied with the question of whether it is possible communicate with the dead, but rather explores, in an allusive manner, why we wish to do so.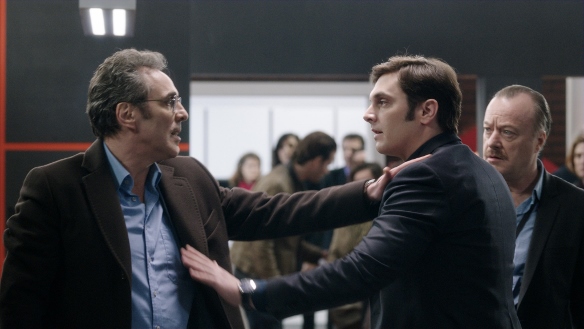 Gritty, direct, and hard-hitting, Vendeur, written and directed by Sylvain Desclous, describes an entirely different world. Gilbert Melki delivers an outstanding performance as Serge, a salesman to the very core. Serge seems to live for work, thriving on the success of his spin and pitch, popular and respected among his colleagues. Yet it is interesting to note that his understanding of human nature, the ability to 'read' his customers, appears to be limited to the workplace. Divorced, travelling from place to place according to the needs of his profession, outside work Serge leads a solitary life, measured by cigarettes and drinks, relying on coke for energy, and prostitutes for companionship.
In contrast, his grown son Gérald (Pio Marmaï ) is a chef and restauranteur, pursuing a path based on knowledge and passion, rather than spin. Where Serge is gregarious, Gérald is introverted and quiet. Serge parties with a different woman every night, Gérald lives with his devoted girlfriend Karole. When father and son meet, it is immediately apparent that they do not have much to say to one another, and when Gérald reluctantly asks Serge for help, it is not clear whether Serge will or can step up.
Life on the road and in the salesroom (in this case, kitchens) are depicted with accuracy and humor. As father and son spend more time together, the developments in Serge and Gérald's relationship resonate with the awkwardness, desire, rejection, and fear of rejection inherent in the rapprochement between the son and the father who was always absent. Never sentimental or predictable, Vendeur is a moving study in relationships and character. Serge is handsome and suave, his very facility for language and camaraderie arouses an equal measure of grudging admiration and repugnance. Melki is mesmerizing, imbuing the character with charm and vulnerability.
Festival screenings will be in French, with subtitles in both Hebrew and English, and will take place in the cinematheques of Tel Aviv, Haifa, Jerusalem, Holon, Herzliya and Sderot, as well as the Cultural Center in Savion and Ashdod. For the complete list of feature films, and links to cinematheques, click here.