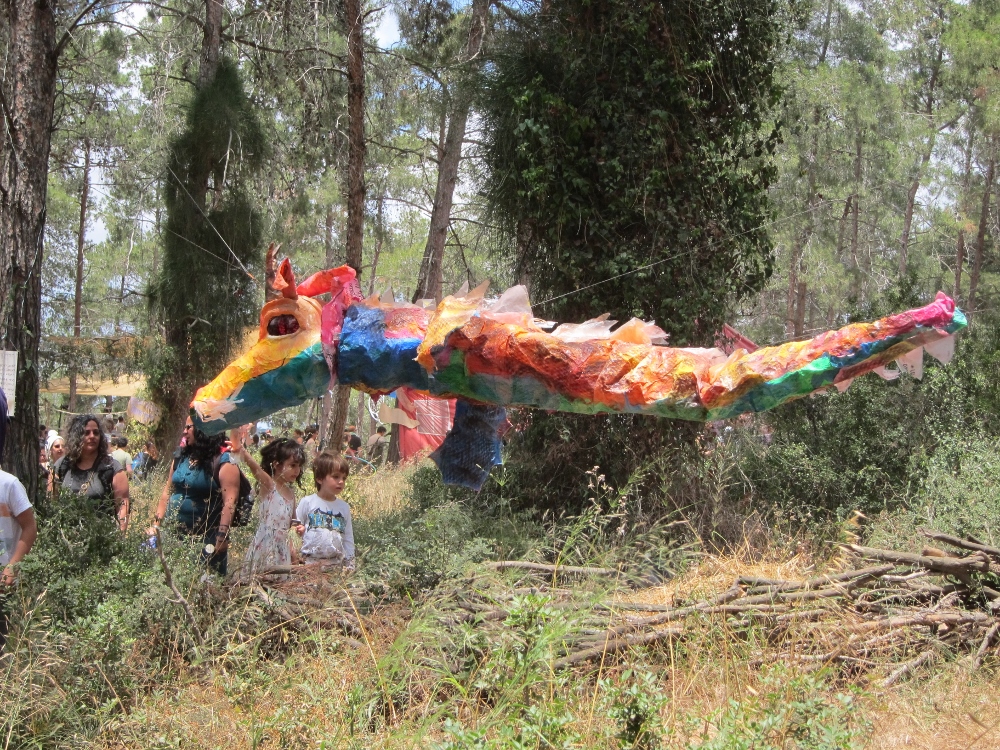 Everywhere I turn, there is something beautiful happening – that is the essence of Yearot Menashe. Taking place amidst one of Israel's most beautiful landscapes, surrounded by trees, hills, fields of green and gold, there is a serenity in the air, something open, wild, natural and free. An open space where there is room for everything: electric guitars and recycled art, early morning yoga and dancing through the night. And the music, the music! The day before coming to the festival, I looked over the program trying to decide which shows I wanted to see, and realized that it didn't matter, because there were so many wonderful musicians, it really didn't matter which stage I went to at any point in the day or night, there would be something I wanted to experience.
Yearot Menashe is about the music, and in the open air, amid the trees, I feel the music in a different way. It's something about the connection between the musicians and the audience, between the musicians themselves, between friends and strangers coming together in this place. The meeting of the known and the unexpected. The festival vibe is open, friendly and warm – live and let live. So many people, all different ages and lifestyles, sharing this space. It's beautiful.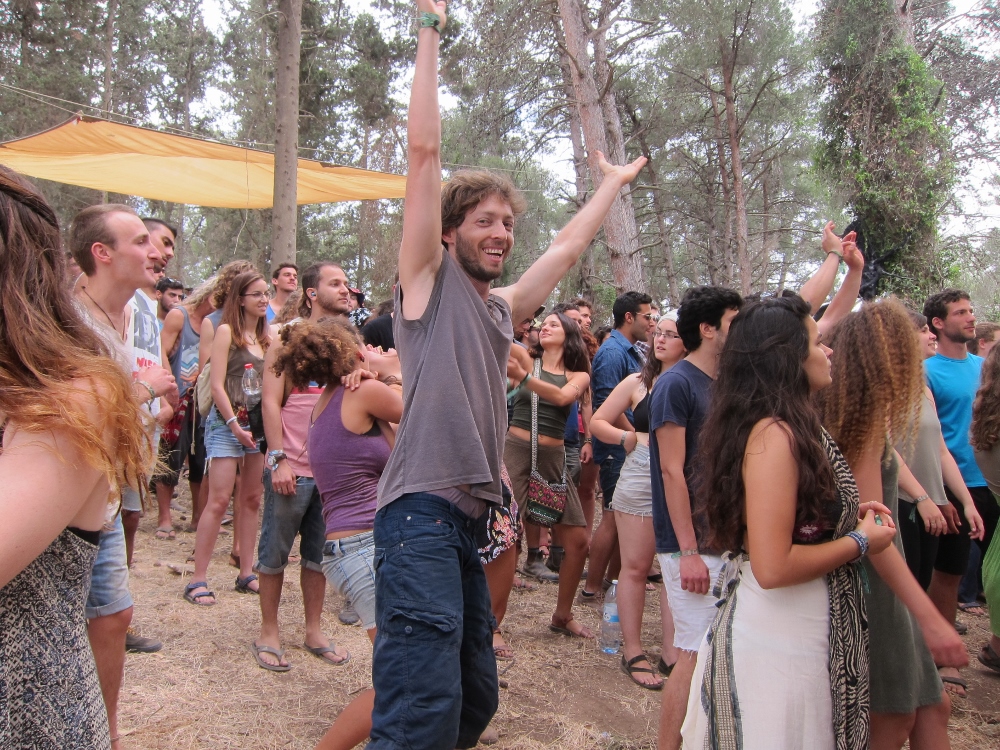 Big and beautiful. Bigger is better. Maybe. I don't know. It's confusing. The festival has really grown this year and I am a person who loves movement and is ambivalent (translation: extremely resistant to) about change. All this to say that the shift in size and the altered layout of the festival grounds was very disorienting for me. I loved it when the big stage and the Armageddon stage were really close to each other and I could go back and forth, catching some of this and some of that… Yet the new Amphi stage is wonderfully set up with so much space and the feeling of a multitude is powerful.
Herein lies the wonder, the Yearot Menashe effect: understanding that the flaws are part of the flow. Dazed and disoriented, I took my feeling of disorientation and went with it, drifting through the festival without worrying about where I was supposed to be. Wherever I was, there I was supposed to be.
Meuban's trippy melodic sound set me right, spinning off to hear Yael Deckelbaum and the Prayer of the Mothers Ensemble. Yael Deckelbaum is an exhilarating performer, radiating warmth and light. Here, with the cohort of women onstage, each expressing her own individuality, the visual impact was tremendous. As they sang, their rhythms and harmony filled the night with their presence, colorful, vibrant, sensual, powerful. Their message of unity in diversity, their prayer for peace, is an inspiring rallying cry, yet sometimes I felt that the music was lost in the determination to deliver the message. When the music worked, it was intensely beautiful. Writing these words, I've been listening to Prayer of the Mothers and This Land. Soloists Miriam Toukan, AvevA, Daniel Rubin, and especially Keren Tepperberg rocked my world.
Music I know and love, experienced differently:
Wandering among the trees and people, I came across a small stage where Gal de Paz, still excited from her previous night's performance opening for Aerosmith, and Ofer Amichai generated an intimate vibe, like an evening hanging out with friends. A fireball of energy, Gal de Paz is utterly captivating, and has a voice as big as all outdoors. Garden City Movement had me, and the masses, moving on mellow, floating, sound. Ouzo Bazooka took me where I wanted to go, somewhere between the Middle East and outer space, feeling the night saturated with color and the colors coming alive. Saturday morning, despite the mounting exhaustion and early morning rain, Vaadat Charigim drew me out of my tent and into the festival.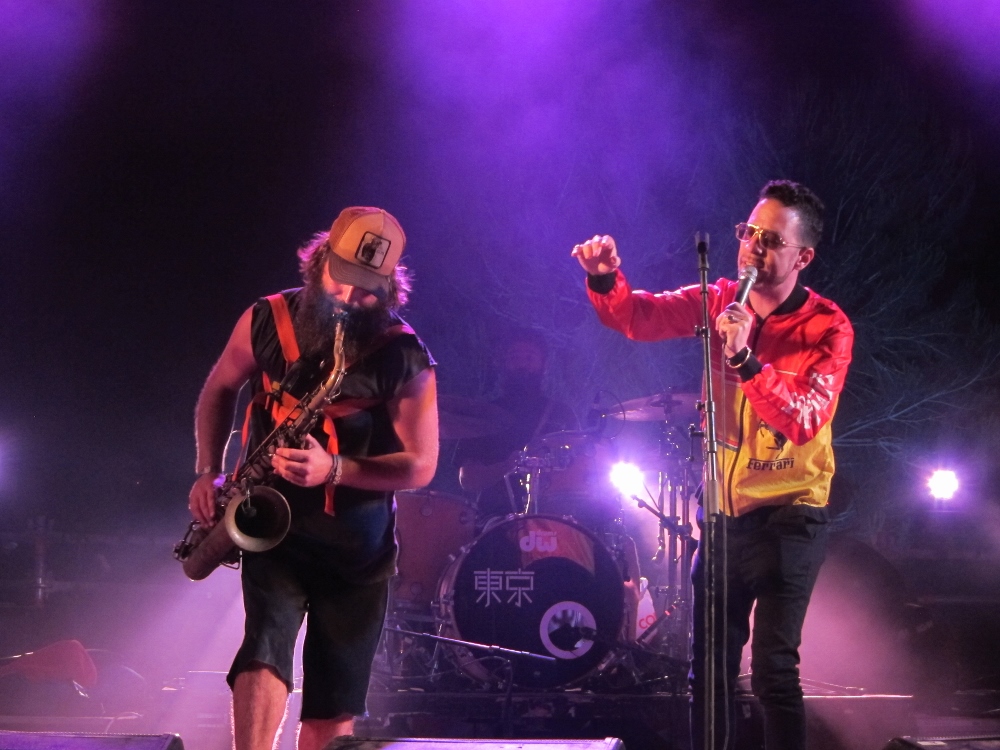 The ultimate brothers Talmudi show, aka Malox, the expanded version, was a surge of fantastic instrumental mania with explosive energy. Drummer Roy Chen opened with the younger Talmudi generation, and these two kids a delight: playing, dancing, crowd-surfing and making happy mayhem. Assaf Talmudi on keyboards/synth is a natural extension of Malox's sax and drum duo, hearing them together feels like it always was, and ever will be. Gilad Kahana's rap/rant had a nightmarish hallucinatory quality. Eyal Talmudi is a force of nature, a riot of sound, color, and movement.
Then there is the ultimate festival experience, hearing bands that I have heard before, yet suddenly experiencing them differently. Something about the magnitude, something about the connections. Lola Marsh (Yael Shoshana Cohen, Gil Landau, Matti Gilad, Ido Rivlin, Dekel Dvir) filled the Amphi with their light, breezy, folk sound. On guitar, ukulele, or tambourine, Yael Shoshana Cohen makes it all flow so easy, her voice ringing clear as a bell, or sliding into something sultry. Keeping it simple with brilliant precision, and making the day seem somehow brighter. The Buttering Trio (KerenDun, Rejoicer, Beno Hendler) were radiant, spreading eccentric electro-beat heat through the festival. In the kind of connection that makes festivals magical, they hosted Ester Rada, whose rapport with KerenDun was cosmic. Where KerenDun is ultra-cool, Ester Rada is hot, hot, hot, and together their soulful, jazzy, fire and ice duet thrilled my every sense.
Serendipity: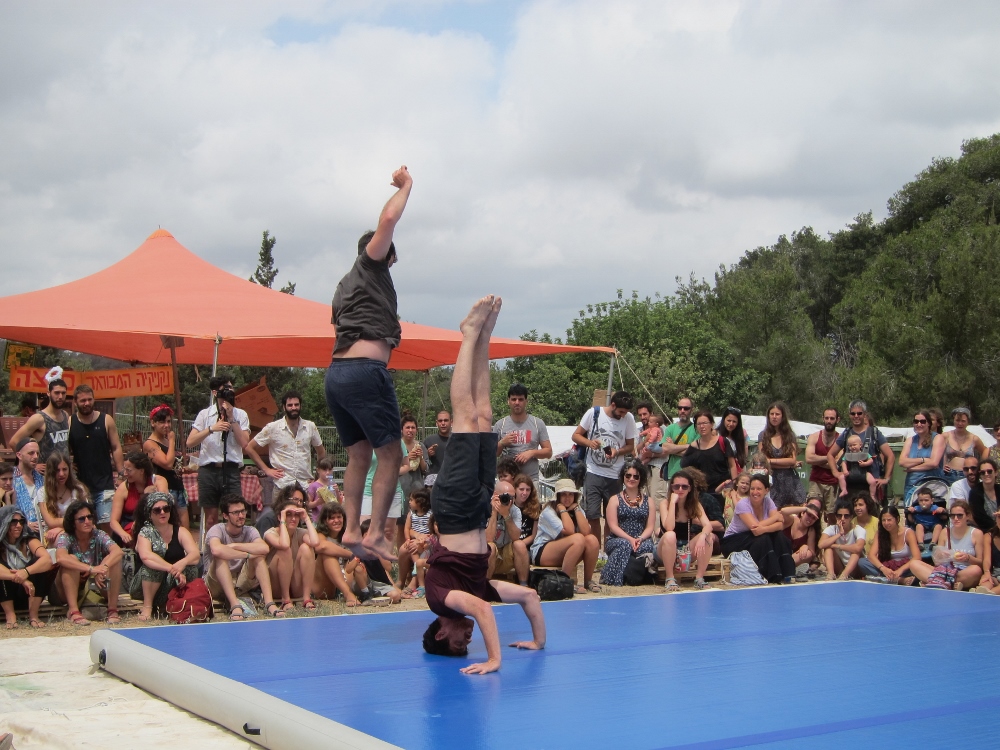 Gravitas – a duet of acrobatic interference by Ofir Yudilevitch with Asher Ben Shalom. Michael and Shimrit Greilsammer, camping with their kids like many other families at the festival, performing a wonderful impromptu set, with Michael also popping into the cage. The cage – just a few steps away from the Armageddon stage, with a plethora of performers between the main sets, and some lovely discoveries. The Wild Willows with their laid-back folk sound, Daniel Rubin singing songs from her upcoming solo album and a moving duet with Yonatan Blumenfeld (Dirty Fly), and spoken word artist Tami Tut riffing on music and life: "Everything you have seen up till now doesn't even come close to what you will see in your lifetime. There is so much time, so much time to talk, so much time to listen… so much time to climb trees."
Discovery: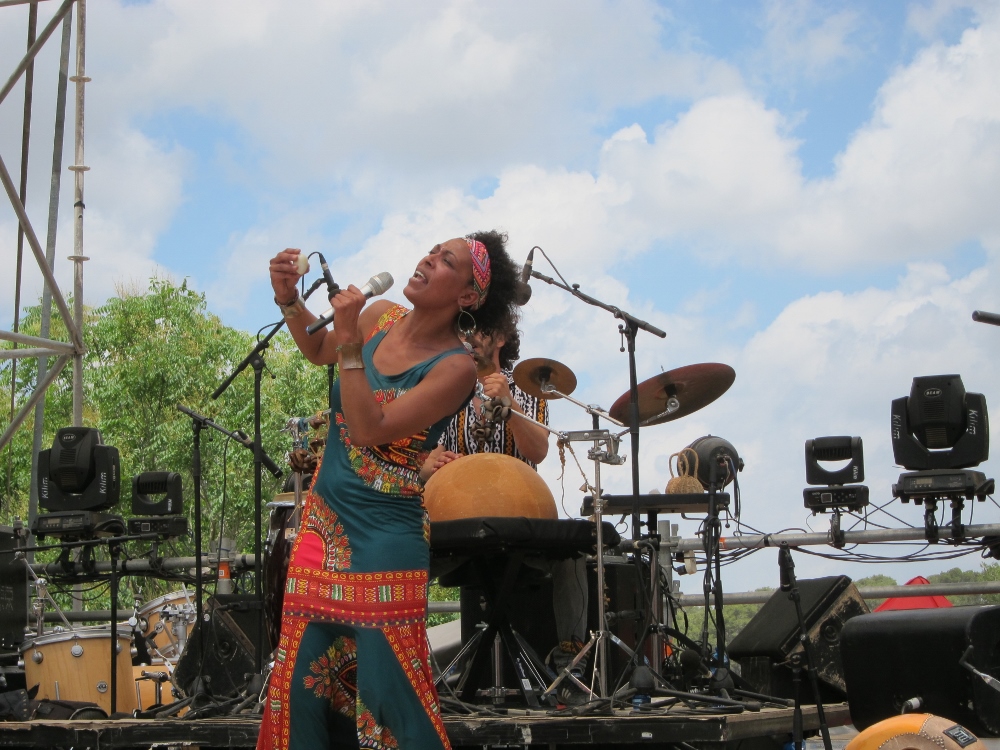 One of the festival's great joys is the opportunity to hear all those bands, new or old, that I haven't heard before. YAH really caught my attention with their brass jazz sound, Taichmania's Middle Eastern swirl of sound, Sputnik Hi Fi's humor infused reggae – "When Russians tell stories the Israelis go silent, because the stories are so shocking." La Chiva Gantiva transforming us all into a dancing community of love with their intoxicating energy and rhythms. Natalie Wamba Berry – wow! Strong and sensual, she is simply mesmerizing onstage, and her band seduces with their intriguing instruments and eclectic groove – "We're never gonna survive without a little crazy" – that's the kind of preaching I love.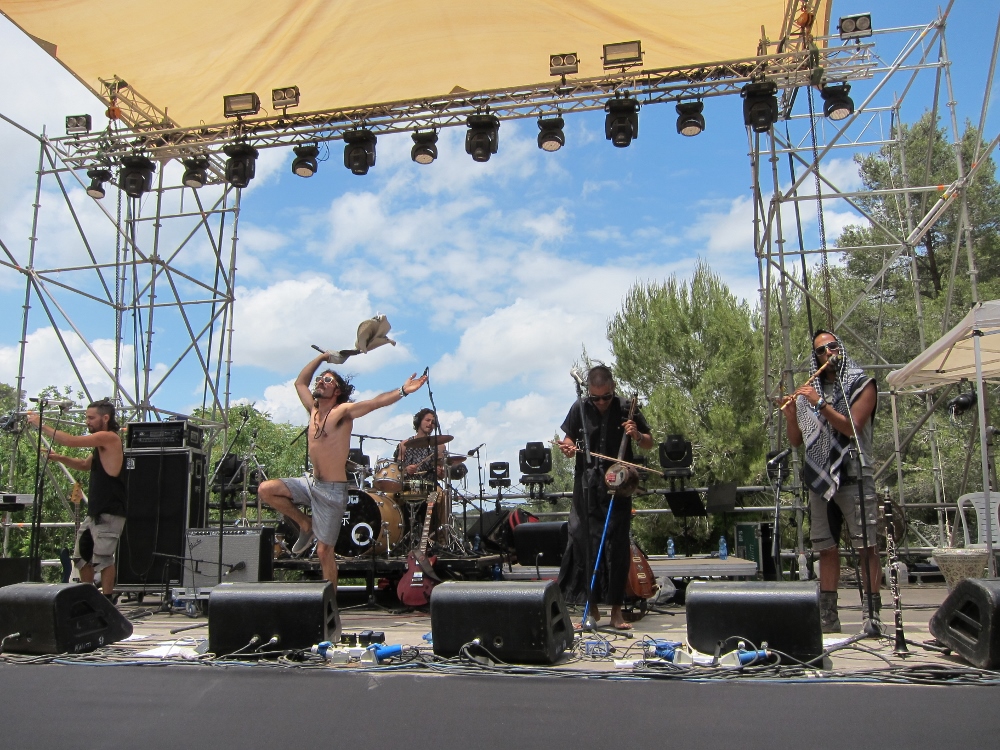 Then there's always that one set that makes my heart dance, and sets my mind on fire. For me this year, it was Anna RF , who hosted Liora Isaac with her lovely vocals. Third day of the festival, immersed in layers of music and dust, anointed by the morning rain, bone tired, their adrenaline-infused arabesques of sound found their way into my spirit and my spirit danced and danced, lifting the tired old body along with it. As Anna RF says: "Flow with the music and your heart will light like a fire." Word.
Yearot Menashe I love you! See you next year.
More photos on the Midnight East facebook page
Links: Yearot Menashe – Menashe Forest Festival