Far from lugubrious, Thom Luz's When I Die – A Ghost Story with Music, is a musical meditation on love, loss, and creativity; provocative, clever, funny, and poignant. Taking its premise from true events, the play presents a fragmented narrative, more musical in structure than textual, with its themes, variations and choreography.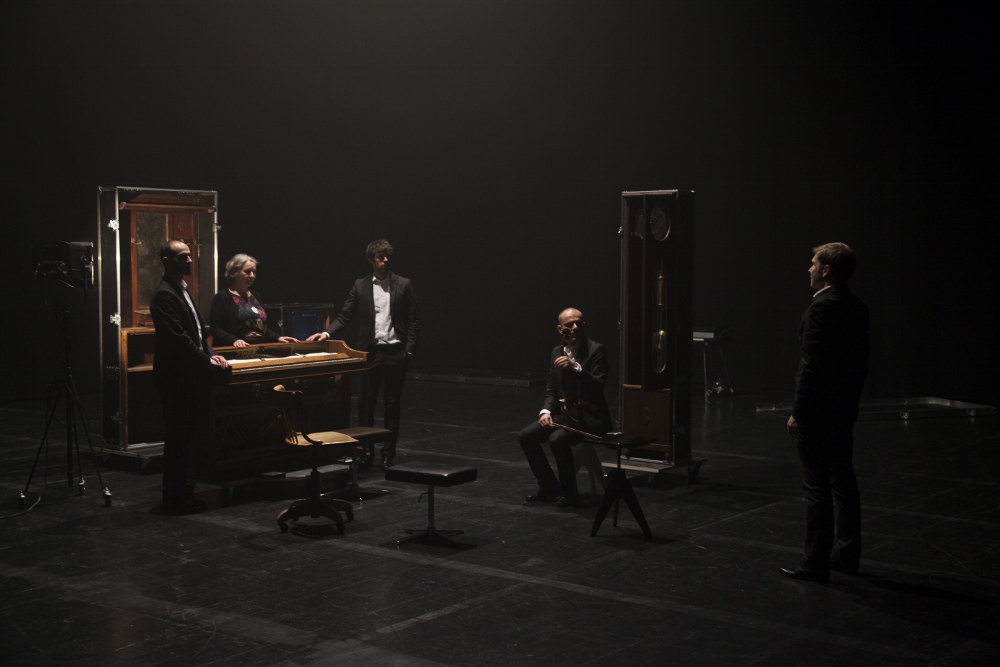 Rosemary Brown (1916 – 2001), an English widow with two young children, presented alleged new works by some of the greatest composers of all time – Bach, Liszt, Schubert, Chopin, Beethoven, Stravinsky, and Debussy. She claimed that these deceased composers communicated with her, enlisting her collaboration in completing their compositions, dictating the music to her. Luz does not engage with the controversy or issues of proof with regard to the afterlife, communication with ghosts or the authorship of the compositions. Instead he takes a far more intriguing path. The play evokes the experience of Rosemary Brown – the multiplicity of these voices, the presence of the music, her struggle to survive emotionally and financially, and the enduring pain of losing her husband Charles Brown, who died in 1961.
Debussy, Stravinsky, Charles Brown and others appear and speak, the different actors taking on different roles. The presence/absence of the deceased and the living is referenced several times, with a humorous twist, as characters announce: "I'm not here." When I Die was presented at the Israel Festival immediately following Robert Wilson's interpretation of Beckett's Krapp's Last Tape, an excellent choice of curatorship, as shared themes resonate in these two works: the force of memory, the enduring pain of loss and loneliness, the vivid presence of past loves and past selves, the co-existence of present and past in the mind.
As it turns out, those famous deceased composers are all very amusing, and their harmonies are heavenly! Suly Röthlisberger portrays Rosemary Brown, who is not always welcoming of the musical intrusions on her psyche – it turns out that smashing a teacup is a rather effective way of getting ghosts to stop singing, at least temporarily. The set, with its abundance of musical instruments, stools, and huge music cases that double as doors and more, is constantly shifting. The four men, clad in concert dress, play the several pianos onstage, as well as clarinet, violin, and more, while moving freely in and out of characters, speaking in English, French, and German. Although there were surtitles in Hebrew, like music, it was not always necessary to rely on the translation to feel the effect.
The musical intrusions come not only in the form of inspired new compositions, there is also the recurring (and for Mrs. Brown, quite frustrating) rhyming Quartermaster's Store song, circa WWII: "there are rats, rats, big as alley cats…" Peggy Lee's early 60s hit Is That All There Is? and crooner Al Bowlly's Midnight, the Stars and You (Jerry Leiber and Mike Stoller), co-written with Ray Noble, share the soundspace with zealous advertisements for Wurlitzer pianos and formal letters announcing bills past due, threatening to cut off the electricity.
When I Die plays with the boundaries between fiction and reality, the perceived and the imagined. An emotional journey, told in sound, imagery and associations; the pain of loss and the search for solace.
When I Die
Director & Stage Design: Thom Luz; Actors: Jack McNeill, Daniele Pintaudi, Suly Röthlisberger, Samuel Streiff, Mathias Weibel; Musical director: Mathias Weibel; Dramaturgy: Marcus Dross; Costume & light design: Tina Bleuler; Sound design: Martin Hofstetter; Production: Thom Luz & Bernetta Theaterproduktionen; Co-production: Gessnerallee Zürich, SpielArt Festival München, Kaserne Basel, Theater Chur, Südpol Luzern
More on the Israel Festival 2017: