Chekhov's The Cherry Orchard embodies contradictions that resist easy resolution; Ido Ricklin's excellent adaptation, a Beer Sheva Theatre production, pared down and focused, accentuates these underlying forces, allowing them to emerge with vibrant intensity. Past and present collide, with ominous implications for the future, as Lubov Ranevskaya (Shiri Golan) returns to her family estate after a long absence. She had departed following the death of her son Grisha, unable to confront the constant reminder of her loss, yet now, returning penniless, with the estate deep in debt, she is on the brink of another great loss. The Cherry Orchard presents a world unsettled by the shifting balance of money, power, and class, a world in which progress and prosperity are at odds with nature, feelings in conflict with facts.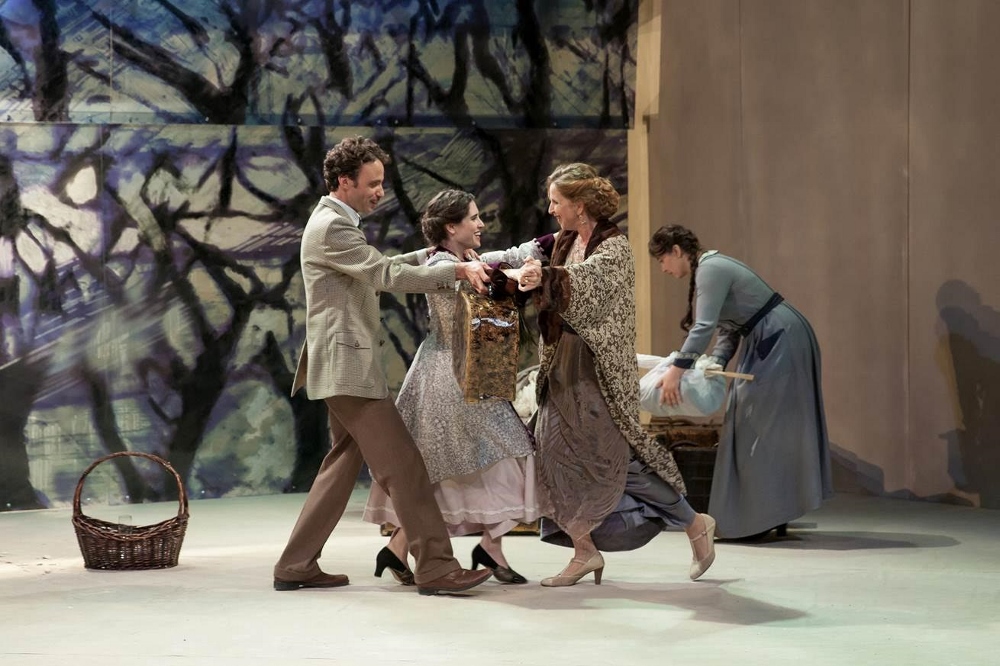 Strong performances by the entire cast, set, music, lighting, costumes, and movement manifest the play's themes with vivid imagery and vitality. As Ranevskaya and her brother Leonid (Yaron Brobinsky) return to their childhood home, the set reflects the extent to which their sense of self rests on an illusion, their memories of the past. The stage is almost bare, with select elaborate furnishings indicating past wealth and the minimalist set emphasizing the evanescence of this way of life. The cherry orchard is represented symbolically, with expressionistic dark trunks and branches covering a transparent panel, taking on a different feel depending on the light. Ranevskaya and Leonid gambol about like overgrown children, their demeanor giving no intimation of their dire straits. It is quite fitting that Leonid plays "air billiards" narrating moves that will never take place.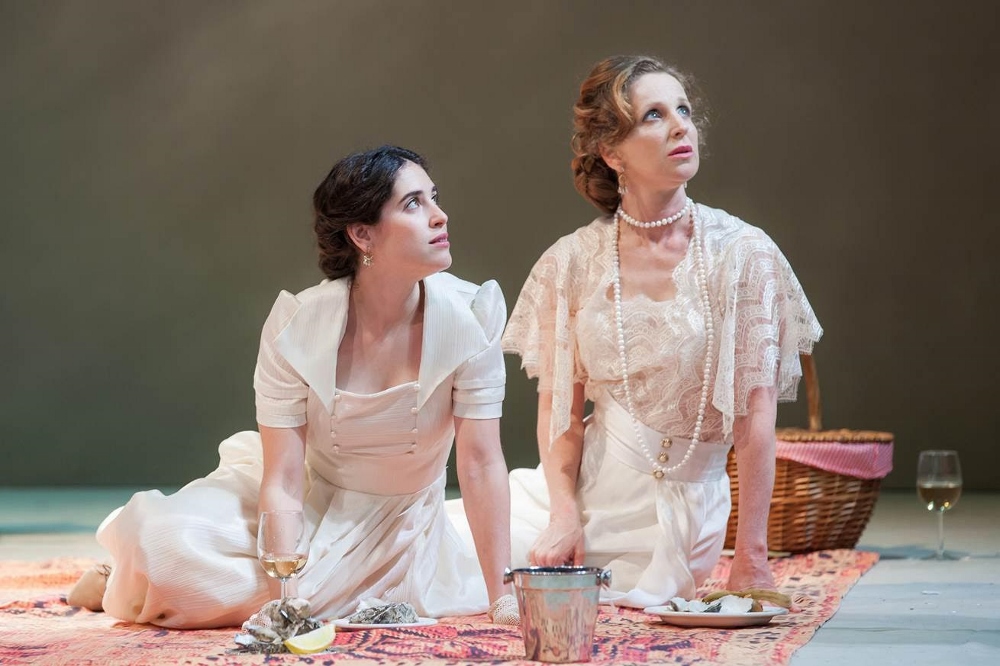 Shiri Golan is magnificent as Ranevskaya, radiant, mercurial, capricious, compassionate, despondent and flirtatious by turns, her moods shifting as swiftly as the sun dancing among the clouds. Ranevskaya is, ultimately, a very foolish woman, leading a life of indolence and trivial pleasure while turning a blind eye to her very real problems, unable to release herself from the hold of an abusive lover. Golan expresses Ranevskaya's aristocratic indolence with every aspect of her physicality, whether dancing around the room, conveying an implied order with the most nuanced of gestures, or slouching elegantly in her chair. Although her inertia is maddening, as she looks into her tiny, shiny, purse and proclaims with childlike helplessness that "yesterday there was lots of money and today there is none," Golan imbues her with a playfulness, charm and sensuality that make her irresistibly appealing despite her shortcomings. Extravagant in her spending habits, lifestyle, and grandiose emotions, Golan also conveys a sincerity in Ranevskaya's compassion (fleeting though it may be) and appreciation for beauty.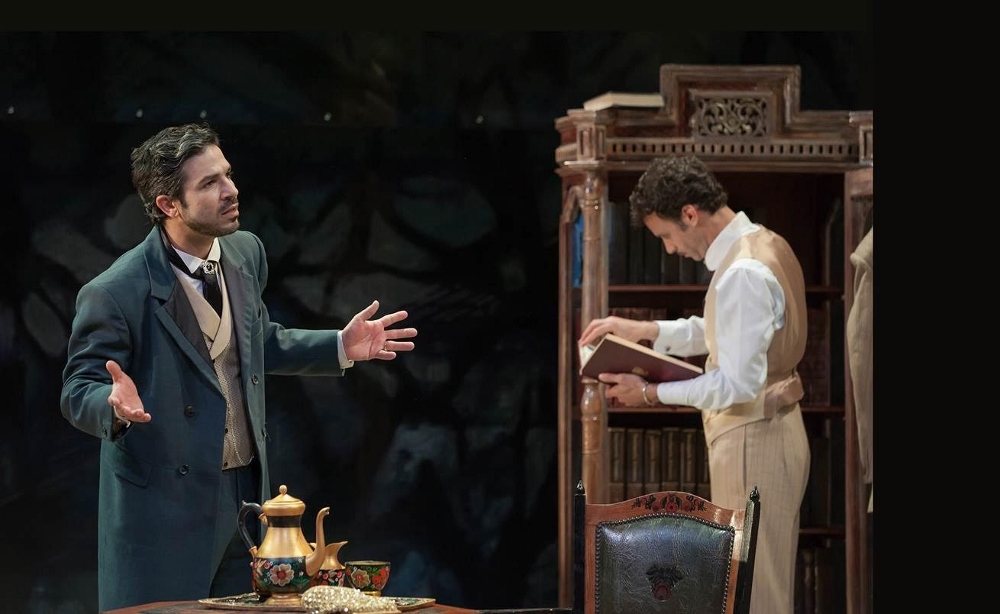 In contrast to Ranevskaya is Lopakhin (Roy Assaf), the son of a serf who has come up in life, and acquired wealth. Attired in the clothes of a gentleman, his attitude is purely pragmatic, he may harbor feelings, but will base his decisions on the bottom line. The beauty of the world and the pleasures of art and intellect elude him, he cannot comprehend the significance of the cherry orchard. Although he may take on the garments of a gentleman, there will always be an inner lack, a void that cannot be filled, as is made powerfully clear in the penultimate scene.
There is an incredible chemistry onstage between Golan's Ranevskaya and Assaf's Lopakhin, who is, in a sense, her nemesis and downfall. Although throughout the play there is the suggestion that Varya (Maya Turgeman), Ranevskaya's adopted daughter and Lopakhin should pair up, this supposedly ideal match is never realized, yet another thread in the tapestry of inertia woven into this play. Varya is the responsible one, who has been keeping the household running despite the ever-dwindling funds. Her extreme shyness and sense of propriety prevent her from revealing her feelings, unlike Ranevskaya who seems to flirt by instinct, from a sense of attraction to men in general, expecting their attentions in return, without necessarily attaching undue significance to a particular man. For Lopakhin, Ranevskaya represents everything that he has always wanted – wealth, status, and the accompanying sense of beauty and elegance. Yet at the same time, he feels anger and resentment towards her, for the same reasons. On her part, a woman like Ranevskaya would never even consider a man like Lopakhin seriously as a suitor. In a very telling scene, replete with ambiguity, Ranevskaya with a smile, has Lopakhin pick up the coins that have spilled from her purse. He obliges rather gracefully, and she accepts the service as no more than her due, not even worth notice. She cannot accept him as an equal, an ally, and she is too blinded by her own illusions to respect him as an adversary. It makes for thrilling viewing.
The past and the habits of the past have a firm grip on them all in different ways, inertia and resistance to change run like a fault line through them all. Varya closes herself off from her emotions, limiting her life through her relentless focus on practical matters, Peter (Tom Avni) exudes a revolutionary spirit, yet this eternal student never takes any real action. Anya (Avigail Harari), Ranevskaya's younger daughter, is the only one who offers a glimmer of hope for the future, not only with her youthful enthusiasm, but with her ability to feel compassion, to change, and to take responsibility. Unlike the gay (both meanings of the word work well here) Leonid, who is the emblem of sweet self-deception, and is therefore crushed by circumstances, Anya is at least able to speak of working for a living with a sense of optimism, fully accepting this new way of life as a solution. Yet the true representative of the past is Firs, movingly and amusingly portrayed by Ora Meirson. Firs is the epitome of fidelity, the only one who truly understands that some things – like the lost craft of drying cherries, are lost forever, and whatever we may have gained along the way, we will always be ever the poorer for the loss.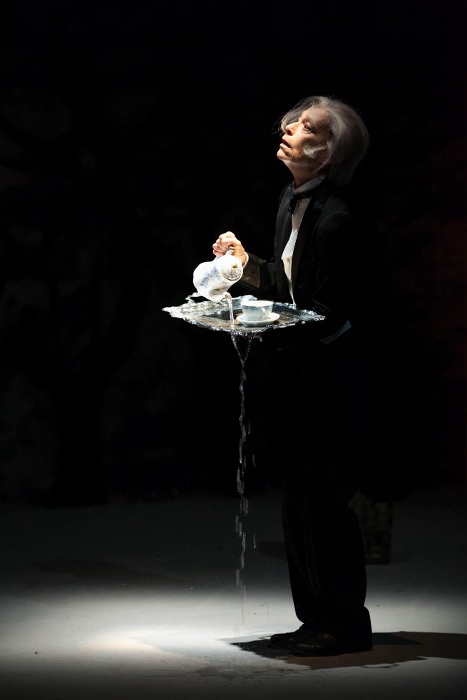 The Cherry Orchard
By Anton Chekhov; Translated by Roee Chen; Adapted and directed by Ido Ricklin; Set design: Eithan Levi; Costumes design: Svetlana Breger; Light design: Felice Ross; Music: Dori Parnes; Movement: Tula Damari; Cast: Shiri Golan – Lubov Ranevskaya; Yaron Brovinsky – Leonid Gaev, her brother; Avigail Harari – Anya, her younger daughter; Maayan Turgeman – Varya, her adopted daughter; Tom Avni – Peter Trofimov, a student; Roy Assaf – Lopakhin, a businessman; Uri Zaguri – Pischik, a neighbor; Ora Meirson – Firs, an old servant; Dani Shapira – a vagabond, a workman.