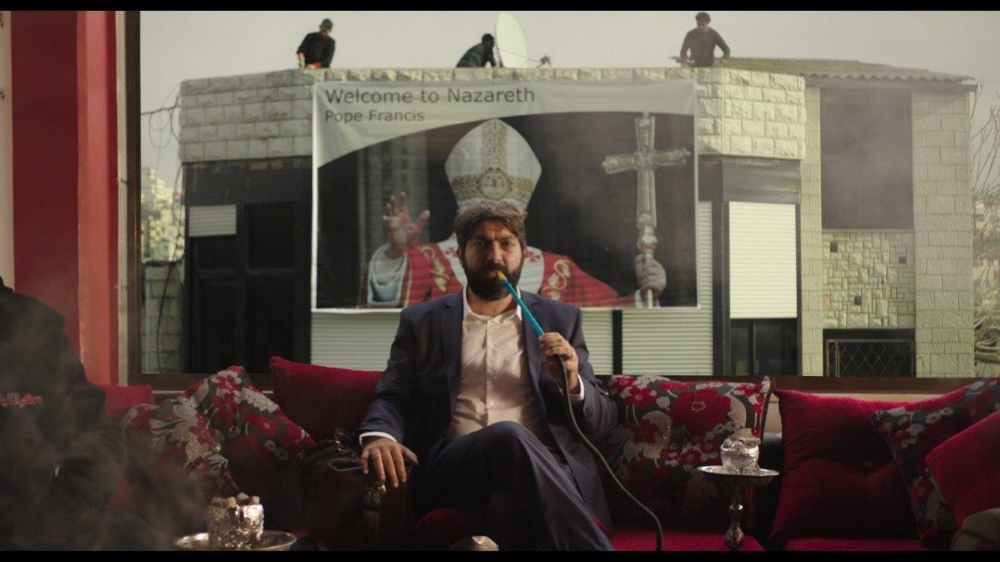 Car horns blaring in bumper-to-bumper traffic, Shady Srour's Holy Air opens in the midst of a traffic jam, an apt metaphor for life in Israel: everyone is making a lot of noise, everyone is angry at everyone else, but no one is going anywhere. Yet, as the film's protagonist Adam (played by Srour) sits at the wheel, he looks over at his wife Lamia (Laetitia Eido), and she smiles. In the midst of all the craziness and aggression, life goes on, and it is often sweet, and very, very, funny. Written and directed by Srour, Holy Air is a well-wrought, visually appealing and perceptive film with a distinctive voice, as full of warmth as it is suffused with wit, social critique, and humor.
The film is set in a community seldom depicted in film and generally less generally known or discussed in the discourse on Israel: the Christian Arab community of Nazareth. At the center is Adam, a man in flux who is floundering. He's no longer attached to the left-wing ideals of his youth, but despite his master's degree in business, hasn't really found a way to make a go of it. His father George (Tarek Copty) has cancer, with only a 50% chance of recovery, and it would seem that he's about to become a father himself. He's just not quite ready.
The film deals frankly with difficult and controversial topics – the connection between religion and commerce, female sexuality, abortion, extortion, prejudice and racism – yet does so with clever dialogue, and hilarious scenes. As Adam attempts to cope, no one is spared the film's sharp scrutiny. Members of all three faiths – Christians, Muslims, and Jews, are treated with humor and candor. While "every man for himself" or interchangeably, "every tribe for itself" might be the theme of the times, even self-interest has a bright side in this rather optimistic film: differences can be set aside when all sides benefit.
Srour is amusing and poignant as he fluctuates between valiant attempts to rally and diligent pursuit of escapism, whether in the bathtub or in the sweet fumes of the nargila. But when inspiration strikes, he appears to have found his métier selling holy air, and emerges as an eloquent public speaker, all charm, slick as any purveyor of snake oil. His wife Lamia is a wonderful foil for Adam, capable, outspoken, and confident, as secure in her sexuality as in her convictions. Srour has written a vibrant female lead, and Laetitia Eido brings her to vivid life, imbuing her with sensuality, intelligence, and grace. The relationship between the couple is a pleasure to view, with a lively depiction of the tensions, arguments, and differences between them, and the love that binds them together.
Family is at the center of this film, a burden and a blessing, the one constant amid the flux. Whether trying to control events from his hospital bed, giving Adam a newspaper article on how to conceive a male child, learning sign language so that he will be able to communicate after his surgery, or reflecting on death, Adam's father George (Tarek Copty) is a soulful, spirited presence in the film.
The soundtrack, and wonderful original music by Habib Hanna Shehadeh play a central role in the film. Shehadeh's vivacious theme infuses the film with uplifting rhythms and a bright sensibility. The soundtrack is employed imaginatively, often to amusing ends. When Adam is threatened in a dark alley by three men demanding protection money, he bravely refuses, and is beaten for his efforts. Just then, a marching band, complete with bag pipes, makes its loud and cheerful way down the street, obscuring the sight and sounds of the violence in the alley. Life goes on.
Holy Air was screened at the Jerusalem Film Festival in the Israeli Feature Competition.
Holy Air
Israel 2017, 81 minutes, Arabic, Hebrew, English, French, Italian with Hebrew and English subtitles.
Written and directed by Shady Srour; Producers: Ilan Moskovitch, Shady Srour; Cinematography: Daniel Miller; Editor: Naa'man Bishara; Music: Habib Hanna Shehadeh; Cast: Shady Srour, Laetitia Eido, Tarek Copty, Shmulik Calderon, Dalia Okal, Bian Anteer.