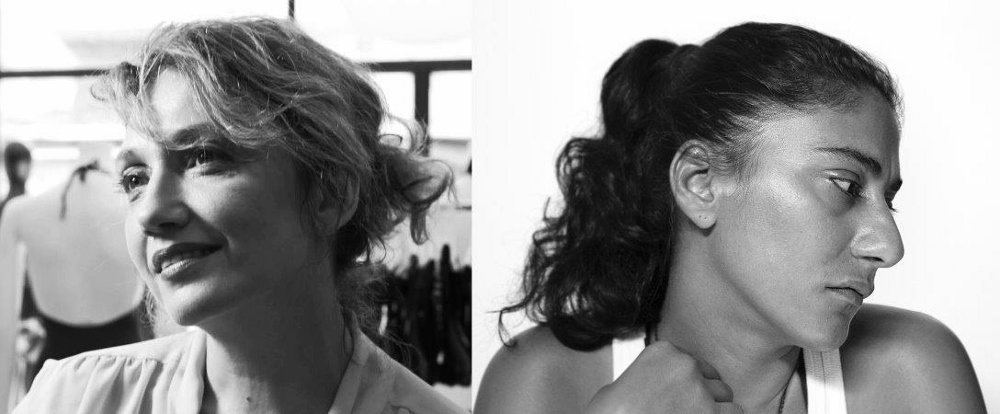 Poetic, with a touch of noir, Death of a Poetess, written and directed by Dana Goldberg and Efrat Mishori, is a moving, intimate chamber piece, with wider reverberations. The film premiered in the Features Competition at the Jerusalem Film Festival on July 14, 2017. Shot in black and white, the tightly constructed film follows two narratives that intersect at a critical point: Lenny Sade (Evgenia Dodina) is a 50-year-old woman and respected researcher on the last day of her life, Yasmin (Samira Saraya) is a 35-year-old woman who lives in Jaffa. Their stories unfold in fragments, shifting from one to the other, evoking an atmosphere of suspense.
Lenny is a woman of mystery and resolve, it is apt that one's first view of her is from the back, hair swept up with a clip, her head surrounded by a messy halo of fly-away strands. As she turns, severe black glasses frame her pale eyes, obscuring any trace of vulnerability, a form of armor. Lenny's day is shown in its entirety, yet refrains from exposition. Her story and situation may be inferred from her actions, interactions with others, and from the poems. As Lenny navigates her shopping cart through the supermarket aisles, there is a voice-over recitation of a poem in Dodina's resonant tones: "she isn't here/my dear daughter."
Poetry plays a central role in the film. If poetry is viewed as the expression of one's innermost thoughts and feelings, the decision to reveal the poems – whether to another person, or to the world at large – is a critical one. To reveal the poems is to give voice to one's true self, to hide them away in a drawer is to silence that voice. Yet exposure can be dangerous. Poetry appears in different contexts in the film, contributing yet another layer of associations and meaning. Poems by Efrat Mishori, H. N. Bialik, Samira Saraya, and Henree, evocative and piercing, imbue the film with a luminous beauty.
Yasmin is shown in close-up, utterly exposed, yet her story is sealed deep within. As an Arab woman, she is a member of a minority in Israel, and against the backdrop of the Israeli-Palestinian conflict, anything she says or does has the potential to appear suspicious. Interrogated by a male member of the police force, the balance of power is eminently clear. He is never seen onscreen, represented only by his questions and insinuations, imposing a narrative on Yasmin. Her only means of resistance is to avert her gaze, to withhold her words.
Evgenia Dodina and Samira Saraya (known for her performance in Shira Geffen's Self Made in 2014) deliver powerful performances. Dodina is quicksilver, conveying a multitude of feelings and thoughts in the most fleeting nuance of expression. The delicate beauty of her features belies a tensile strength, and she imbues Lenny with intelligence, vulnerability, and passion. Stuck in an annoying confrontation with a slick saleswoman, she reins in her instinctive anger, and plays along with the woman, speaking in the artificial parlance that passes for friendly conversation and emotional cliché. When she talks about her poems, her smile is radiant.
Saraya's strong features figure prominently, she is seen entirely in close up, exposed to the viewer's (and interrogator's) scrutiny. It is an impressive feat that from this vulnerable position, she conveys the sense of a self-aware and resilient woman who has created a measure of freedom within the confines of her life. Even within the interrogation, she strives to maintain control in the way she chooses to tell her story. In every gaze, movement of her lips, modulation of her voice, Saraya is mesmerizing.
The film raises myriad questions of power and oppression, voice and authority. How does one make one's voice heard in the face of oppression? Death of a Poetess presents a portrait of two apparently very different women, who have more in common than one might think. Implied rather than directly stated, both women have certain expectations and roles imposed upon them by social and cultural norms, roles that don't quite fit, and expectations they would not, or cannot fulfill. Each in her own way knows unfathomable sorrow, pain beyond measure. Each in her own way suffers self-imposed silence, yet harbors a secret longing to be heard, to be known.
Death of a Poetess
Israel 2017, 77 min, Hebrew and Arabic with English subtitles
Written and directed by Dana Goldberg and Efrat Mishori; Cinematography: Asi Oren, Irit Sharvit; Editor: Katia Shepeliavaya; Art Direction: Carmela Sanderson; Music: Henree & Nikka, Moshe and Sandra Choresh, Colibris: Talia Keinan, Gai Sherf, Matan Fax, Efrat Mishori; Cast: Evgenia Dodina, Samira Saraya, Y. Goldberg.