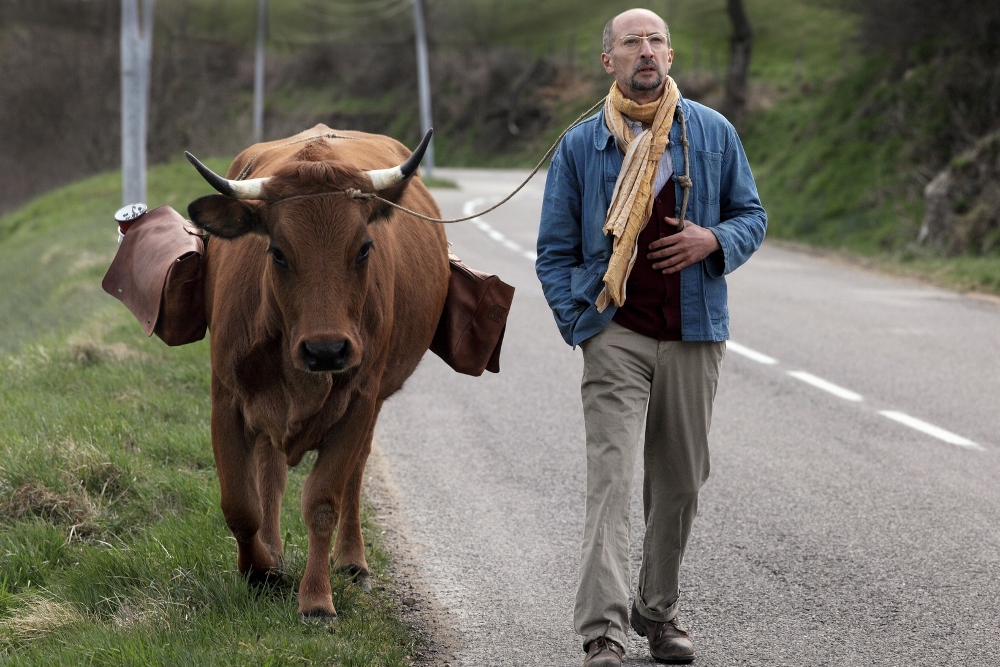 Warm-hearted and funny, Mohamed Hamidi's La Vache (One Man and His Cow) is a sweet interlude of summer escapism, with a wonderfully vivacious score by Ibrahim Maalouf. Leave the summer heat, personal problems, politics and cynicism behind and join Algerian farmer Fatah – in an endearing performance by Fatsah Bouyahmed, on his journey to the Salon de l'Agriculture in Paris.
A light take on the tensions between traditional village life and the digitally-driven global culture, one's first view of Fatah says it all: diligently tending his small plot of beets in the middle of nowhere, surrounded by dry open space as far as the eye can see, he sings the Vanessa Paradis hit Joe le taxi. The incongruity of this cultural combo sets the tone for much of the film. Fatah leads a contented life in the small Algerian village of Bolayoune, with his adored and impressively assertive wife Naima (Hajar Masdouki) and their two daughters. Yet he aspires to more. Taking the girls to school, he encourages them to speak French, and teaches them songs in French; he wants them to be able to hold their own in the wide world beyond their village. Fatah has a great love, and a great dream. The love and care is bestowed on his Tarentaise cow Jacqueline, who is one of the most beautiful cows I've ever seen, and she is the focus of his dream: to compete in the bovine competition at the Paris International Agricultural Show. Receiving an invitation to participate in the competition, Fatah will now have a chance to test his mettle.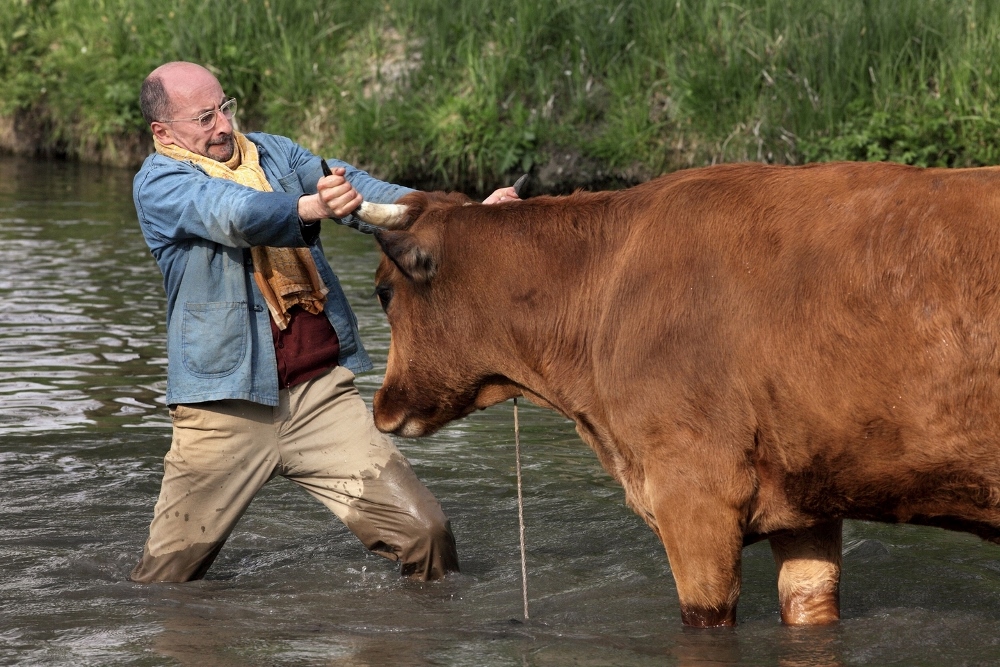 With a little financial help from his friends, Fatah sets out with Jacqueline. The money takes them as far as Marseille, but from there the amiable pair must walk to Paris. Their journey is full of obstacles, surprises, suspense (will they make it in time?), and encounters with different people and customs. Fatah's naivete gets him in trouble now and then, his direct manner and honesty are both amusing and endearing, as are his conversations with Jacqueline. Their encounters along the way are quirky and amusing, people, for the most part, are kind, with Lambert Wilson as a reluctantly helpful member of the impoverished French aristocracy, and Jamel Debbouze in a comic turn as Fatah's expat brother-in-law. Meanwhile, in the village, life goes on, and Fatah's adventures are interspersed with the village response, as they keep up via email and YouTube. Naima's experiences as the wife left behind in the village is one of the more intriguing subplots, Hajar Masdouki leaves a lasting impression, imbuing a relatively small role with depth and presence.
Ibrahim Maalouf's soundtrack is bright and invigorating, the perfect accompaniment to this journey. The Lebanese-French trumpet player and composer has performed and recorded with Sting, Salif Keita, Marcel Khalife, and Vanessa Paradis, among many others; and composed soundtracks for Yves St. Laurent (2014), directed by Jalil Lespert, and Dans les Forets de Sibirie (2016) directed by Safy Nebbou, for which he won the Cesar Award for Best Original Score in 2017.
La Vache (One Man and His Cow)
France/Algeria, 2016, 91 min, Arabic and French with English and Hebrew subtitles
Directed by Mohamed Hamidi; Screenplay: Mohamed Hamidi, Alain-Michel Blanc, Fatsah Bouyahmed; Producers: Nicolas Duval-Adassovsky, Laurent Zeitoun, Yann Zenou;  Cinematography: Elin Kirschfink; Editing: Marion Monnier; Music: Ibrahim Maalouf; Cast: Fatsah Bouyahmed, Lambert Wilson, Jamel Debbouze, Hajar Masdouki.