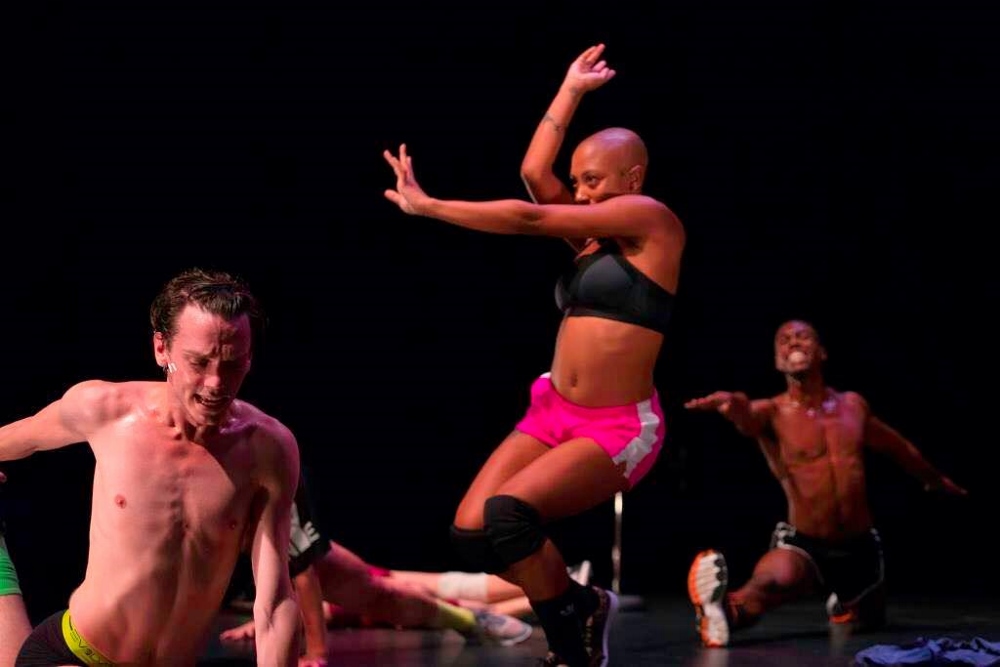 Playful, funny, powerful, and tender, American Playground captures the essence of turbulent, contemporary identity, in a cascade of colorful images, movement, and sound. It is fascinating to see choreographers Niv Sheinfeld and Oren Laor, whose work has so deeply engaged with issues of Israeli culture, work with the Core Performance Company, in effect, playing with this America, that lives in the minds and bodies of the dancers. Themes central to the Sheinfeld – Laor repertoire come into play here as well – the relationship between body and culture; the individual and the group; the tension between culture and identity; questioning dance; dance as a way of life and metaphor; exploring ceremony and ritual; mothering, childhood and the process of becoming/coming into one's own; music and song as a source of solace and inspiration, as well as a mechanism of inscribing cultural norms – explored and expressed through the body. The resulting piece has a very American feel, with universal resonance.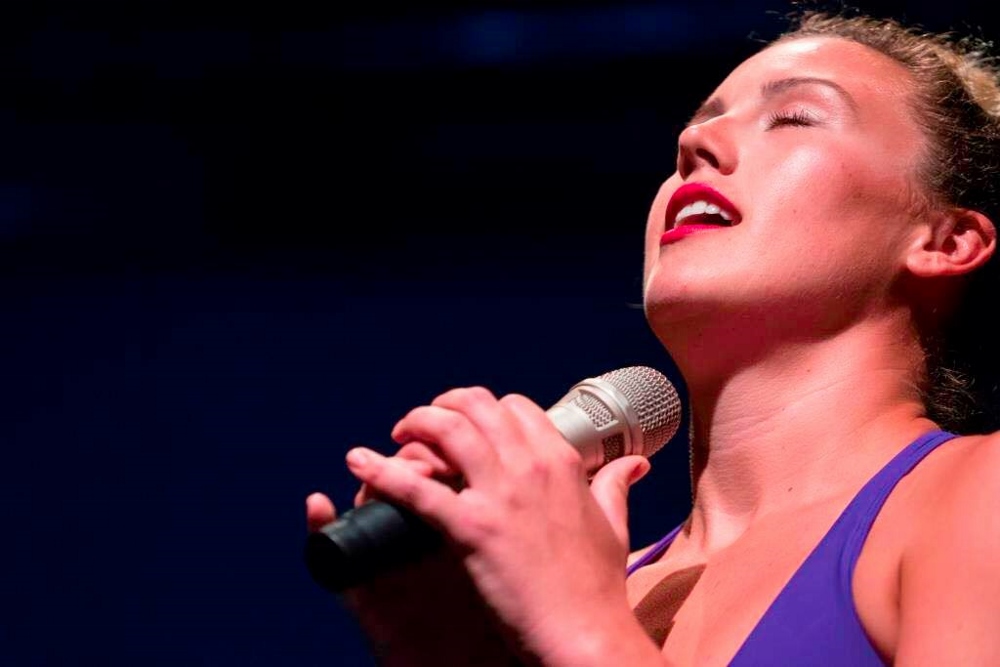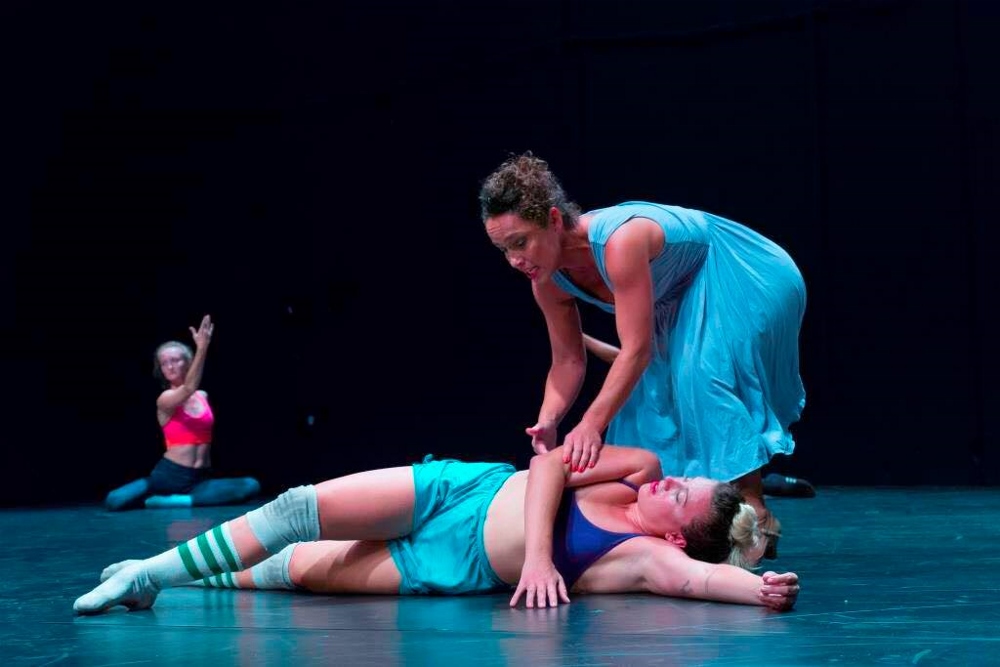 Performed in the black box venue of the Tmuna Theatre, the dancers confront the audience at eye level. Standing at the back of the stage, lined up against the wall in casual, almost lazy, poses, they stand out as individuals in their bright athletic gear, watching the people come in. A dancer steps up to the mic at the front of the stage, and addresses the audience directly. Introducing herself, Anna Bracewell Crowder recounts being told that her "neck was too short to be a real ballerina." Then, providing her own a cappella musical accompaniment, she performs a favorite sequence – the Kitri variation from Don Quixote – radiating a warmth and joy in every movement. So much is set in motion in this brief moment: what is a real ballerina (or a 'real' anything, for that matter); the enduring impact of our childhood experiences; the way we are shaped by those experiences, and the ways in which we break free from the mold.
Taking off her pink hoodie, Phae Monae Brooks reveals a shaved head and takes on the role of MC, introducing the other dancers. The flirtatious mannerisms of classical dance give way to an explosion of individuality, a blaze of burlesque and scintillating sensuality, and if there was any remnant of a fourth wall left, the dancers bound right over it and into the audience. Remaining passive is not an option.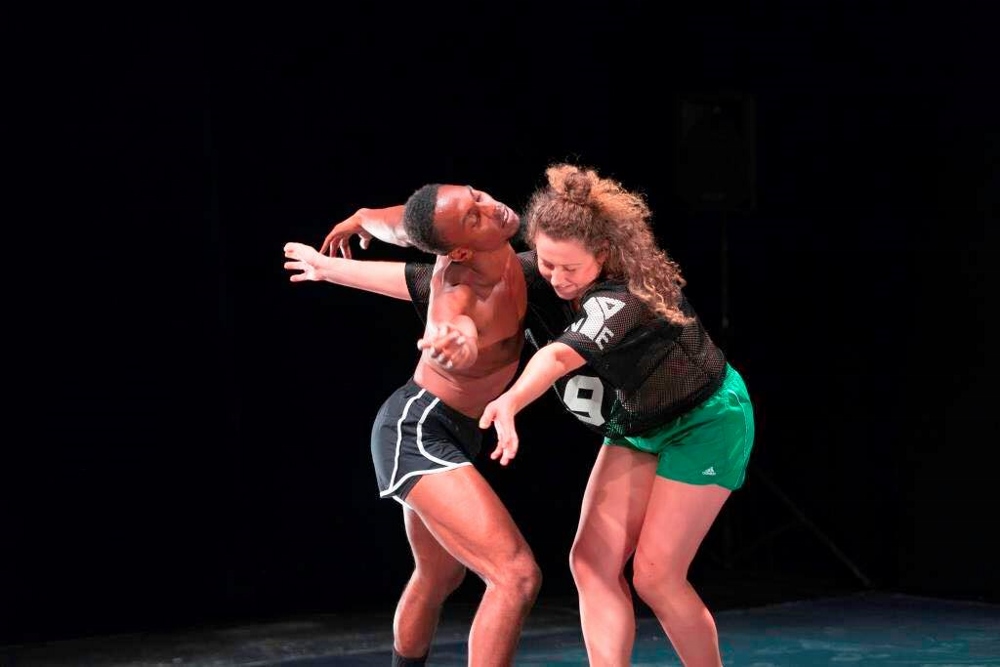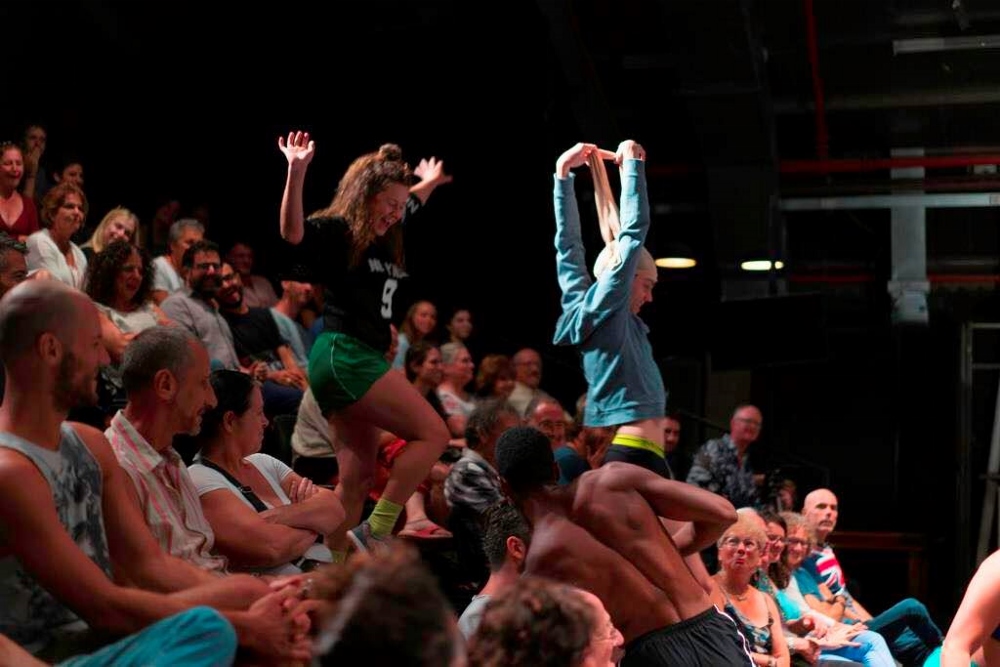 American Playground is marked by the games of childhood – Tag; circle games; Blind Man's Bluff – and a sense of play, as the dancers move easily between an embodiment of childhood, and an adult perspective. There is a certain nostalgia, a longing not only for childhood, but perhaps for the childhood we never really had, yet yearn for. Phae watches a game of Duck, Duck, Goose from afar, then approaches the mic to sing a poignant rendition of As Tears Go By (written by Mick Jagger and Keith Richards, recorded by Marianne Faithful 1964): "smiling faces I can see/but not for me."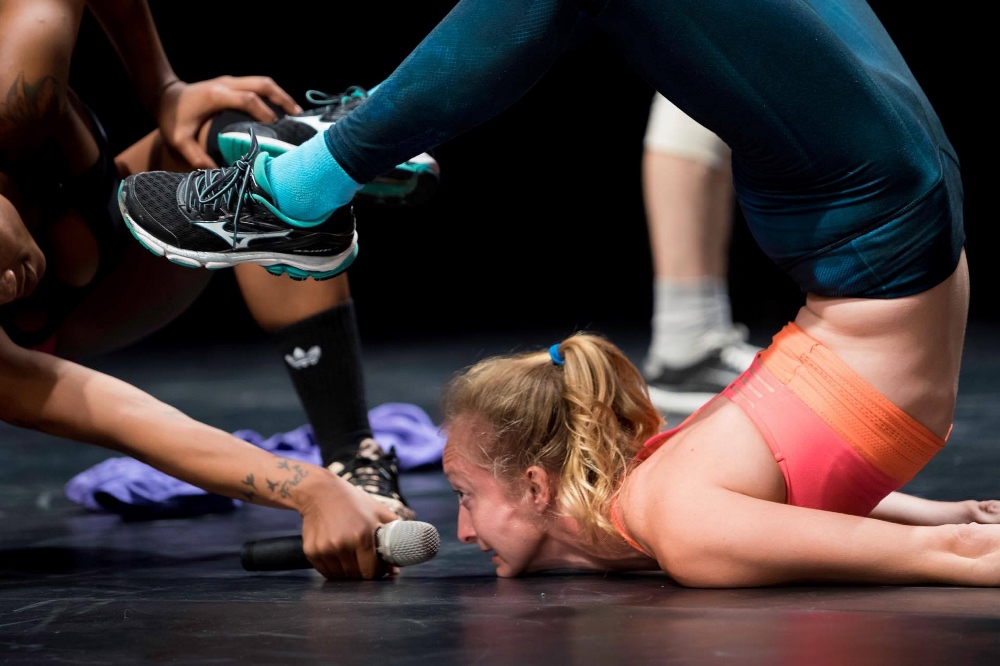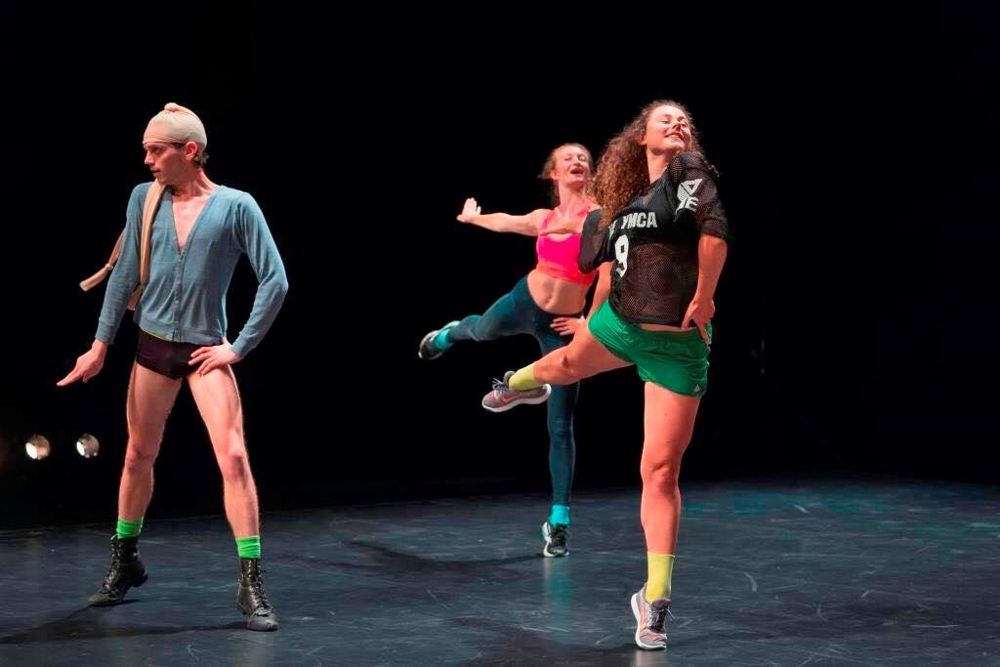 The words of a song, the games we play, our clothes, the way we wear our hair, they shape our sense of self, and we in turn make choices that change the world around us, embracing power through our dreams, our words, our bodies. The images are eloquent and visceral. Phae on all fours, in shimmering, powerful movement, chanting: I whip my hair back and forth. Joshua Rackliffe first appeared wearing stockings on his head, flowing locks a la Whoopi Goldberg. Later, in green knee socks and an elegant pair of black heels, he was transformed, a diva with liquid limbs, flowing, feminine: " Tell me what you're dreamin'/Let your feelings show, oh…". Singing the Star-Spangled Banner from a plethora of impossible poses, the bendy Rose Shields embodied a persistence and optimism under constraints, in a very entertaining and thought-provoking sequence. Two men, Andrew Ritfeld and Scott Wheet, reach out to one another, mirroring movement, yet do not touch.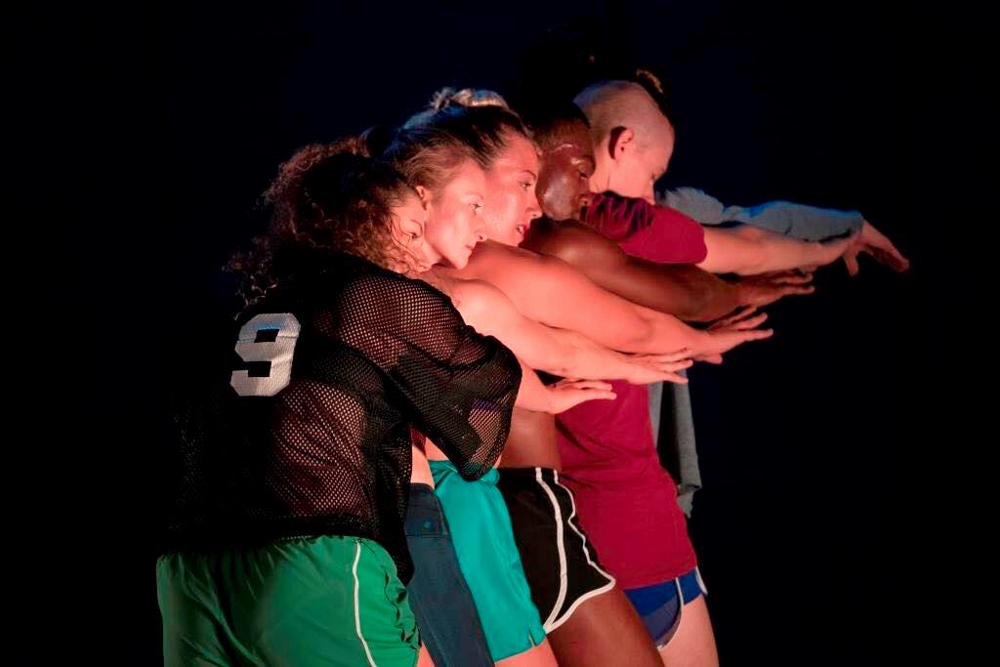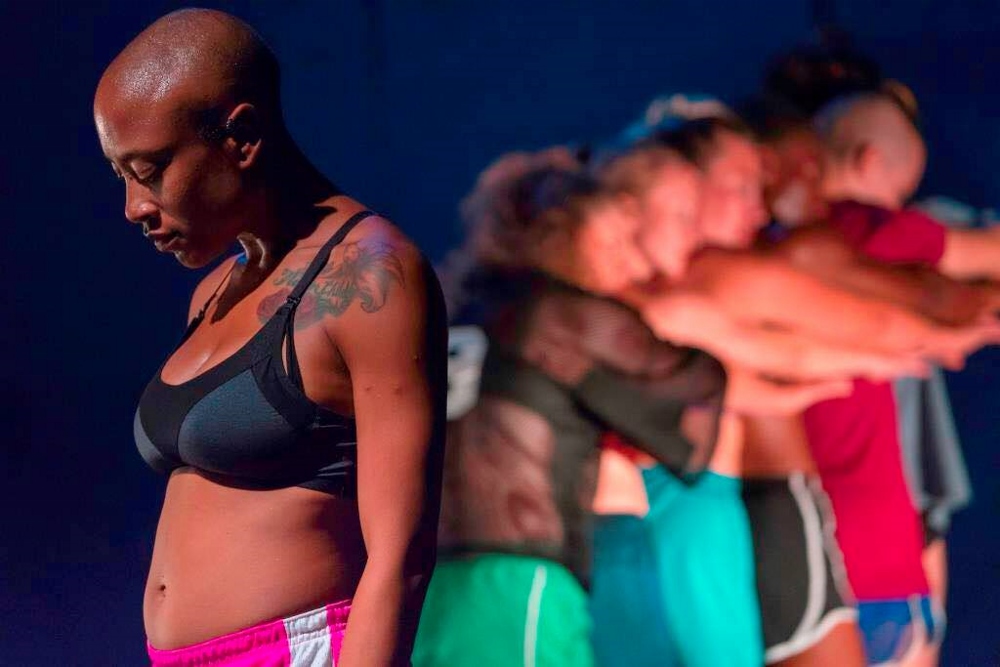 The dancers are all excellent, imbuing American Playground with vibrant energy and surging emotions. The work is permeated with the desire to connect, and the desire to thrive as an individual; how we are seen and evaluated by others, and how we envision ourselves, who we are and who we would want to be, the courage to imagine, to explore.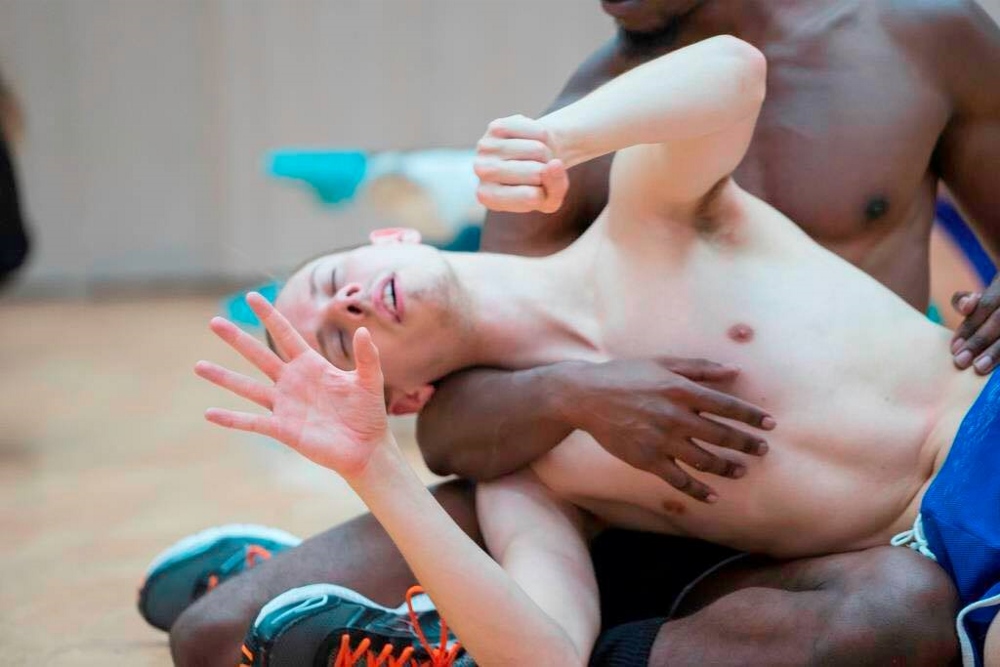 American Playground
Choreography: Niv Sheinfeld and Oren Laor
Music: Hed Kandi, Marianne Faithfull, Malena Ernman, Johannes Strauss, Ludwig van Beethoven
Lighting: Chris Duncan
Performers: Core Performance Company – Stephanie Boettle, Phae Monae Brooks, Anna Bracewell Crowder, Rose Kazanowski, Joshua Rackliffe, Andrew Ritfeld, Rose Sheilds, Scott Wheet.
Photographs: Efrat Mazor