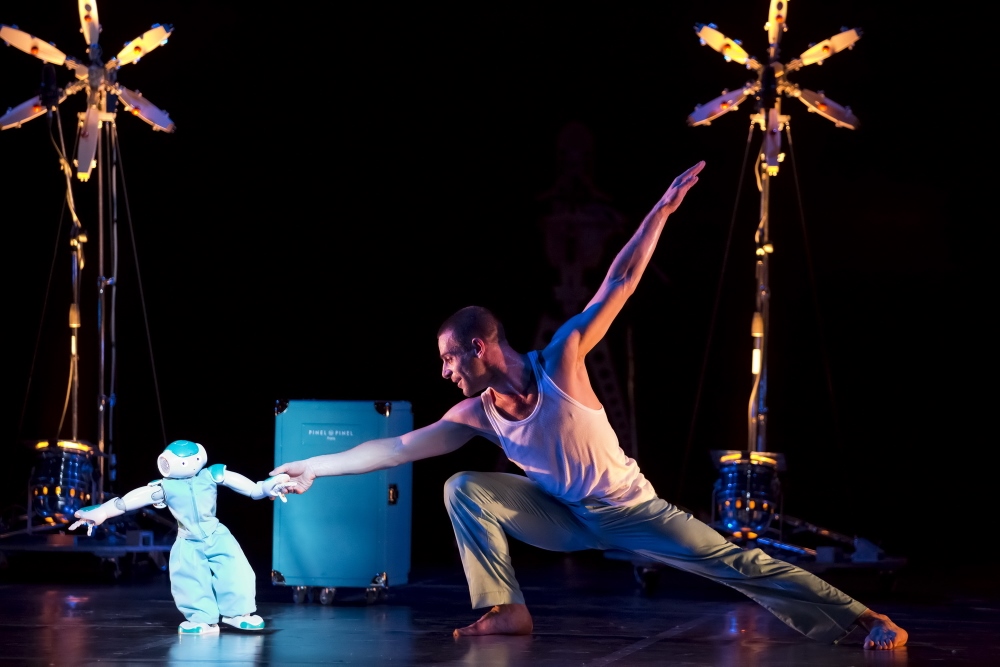 The future is here, and it looks fantastic! Blanca Li's ROBOT is a fun, multi-media extravaganza, surging with energy and excellent performances by the dancers, human and robotic, as well as utterly captivating live music by a mechanical orchestra.
One does not often encounter such a symbiotic merging of art and technology, resulting in immensely entertaining show. ROBOT is created in collaboration with Japanese performance-art collective Maywa Denki, who made the outstanding mechanical orchestra, and in partnership with Aldebaran Robotics, whose diminutive Nao robots are irresistibly charming as they share the stage with the company's talented dancers.
ROBOT is a work of cutting edge technology and artistry. The dramatic opening could almost be a stand-alone installation, as a stunning video projection transforms a dancers' body, bones, veins and beating heart into electric circuits, gears, and futuristic visions. Then, as the full company of dancers comes onstage, the movement emphasizes the relationship between the mechanical and the organic, blurring the borders between them. The dancers are expressive and impressive in their performance, and the co-existence of the human and technological onstage is full of humor and joy. Each instrument in the mechanical orchestra is a visually enticing hybrid of character and function. One of my favorites was a tall instrument with a petal-like head that opened and closed like a flower, illuminated with lights. All were replete with imagination, wit, and humor. Especially funny were the big trunks with hands attached, creating a unique percussion instrument.
The dancing NAO robots are adorable. They say children and dogs always steal the show, and one might be tempted to say the same of robots, but the dancers here are so wonderful that they more than hold their own.  One of the salient aspects of the show in its relation to technology is that the robots are not a prop or gimmick created for the performance. The NAO robots created by Aldebaran Robotics are something that exists in the world beyond the stage, and have functioned in different capacities, as service robots, and even as receptionists in a hotel. Blanca Li is not creating from the perspective of thinking about technology in the abstract, but rather relating to something real from our contemporary culture and relating to it in an artistic manner. The robots performed like pros, executing dance moves with panache. Sometimes they fell down, which only made them appear even more endearingly 'human'. When they fell, they strived to get up again, plastic legs churning in the air. Sometimes they succeeded, and joined in the dance once more, but sometimes they were just stuck. Stuck robots were swiftly and discretely replaced, an action which somehow fits in with ruminations on the future of humanity. In a charming duet between a male dancer and a NAO robot, the robot fell and, childlike, reached out its arms to be picked up. The dancer naturally complied, and the two hugged. From the stage, the future of humans and robots looks bright.
The premiere evening ended with a flash mob in the foyer of the Israeli Opera, as a dancer from the company taught and led the audience in Blanca Li's Pollution, a dance commissioned by the United Nations to increase awareness of air pollution and environmental issues.
ROBOT
Concept and choreography: Blanca Li; Original music: Tao Gutiérrez, Maywa Denki, Jean-Pierre Taïeb; Set design: Pierre Attrait; Lighting design: Jacques Chatelet; Video: Charles Carcopino; Robot programming: Thomas Pachoud; Dancers: Yacnoy Abreu Alfonso, Iris Florentiny, Geraldine Fournier, Yann Herve, Samir M'Kirech, Margalida Riera Roig , Gael Rougegrez, Yui Sugano.