Who are they as they wait in their black and white suits? Religious Jews? Business men? When they move – they are dancers, brought together by a dance that has been performed so many times it has become a ritual.
"Ehad Mi Yodea", was choreographed in 1990 as part of the full-length work "Kyr", the first dance that Ohad Naharin created for the Batsheva Dance Company as its artistic director. A cumulative work with soundtrack composed by the rock group "Tractor's Revenge" to the familiar song from the Passover Haggadah "Ehad Mi Yodea" (Who Knows One) and sung by Ohad Naharin. Originally performed in khaki work shirt and shorts, it was then adapted to become the opening sequence of "Anaphasa" – the music intensified, the speed increased and like the rest of the work, it was performed in black suits, with a white shirt and black hat.
The choreography is easy to learn, yet physically demanding. Like Israeli culture, which re-invents itself at a pace that is almost too difficult to sustain, it requires intense exertion and a constant state of alert. Stefan Ferry, a dancer and member of Batsheva from 1999 to 2008, says: "It's a rough one…you enter the song by repeating the movement, entering a short trance, a meditation. You take it rough, you really physically involve yourself. You shout loud enough for people to hear and then you sit and wait…and this waiting is like a charging point."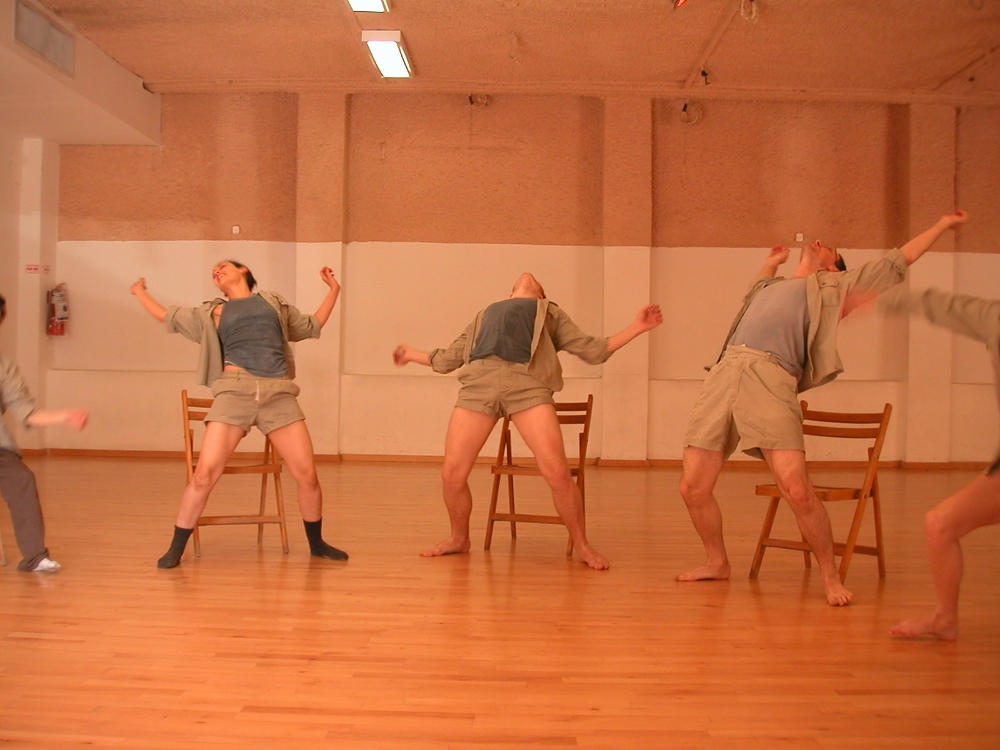 It is easy to add a dancer to the work – simply add another chair to the circle. The circle of dancers photographed are former members of Batsheva who reunited to perform "Ehad Mi Yodea" in a benefit for the Dancer's Union (part of the Israeli Union of Performing Artists – IUPA) this past February. The dancers are: Michal Almogi, Jeremie Bernheim, Yaara Dolev, Sonia D'Orleans Juste, Stefan Ferry, Michael Getman, Jesper Thirup Hansen, Elad Livnat, Tami Lotan, Keren Malkit, Inbar Nemirovsky, Talia Paz, Noa Rosenthal, Ari Rosenzveig, and Nir Tamir. Ohad Naharin visited the rehearsal to embrace the dancers and wish them well and Hillel Kogan brought them up to date on the current version of "Ehad Mi Yodea" as performed by the company.
Informed by the context in which it is created, it is a dance which creates a sense of community both in its structure and in the associations it arouses. Even if one does not initially recognize the song, one is drawn into the circle by the rhythm. The repetition allows both sound and movement to enter the mind and one is caught up in an intensity of sensation that feels somehow familiar. Performed hundreds of times both in Israel and throughout the world, it has acquired the status of a tradition in its own right. Drawing on traditional music, its visual imagery open to diverse interpretation, evoking enthusiasm and controversy in equal measure – "Ehad Mi Yodea" is an icon of Israeli culture.
The khaki work clothes of "Kyr" have faded into performance history, just as the communal life of the kibbutz has been delegated to the archives of Israeli culture. Business suits and traditional Orthodox garb both merge and vie for center stage in the political power dance. As the dancers throw off their garments (usually on the count of 9) – is it a joyous celebration of movement and freedom, a rejection of tradition, or a fierce act of desperation and isolation, the post-modern individual stripped down to faded blue undergarments, a pile of jackets, shirts, trousers, and shoes a testimony and reminder of all that has been lost.
At the heart of the Passover ritual is not only the story of the exodus from slavery to freedom, but the retelling itself. The song "Ehad Mi Yodea" is emblematic of the imperative to "retell" in its recitation, repetition and affirmation of the essential elements of Judaism, from one to thirteen. Whether it is seen as rejecting, reinventing or randomly employing elements of Jewish and Israeli tradition, by the very act of performance, the choreographic work "Ehad Mi Yodea" is inscribed upon that tradition.
Inbal Yaacobi, herself a former Batsheva dancer and member of the Dancer's Union steering committee says of the dance which she has performed over 300 times: "It is a lot of fun (Hebrew: kef). There is a powerful group feeling. You feel the person to your left and to your right sitting in the circle. The people give themselves up to it – everyone standing and singing "shebashamayim uva'aretz" (who is in heaven and on earth). There is a power to it."