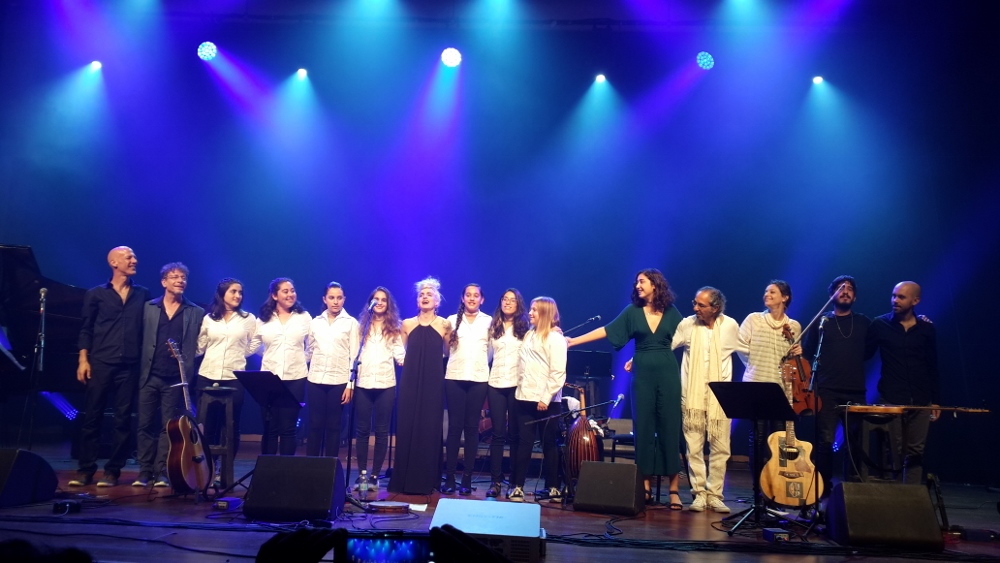 Last night's tribute to Leonard Cohen at the Piano Festival was a musical love-in, with innovative and moving performances of Cohen's songs onstage, and an entranced audience, all sharing their love for the troubadour who died a year ago, on November 7, 2016.
A reflective mood was established by Yoav Kutner, reminiscing about Cohen's long connection with Israel, showing the backstage clip from the Jerusalem concert in 1972, as well as photographs from the Yom Kippur War and an interview with Dan Margalit.  Then the musicians came onstage – Ari Gorali – piano, Sivan Talmor – vocals, guitar, percussion, Gal Nisman – vocals, guitar, Yair Dalal – guitar, oud, Alon Carmelly – bass, Galia Hai – viola, and special guest Shefita (the extravagant alter-ego of Rotem Shefy) – and the mood shifted, lifted, into a Middle Eastern cover of First We Take Manhattan. The bejeweled Shefita's over-the-top accent and provocative panache, accompanied by the melodious arabesques of Yair Dallal and Galia Hai took the song into a strange new place, while Ari Gorali, singing at the piano, connected to its roots – all together an exhilarating opening to the concert.
Sivan Talmor uncovered the bittersweet intimacy and searing pain of the Chelsea Hotel, together with Gal Nisman on guitar. Talmor's voice with its haunting clarity, and her distinctive phrasing, searched out the dark corners of Cohen's songs, revealing by turns something volatile, fierce, poignant.
Shani Dalal came out to sing a tender Suzanne, with Yair Dalal joining in for an improvised verse in Hebrew. Sometimes the small ordinary moments are the most expressive – when Yair began to sing, his mic didn't work and he could not be heard. Everyone continued playing, keeping the meditative mood of the song, Sivan gracefully disengaged her mic and handed it to Yair, and he sang in Hebrew: "Suzanne, I didn't even intend to sing to you…all because of Leonard Cohen, who left us with all the joy and the sorrow." It was a moment that expressed the deep connection of everyone there to Leonard Cohen, and through him, to one another, even if only for a moment.
Eran Zur sang Hey That's No Way To Say Goodbye in Hebrew, his deep voice so well suited to Cohen's songs. Sivan joined him for Dance Me To The End of Love, Eran singing in Hebrew and Sivan in English, the song dancing gracefully between the two languages.
Gal Nisman and Sivan Talmor sound like they were meant to sing together, the harmony of their voices and their rapport onstage is warm and full of energy. Singing Marianne in all the ache of its beauty, it felt like everyone in the audience was there with them, silently singing along.
Ari read a Hebrew translation (by Koby Meidan, as were the translations of songs) of a poem from The Book of Longing, written while Cohen lived in a monastery in the San Gabriel Mountains near Los Angeles. Gal Nisman followed with a powerfully moving Bird On The Wire, taking the feeling to a deep, meditative place.
The next song was one that Cohen composed while in Israel, from his experiences seeing and talking to soldiers during the Yom Kippur War – Lover, Lover, Lover. This arrangement reflected the song's origins with Yair Dalal on the oud, yet was infused with a subtle reggae rhythm. The energies rose further as Sivan took Cohen's I'm Your Man for a jazzy gender spin, making her own percussion with several layers of ankle bells on her foot. Shani Dalal returned to the stage, and The Voices of Peace Choir of the Arab Jewish Community Center in Jaffa came out to lend their voices to a rhythmic a cappella Everybody Knows, with a verse in Arabic adding to the night's wonderful harmonies.
Her voice floating, ethereal, suffused with emotion, Sivan Talmor delivered a heartrending, edgy, piercing rendition of Take This Waltz, taking the listeners to the edge of a dark abyss of feelings. The concert closed with everyone coming together to sing Hallelujah: Ari Gorali, Sivan Talmor, Gal Nisman, Shani Dallal, Yair Dallal, The Voices of Peace, Alon Carmelly and Galia Hai. One of the girls in the choir performed a beautiful solo, verses of the song were sung in English, Arabic, and Hebrew, the audience joined in on the chorus, and spirits were high.