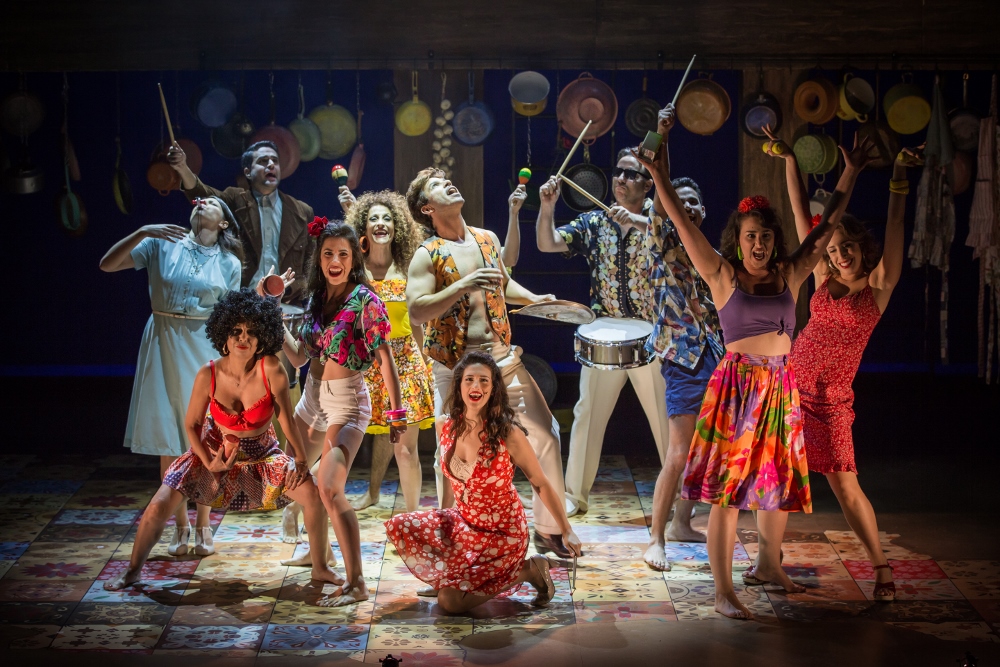 Sensuality and the supernatural dance to a Brazilian beat in the Beer Sheva Theatre production of Dona Flor and Her Two Husbands, written by Yoav Shutan-Goshen and Irad Rubinstain, based on the eponymous novel by Jorge Amado. Directed by Irad Rubinstain, it's a colorful, vibrant, production with excellent performances, a light-hearted, and refreshingly honest look at sexuality from a woman's perspective.
It's the fantasy – a romantic partner who is reliable, kind, and considerate, and a demon in bed. Can all that be found in one man? Not usually. The lovely Flor (Meirav Shirom) has a healthy appetite for life and love, she teaches cooking and knows how to tantalize the taste buds. Despite the best efforts of her domineering mother Dona Rosilda (Evelin Hagoel), to push her into a sensible match that will ensure money and status, when Flor meets the handsome gambler Vadinho (Roy Assaf) the sparks begin to fly!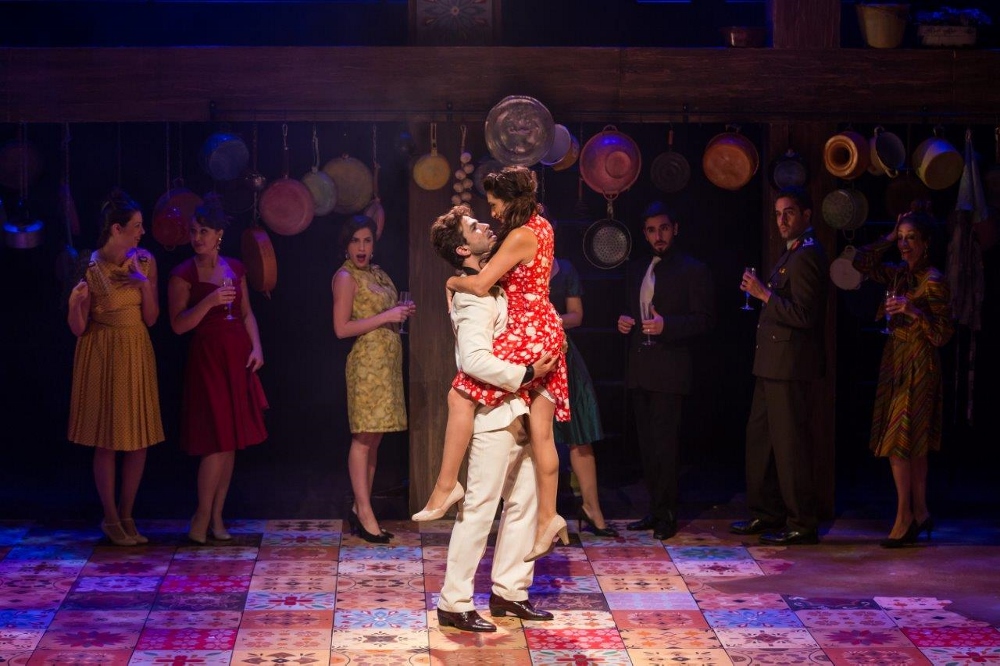 Shirom brings a lively energy and sensuality as well as sincerity to her portrayal of Flor, a woman torn between her sense of what is good and right, and her desires. Assaf is very convincing as the irresponsible yet utterly irresistible ne'er do well Vadinho, it's easy to understand why Flor cannot bear to part with him.
Much of the play's narrative is given away in its title, yet the pleasure of this production is not so much in the "what" but the "how" of it. The play opens with Vadinho's sudden death during Carnival time, and most of their relationship is told in a flashback, coming around again to the starting point – and this is where the supernatural comes in.  The play is immersed in Brazilian culture, as expressed in the rhythmic music and dance, Flor's enticing recipes, the colorful costumes and set, and in the spiritual aspect of the play. Set in Bahia, around the 1940s (Flor's radio is very important to her) the play references the Candomblé Afro-American religious tradition, in which practitioners call up their deities, the Orishas, in ritual ceremonies. Flor and other characters consult the Orishas, with Adva Edni giving a dramatic performance as Dionisia.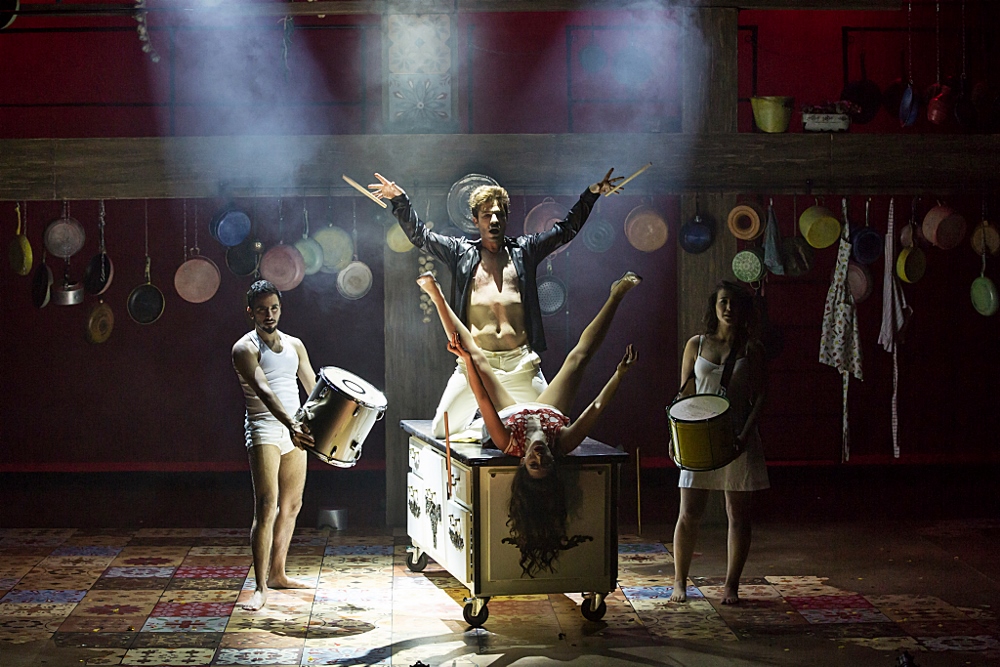 Svetlana Breger's set is a delight for the eyes, conjuring the tastes of Flor's kitchen with its many-hued array of pots and pans hanging from wooden beams over a patterned tile floor, along with strings of garlic and bright red peppers. As the plot thickens, the clatter of cookware heralds the arrival of something supernatural. Music (Roy Yarkoni and Yitzchaki Franko) and dance (choreography by Amit Zamir, rhythm instructor Yaara Barbash) are almost always present, setting the mood and conveying the sensual themes of the production. Vadinho's gambling addiction is literally embodied by Tamar Malachy spinning round in her black and red dress as Roulette, while drums express the visceral quality of Flor and Vadinho's connubial bliss. The musical metaphor is taken a comic step farther as Muli Shulman portrays Teodoro, Flor's devoted yet exceedingly bland second husband. It's a hilarious sex scene (very PG13) that would make an excellent "how not-to" guide.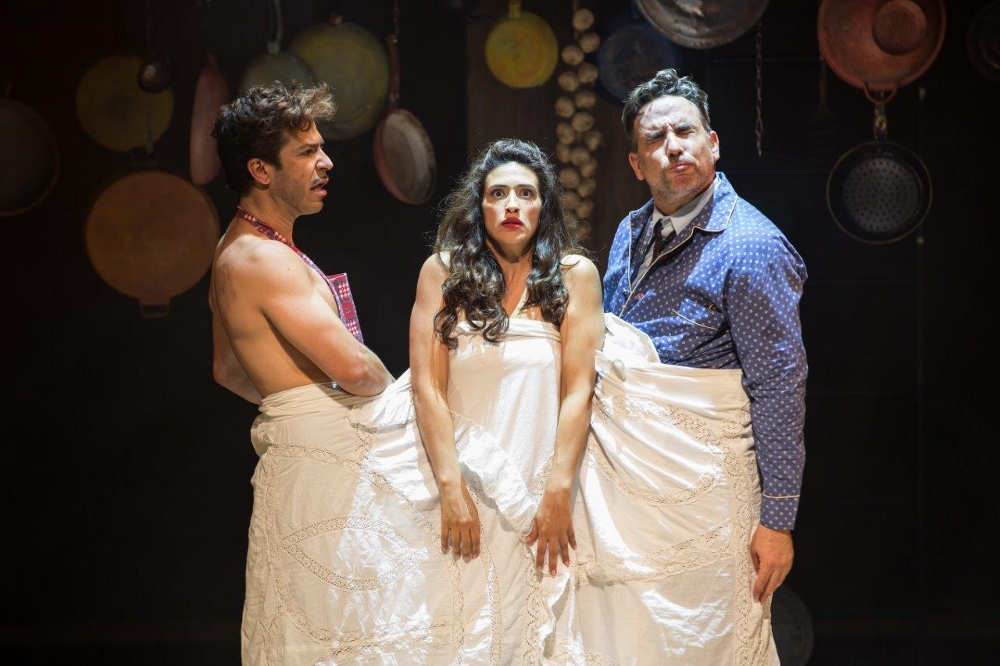 Flor's mother Rosilda and the neighborhood women contribute to the play's humor, and candid conversations on sexuality. One of my favorites is a scene between two friends, Magnolia (Maayan Turgeman) and Ines (Inbar Dannon), the former working herself up into a fervor of righteous anger and passion, and the latter loyally backing her up. Or Edri is hilarious in all his roles, with an endearing comic physicality that brings every character to vivid life.
Dona Flor and Her Two Husbands
By Yoav Shutan-Goshen, Irad Rubinstain; Based on the novel by Jorge Amado; Directed by Irad Rubinstain; Set Design: Svetlana Breger; Costume Design: Oren Dar; Lighting Design: Ziv Voloshin; Music: Roy Yarkoni, Yitzchaki Franko; Choreography: Amit Zamir; Rhythm instructor: Yaara Barbash; Cast: Or Edri – Mirandao, room attendant, street vendor; Roi Assaf – Vadinho dos Guimaraes; Inbar Dannon – Dona Norma, Ines; Evelin Hagoel – Dona Rosilda; Oren Cohen/Ron Bitterman – Filho Godofredo, Jose Sampaio; Tamar Levin – Dona Dinorah; Tamar Malachy – roulette; Adva Edni – Dionisia, Dona Vitoria; Ben Chery – casino manager; Muli Shulman – Madureira Teodoro; Meirav Shirom – Dona Flor; Maayan Turgeman – Gabriela, Magnolia.