Among the many new immigrants who flocked to Israel in 1949 was Ferenc Hoffmann, who became – in part at the whim of a Jewish Agency clerk – Ephraim Kishon. The documentary Kishon, created by Arik Bernstein and Eliav Lilti, and directed by Lilti, explores the life and work of Ephraim Kishon through interviews, archival footage, and animation.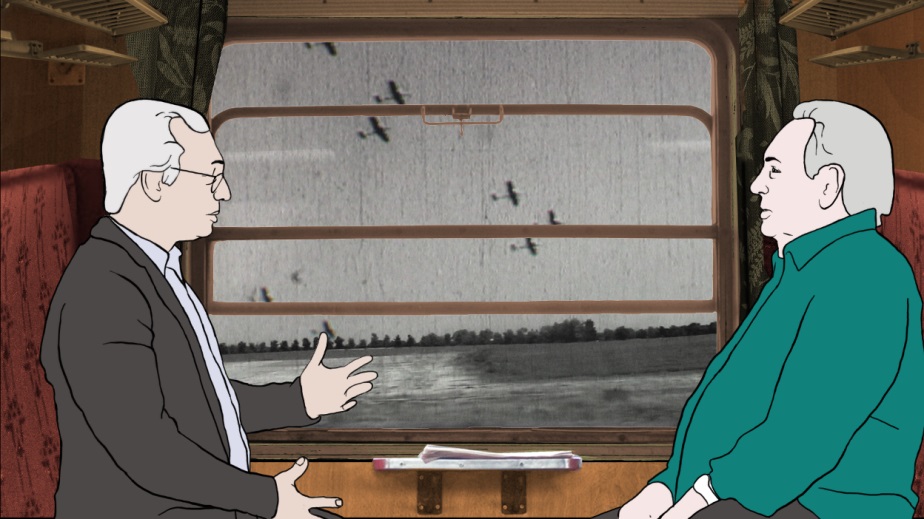 Kishon is an intimate portrait of an enigmatic, profoundly creative, and complex man. The man and his words are very present in this film, through archival footage of Kishon, interviews with his three children, Rafi, Amir, and Renana, and the in-depth conversations with Yaron London, which took place at Kishon's home in Appenzell, Switzerland, in the 90s, recreated in animation. Israel Prize Laureate Ephraim Kishon (1924 – 2005) was a prolific writer, satirist, dramatist, screenwriter and director. He published over 40 books that have been translated into almost 40 languages, his plays have been performed worldwide, and his films have been nominated for Oscars and Golden Globe awards, with The Policeman, starring Shaike Ophir, winning the Golden Globe Award for Best Foreign Film in 1972.
A storyteller with acerbic wit, Kishon was able to describe any situation with humor and a playful approach to language. Already a published writer when he immigrated to Israel at age 25, he immersed himself in Hebrew so entirely, that he began writing and publishing in Hebrew just two years later. A satiric column he published at that time about a man digging a canal in the middle of the road was to eventually become the film The Blaumilch Canal in 1969.  His drive and output were phenomenal, in addition to his other writing, he wrote a satiric column in Maariv for thirty years; writing daily for the first twenty years. His many awards attest to a successful career: the Nordau Prize for Literature in 1953, the Sokolov Prize for journalism in 1958, the Kinor David Prize in 1964, co-recipient of the Bialik Prize for Literature in 1998, and the Israel Prize for Life Achievement in 2002. He had a gift for comedy and satire, inspiring gales of laughter with his humorous characters, linguistic flair, and social critique. Yet in a recording of an interview with Yaakov Agmon, Kishon says: "I don't think an artist can be a happy person."
Approaching Kishon from several different angles, the film gives a sense of Kishon the man, as well as Kishon the writer, and the way in which the two are intertwined. The voices and perspectives of Kishon's three children are very much present throughout the film, contributing to a very intimate portrait of their father. All three speak of Kishon with love, warmth, and unvarnished candor. In the reminiscences of his children, one receives a strong impression that although he survived the Holocaust, its impact was felt throughout his life.
Yet the image that emerges from the film is not that of a gloomy man, but rather one who is unusual, with scintillating wit and boundless energy. As his daughter Renana says in the film, it was "fun to be with him."
The film will participate in the festival's International Competition – Schoumann Award for Jewish Cinema.
Kishon
Created by Arik Bernstein and Eliav Lilti, directed by Eliav Lilti.