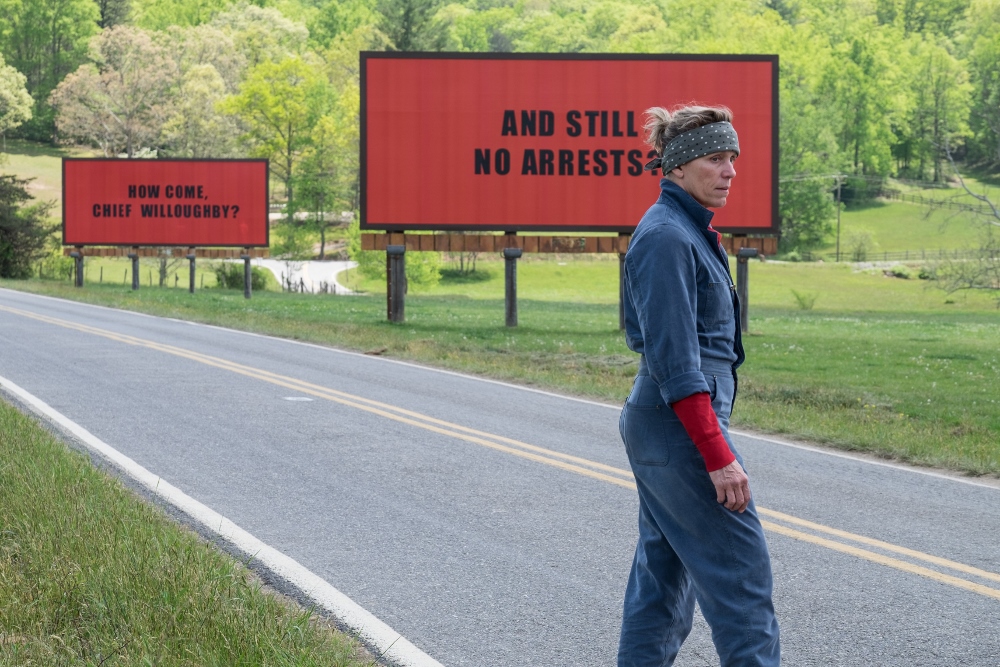 A riveting film marked by Frances McDormand's outstanding performance, Three Billboards Outside Ebbing, Missouri probes the open wounds of American culture with a deft touch that is at once sensitive, and almost callously comic. Director Martin McDonagh continues to pursue the themes of violence, morality, culpability and redemption explored in his first two films, finding humor in the most horrific aspects of human behavior and situations (Tarantino comes to mind), and he does it so well. It's no wonder that Three Billboards has elicited such diametrically opposed responses from its viewers and critics, provoking outrage as well as accolades – People's Choice Awards at TIFF 2017; Best Motion Picture – Drama, Best Actress – Drama (Frances McDormand), Best Supporting Actor (Sam Rockwell), and Best Screenplay at the 75th Golden Globe Awards; as well as nine BAFTA nominations (awards to be announced February 18, 2018).
Where In Bruges (2008) was very tight in its focus on two Irish hitmen, with a plot driving towards its inevitable, yet apt conclusion, enhanced by the city's medieval atmosphere, and Seven Psychopaths (2013) was extravagant in its over-the-top excess, Three Billboards Outside Ebbing, Missouri maps out a different territory, observing the extreme within the ordinary, against the muted, almost anonymous background of any-small-town America. The misty, desolate landscape of the opening scene, the weathered wood of broken down billboards by the side of the road, along with Carter Burwell's evocative original music, set up expectations of a contemporary take on the Western. Mildred Hayes' (Frances McDormand) ravaged eyes, tense visage weathered and faded as the old billboards, tell us this will be a story of revenge. Seven months earlier, Mildred's daughter Angela was raped and murdered, yet no progress has been made in finding the person or persons responsible. Mildred's grief and rage demands action, and she storms the local advertising agency, interrupting young Red Welby (Caleb Landry Jones) in his reading of Flannery O'Connor's A Good Man Is Hard To Find, laying down $5,000 to have three billboards posted that read: "Still No Arrests?" "How Come, Chief Willoughby?" and "Raped While Dying." All this in the first few minutes, getting the adrenaline flowing for action and suspense, pitting a lone woman against the indifference of the law, as represented by Chief Willoughby (Woody Harrelson) and bumbling racist cop Dixon (Sam Rockwell). Yet that's not exactly where this film goes.
McDormand's portrayal of Mildred is intensely powerful, nuanced and complex. Her pain is palpable, yet even when overcome by sorrow and rage, she is powered by her resilience, intelligence and wit. She's fighting injustice solo, if she does not persist, the investigation of her daughter's rape and murder will just fade away, another cold case. It's the kind of battle that can be waged only by the desperate and the obsessed, and Mildred is both. There is even a certain pleasure in sparring with the representatives of authority, be it legal or religious, as revealed the smallest trace of a smile. Fueled by escalating anger, each confrontation seems to increase her resolve and strength, yet intent on her target, there is also much that is lost along the way. Just as Mildred is not purely or perfectly heroic, Chief Willoughby is not the villain one might expect him to be.
McDonagh seems intent on foiling the viewer's expectations, as the narrative meanders along the sideroads of this story, and up to a point this contributes to the depth and impact of the film. To a certain extent, the film may be viewed as a commentary on the endless cycle of violence, in which one may be caught even when starting out with the purest of intentions. Yet at the same time, the film is as preoccupied with the possibility of redemption and compassion, as it is with violence, random hatred, and brutality. Unfortunately, this theme is explored in a far more superficial, and therefore less convincing manner. Where In Bruges left me aching and gasping for breath, Three Billboards disappoints. Calling out sexism and racism loud and strong in the first part of the film, the shouts seem to fade into a puddle of emotional mush, as viewers are expected to believe that a person can change overnight, as the result of one incident, and be absolved of responsibility for all past transgressions, which are forever erased from memory. It's a weak element that detracts from an otherwise powerful film, while the echoing refrain of Townes Van Zandt's Buckskin Stallion Blues captures the emotional resonance the film seems to be reaching for, with its desire, denial, dreams and loneliness.
Three Billboards Outside Ebbing, Missouri
Written and directed by Martin McDonagh; Cinematography: Ben Davis; Editor: Jon Gregory; Cast: Frances McDormand, Woody Harrelson, Sam Rockwell, Lucas Hedges, Clarke Peters, Abbie Cornish, Peter Dinklage, Caleb Landry Jones, Kerry Condon, John Hawkes, Kathryn Newton, Zeljko Ivanek, Brendan Sexton III, Samara Weaving, Nick Searcy.