When you walk into a club or a party, do you notice the gender of the DJ? It's a question I've been asking myself over the past few days, since attending the Women Power panel discussion at the recent TAV 2018, Tel Aviv Volume electronic music festival. When I think about it, I realize that I've seen many more DJs who are men. And that makes me stop and think.
There are more men than women in the industry. Those are the numbers, but what do they mean? Is there discrimination? Do women have the same opportunities as men in the scene? It depends, in part, on who you ask. Just as an example, taking a quick look at year-end summaries, the first women to be found in DJ Mag's list of 100 top DJs for 2017 were Nervo, at #42, followed by MissK8 at #58, Mariana Bo at #84, and Alison Wonderland at #89 (both new entries). Mixmag tells a different story, with 8 women in their top 20 list, including Nina Kraviz as their #1 DJ of the Year.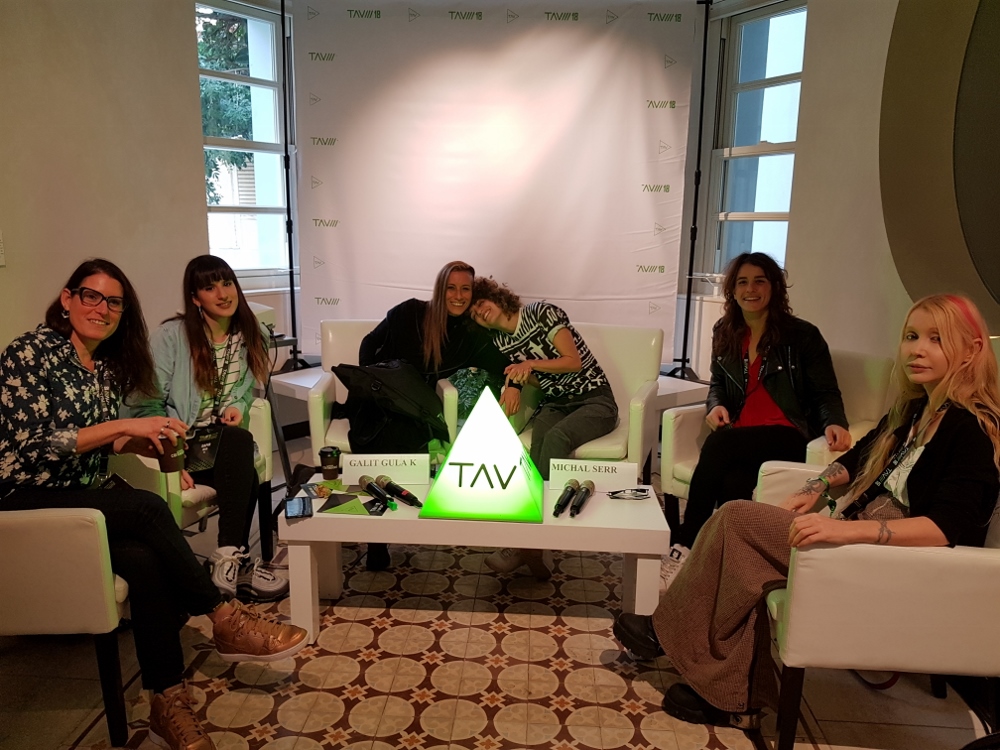 Let's look at the Tel Aviv scene, and let's hear it from the women. Discussion moderator Adi Lev, a DJ in the drum & bass scene who has been living and working in Holland for the past 20 years, hosting this panel at Tel Aviv Volume for the third year, noted a significant change for the better, saying, "I had for the first time I had a lot of choice, a list of 20 girls* who play in clubs in Israel."
Representing a range of genres and experience, the participants were: Sapir Bar, hip hop DJ and MTV music editor in Israel; Gula K, a techno and trance DJ; Michal Serr, a DJ for 17 years, house music; and Adi Noy, hip hop/beats/funk DJ, in the scene for about 5 years, and Ana Volchok, owner of the Gagarin Club.
"I don't see myself as a female DJ, I just see myself as a DJ" – Adi Lev's opening comment is one that reflects the general perspective of the other DJs on the panel, but getting deeper into the conversation, other issues emerge.
"I see it as an advantage to be a woman in a definitely masculine scene," said Gula K, "Because when I started playing trance music I was the only female …a lot of the gigs that I got were due to that I was a female and it was a very nice thing, a new thing, a different energy. I felt very lucky and lots of the times the shoes that I got into because of that were bigger than my size. I had to become professional very quickly. Later on, when you become more professional, there is no distinguish between the sexes."
"I've been DJing around the world for a long time," Michal Serr weighed in, saying, "I want to divide the feeling before the booking, and after the booking. Before the booking, there's a boy's club. There's no doubt about it, you can't deny it. The fact that we're women, we're not like friends, you know – hanging together… So, before the booking, it's not an advantage for me to be a woman. After the booking it's a huge advantage…so many times…people came to me, and especially in Israel, and said to me: Oh my god, I've never seen a woman DJ, oh now I'm gonna really listen to you. OK. And at the end of the night I proved myself, that I'm worth it. But before the booking… The fact that most of the big lineups in Tel Aviv are mostly men is undeniable, and it needs to change."
While the existence of an unofficial boy's club may be viewed as a potential obstacle to bookings, it is also clear that the number of women DJs is on the rise. Other factors, such as the presence of role models, can be seen as a catalyst for this change.
Serr said, "I'm gay. I've been asking myself the question how come there are so many lesbian DJs or bisexual DJs around the world? It's crazy and I have an answer. The answer is the fact that when I go to a women party in Tel Aviv I see female DJs for me it opened the option to be a DJ. Which for straight women or young females, it doesn't exist really. They see only men."
Affirming the importance of role models, Gula K said, "I feel like a pioneer in that aspect because I've created the option for women to feel like they can be a trance DJ. Trance is very extreme on the electronic scene and is definitely dominated by men so if I wouldn't have made myself shown and put myself out there and fight my fight or make my professional progress very quickly … it wouldn't have happened.  But now when I look at it, there are more than 15 or 20 female DJs in the scene that I'm in. So, you have to always compare to what was before."
It also seems that an inevitable organic development is that if the networking, friendships, and casual conversations in a predominantly male scene are between men, as more women are on the scene, other conversations will inevitably develop. Adi Noy talked about "taking forward the culture of being a female DJ," saying, "You can give yourself more options. For example, I have a collective, it's called BIG collective and it's for hip hop music and the culture itself, and we are only women, and we obviously, we hire men because, you know, we live in the world, it's equal. But we are pushing forward to be in key positions. We are women and we do produce events, and we decide who we book based on their talent not their gender… so yeah, the revolution is happening and at the same time you need to take it into your own hands you don't just stand by and complain 'book me' – you send your press kit, or you open up your own label and say 'I'm taking charge'. And we can today as women. Amen."
One option is to do as Ana Volchok, and own your own club, in her case, The Gagarin. Volchok stated, "I think every one of our own bookings or lineups has at least one female DJ. I think the problem is statistical only. Because it's really less women, but not because they are not allowed or it's a boy's club, but just because it's really difficult to spend your time also with the family, and also living in the night scene. My children are already grown up and that's the only thing that allows me to really live this kind of life. Because before when she was small I couldn't even think about being out, so really it's the question between your family and your career somehow."
For DJs who decide to have children, the job requirements are rather at odds with the demands of parenting. Lev said, "It's not easy to go out at night. To leave your kids at home and go out and play, but I see it part of the challenge. And I think for me that's what gives me the power to play." Gula K, who has three children, said, "It's very hard in the aspect of time because you want to be a perfect mum, you want to succeed in your career." It's a conflict that recurs in the discourse of many professions, and although women are still the primary care-providers in many family structures, this too, is a conversation that is changing. In the session that followed, Swedish DJ Christian Smith talked about how hard it is to wake up at 7am to make breakfast for the kids after returning from an intense DJ tour.
In terms of bookings, the conversation also touched on the ways in which the role of the DJ has changed over time, Adi Lev stated, "Today if you don't get into production and your name is not out there as a producer – in drum & bass, if you're not a producer, you don't get booking… I have a friend without mentioning names, and I always tell her if you would spend more time in the studio instead of taking pictures of yourself with half your titties out… somehow always there's the feeling they like to see women onstage because they look good. I'm like – What do you mean!? It's about the music."
To which Adi Noy responded, "Also. Also. We're pretty, we're fun to look at."
It's not just about the bookings, it's about the salaries too. Is it an advantage or disadvantage to be a female DJ? Or is there no difference?
Michal Serr said, "In the first 3 or 4 years of my career, I worked for free. Just to get a name for myself, for people to get to know me. And after that, let me tell you this: for each dollar that a man earns a woman gets 75 cents – it's no different in the DJ scene."
Club owner Volchok presented a different view, "I just want to add – people are usually paid by their uniqueness and their talents in general. Sometimes women have the benefit. They are just more aesthetic looking, sometimes it's what's preferable for the production. I sometimes find myself as a producer, I pay more for a female DJ just because she looks better."
At this point Sapir Bar entered the conversation, saying, "I've never felt that I was being paid less than other DJs I never felt that it defines me, I always felt that I'm a DJ, never a woman DJ no one ever gave me that feeling… It's more rare to see women DJs, again, not because it's not accepted, it's just these have been the statistics for a long time and we're making progress to change it but still [we] can't close the gap in a year or two. These are changes that will take time… I do sometimes see certain events and like you mentioned I don't see women's names [on the lineup] and it angers me too but then I stop and maybe there's a reason that there is no woman here, but maybe there isn't a woman who is good enough as a DJ for this specific event."
Serr responded, "I agree with everything that you said except for the last part. I always look at the boy's club as a soccer team. You pass the ball. Even if you don't like the person, but you pass the ball because it's the team… but with us we just don't get equal opportunities."
"So you push for it," said Adi Lev.
"I push for it, trust me I push for it" Serr replied, "and I'm a fighter and I'm a warrior in this specific matter. In a positive way and when I can't be positive, not in a positive way. I fight for it, OK? But it's the fact that you see lineups full of men and no women it's just because we don't even cross their mind. Sometimes we don't even cross their minds. They look at their friends, the friends are boys… yeah, let's do a party."
"Can I ask you where this is coming from?" Bar queried, "Where do you see it? Where do you come across it?"
"Everywhere," Serr responded, "Here in the festival, in the Tel Aviv Street Parties, in the Gay Pride, you have no idea… once we'll sit down and talk the mor"kim [acronym for battle stories] that I have from my job. Even at Gay Pride, 250,000 people stage and we had to fight to be on it as women."
Just as the conversation heated up, time was up too. There are many questions still open, many differences of experience and opinion. As DJs, producers, club owners, event producers, booking agents, and as women and men – there's a lot to consider and a lot to discuss. So let's keep the conversation going.
*Note for those people (like me) who notice every linguistic detail, the conversation was held in English, by people who are not native English speakers. Therefore, I would not place emphasis on word choice (as I might in other circumstances) with regard to terms such as "girl". Also, a general note – quotes are based on my recording of the panel discussion, and have only been edited for length, with the intention of representing the speakers as accurately as possible.