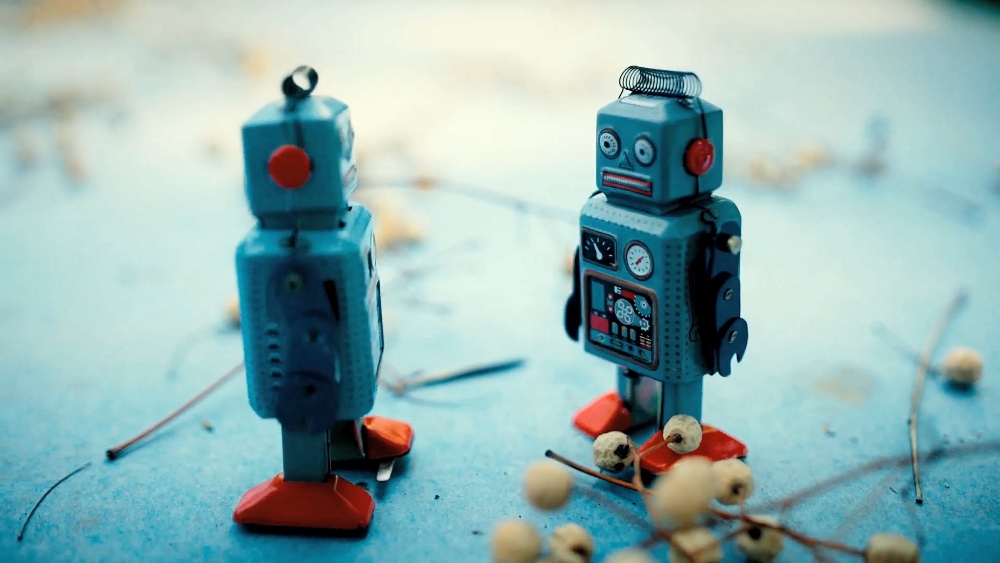 Protesting the endless cycle of war and violence with a warm groove and optimistic guitar, Ronen Green's Road of War premieres in an intriguing new video by Avner Elkaras that gets to the heart of the song's message with its creative imagery. Rising up from the despair of the ongoing Israeli-Palestinian conflict, the song strikes a universal chord, speaking out against all wars, past and present. If we stay on the road of war, we are "going nowhere," but the song reaches out to find hope, and imagine a different road.
Elkaras creates a very human feel to the wind-up toys and plastic figurines in the video, in the selection and staging of the objects. The occasional medieval knight is a reminder of humanity's long history of war, while the robots are endearingly expressive, looking a bit bewildered as they march along, wound up by an unseen hand. Amid the plethora of anonymous green plastic soldiers, typically sold in bulk, you might think your eyes are playing tricks on you, but yes, those soldiers are in yoga poses – if we all did more yoga instead of marching to war, the world would be a happier place, more in tune with the upbeat music of the song.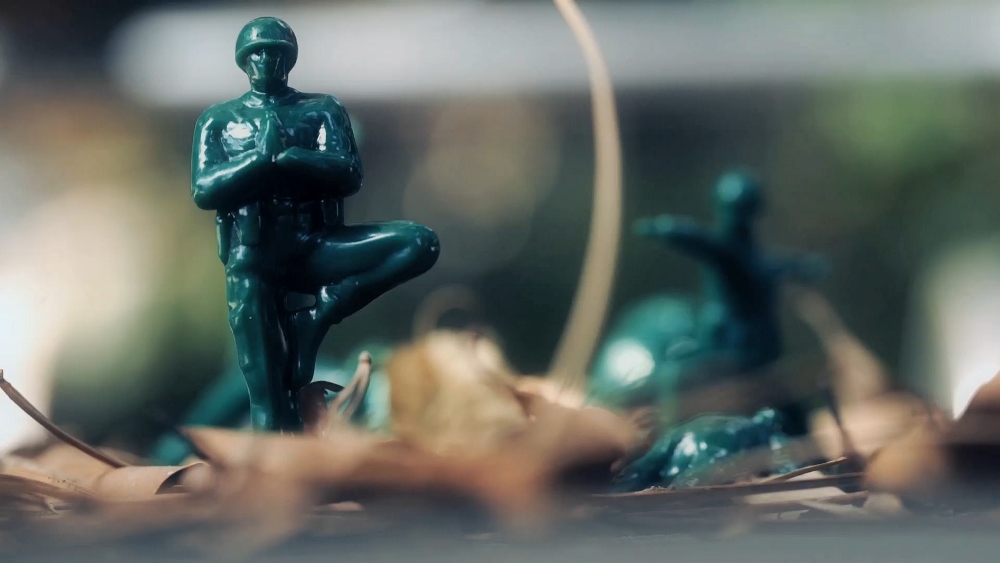 We are not plastic soldiers, or robots, or wind-up toys. We are people, who live, love, laugh, dance, and hope for better days. We, meaning all of us, us and 'them': "How long till we notice our hearts beat just the same?"
Singer-songwriter Ronen Green writes songs rooted in his experiences – as a father, an independent thinker, and relentless optimist.  Growing up in Israel as the son of immigrants from South Africa, with both English and Hebrew as his native language, Green's songs reflect his strong connection to this place, with a universal social and political resonance. His debut album Puzzle was released in 2013, followed by the EP Coincidence in 2016, both produced by Tamar Eisenmann.
Links: Ronen Green bandcamp, facebook, YouTube.
Road of War
Music & Lyrics by Ronen Green
We've got demolition and bombs in the air
We've got tanks and guns, so you better beware
They got tunnels and rockets flying everywhere
They got a strong religion and a whole lot of despair
Going nowhere on the road of war again
It's so much to take in, how can you in one breath
Include millions of lives in one word, in one death
And who is the king here, who's in command
Of all this bloodshed and bodies on the sand
Going nowhere on the road of war again
They say it's a tough situation, there is no clean way out
Either you eat or you'll be eaten, so there's not much to talk about
And they say this is your enemy, there always seems to be one around
And if god is a part of this then he must be out of town
Because we're going nowhere on the road of war again
Video: Avner Elkaras
Ronen Green – vocals, guitar; Adi Rotem – electric guitar; Shai Wetzer – percussion