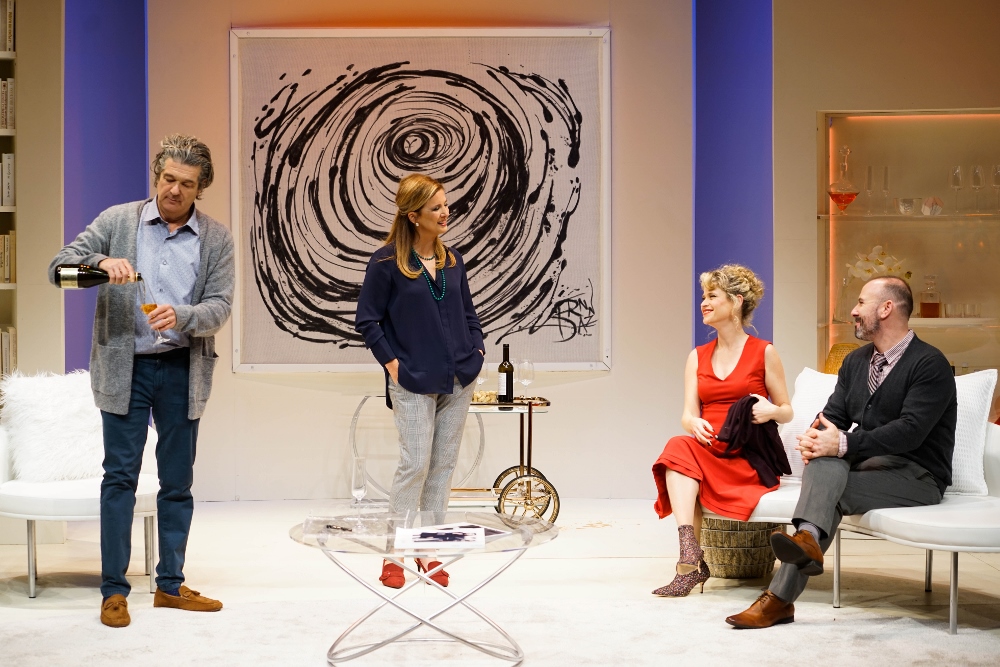 If your best friend just got a new haircut that looks simply awful, would you tell her? Or would you try to spare her feelings, and tell her she looks good? We've all been there, the small lies that smooth over the rougher patches, lies that make another person feel better, lies that make us feel better. But if she really is your best friend, wouldn't it be kinder to tell her the truth? Or would it… Beit Lessin's production of Le Mensonge (The Lie), French novelist and playwright Florian Zeller examines the truth and lies at the core of relationships from a comic perspective, translated from the French by Dori Parnes. Director Lior Ashkenazi probes the issues with a light touch, snappy pace and clever staging, enhanced by Avi Kushnir's excellent comic performance.
Although the original play focuses on a bourgeois French couple, the emotions, mechanics, and manipulations of relationships translate smoothly into Israeli culture. As Paul (Avi Kushnir) searches for a carafe to let the wine breathe, and Alice (Lilian Barreto) gets a head start on drinking the wine, there is the feeling that this could well be a view onto any Israeli upper-class living room. The set design by Orna Smorgonsky is simply brilliant, its curving modern lines stylish in their minimalist splendor, while referencing the play's themes, visually echoing the evasive circumlocution of the dialogue.
The couple's good friends Michel (Hai Maor) and Laurence (Adi Gilat), are expected at any moment, but Alice is clearly not in the mood, and wants to cancel the dinner party. Thus, begins an intricate web of lies, with all four spinning such fine tales, that it is practically impossible to follow a thread of truth in this maze. What begins as an argument between Paul and Alice on the relative virtue of confronting a friend with the truth or sparing her feelings with concealment, expands into a more general philosophical debate that has increasingly personal overtones. Michel and Laurence arrive, and Alice, in very thinly veiled references aims for revealing the truth, while Paul, uses every means possible to avoid it. Kushnir's comic talents are very much in evidence here, his expressiveness, intonation, timing, and capacity for nuanced physical humor are immensely entertaining. His onstage rapport with Lilian Barreto makes the connection between Paul and Alice very relatable and credible, with Barreto playing the 'straight man' to Kushnir's more extroverted humor.
There are some lovely stylized sequences of movement, choreographed by Kim Gordon, that function as transitions in the play, such as the arrival of the guests, Michel and Laurence, and their departure. These choreographed moments, to the accompaniment of music, contribute to the light feeling of the play, yet also have a wider reverberation. Like the set, the movement echoes the underlying themes, with its suggestion that much of social interaction, like these small dances, is scripted and stylized.
Le Mensonge by Florian Zeller
Translated by Dori Parnes; Directed by Lior Ashkenazi; Set and Costume Design: Orna Smorgonsky; Music: Daniel Salomon; Lighting Design: Dolev Tzigel; Movement: Kim Gordon; Assistant Director: Asaf Fridman; Cast: Avi Kushnir – Paul, Lilian Barreto – Alice, Itai Maor – Michel, Adi Gilat – Laurence.