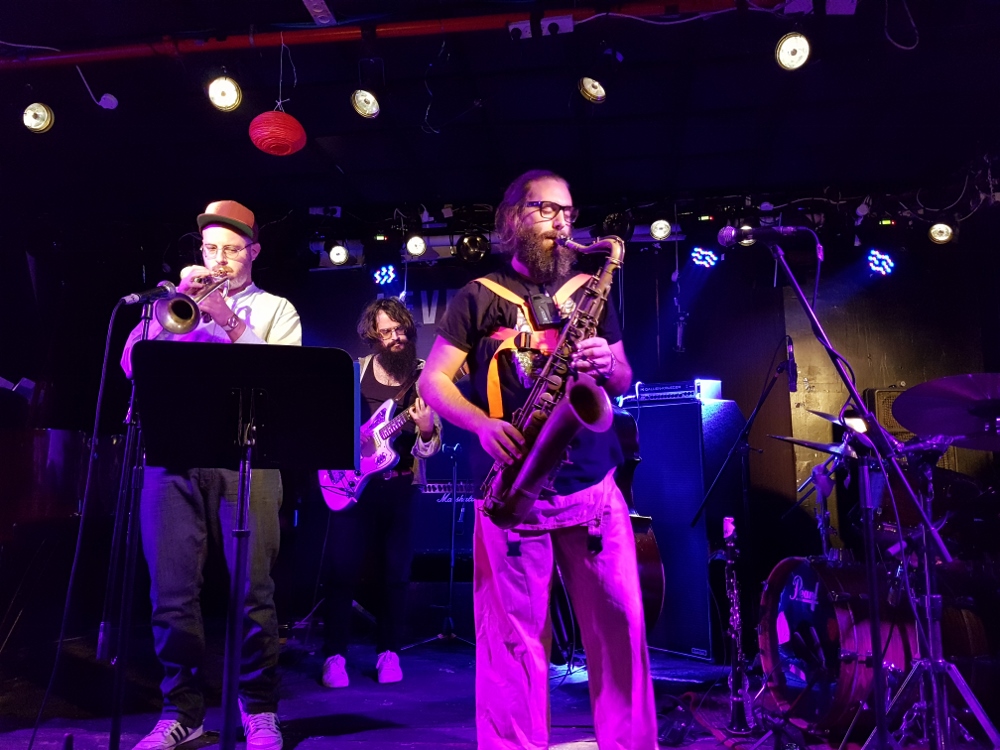 Walking through the street and alleys of a city at night, even the city you know well becomes strange, foreign, unknown, exciting. You might get lost. That is the experience of listening to the Eyal Talmudi Quintet. If you let the music take you, there is the possibility of losing yourself in this journey. But even if you get lost, the players never do. They are always there to take you home. So, go down the dark alleys of night and sound, when you reach the unmarked door, you will know. The music beckons: enter.
Eyal Talmudi in any genre, whether on saxophone, clarinet, bagpipes or what you will, is someone I always want to hear. The same goes for the cohort of musicians he has gathered together for the album Even If: Sefi Zisling on trumpet, Uzi Feinerman on guitar, Gilad Abro on bass, Aviv Cohen on drums, and joining in for the launch concert at Levontin 7 last night, Assaf Talmudi on piano and accordion. There was an intimate feel to the entire evening, the onstage vibe – friends hanging out together making music – reverberating through the room. The album features compositions by Eyal Talmudi, some, like Fela On My Mind, composed together with Sefi Zisling and the other musicians, and in addition, new arrangements of Meir Ariel's For Smoking, and the standard It Was a Very Good Year.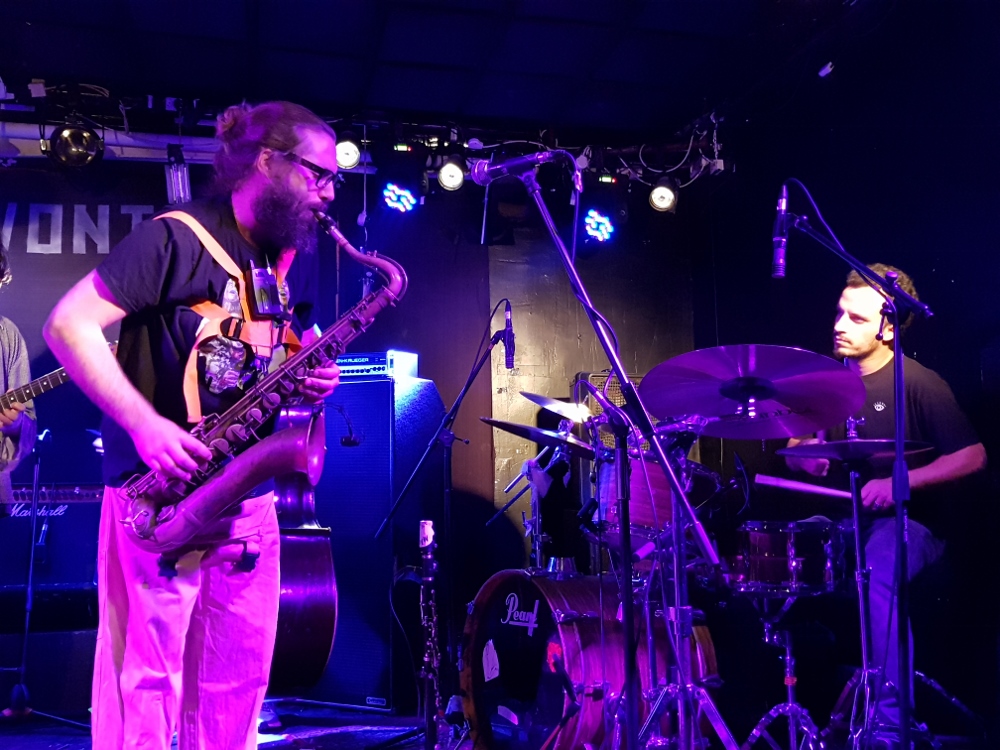 The evening opened with Ayalon Zafon, the album's opening track. Mellow, open sound, Eyal's sax as smooth as the Guinness I drank just before the show, and into it came Assaf on the piano, with a kind of nervous energy that flows into the sax and other instruments, infusing them with that energy. Then Uzi and Gilad, on electric guitar and bass respectively, took it all out farther, to an outer (or inner) space. As if that highway of sound could go on, not bound by gravity, or any boundary whether physical or abstract. But always coming back, taking it home again.
Fela On My Mind is a song that does not let me sit still, every cell in my body dancing. It's a tribute that honors Fela Kuti, and if he could hear it, I am confident he'd be dancing too. In that Afro-beat rhythm, suddenly there's that trill, the thrill of the trumpet, bouncing off the piano, and the drums driving the madness, until the saxophone comes in, warm notes gathering it all into a groove.
If you don't yet know Meir Ariel's songs (1944 – 1999) – then what are you waiting for? Assaf opened this instrumental arrangement on the piano in an almost meditative mood, as if it was not just a solo, but almost as if he was alone. Then just like friends coming by to hang out, the others came in. Music you want to take deep into your lungs, breathing it in. Something warm on a rainy night. Drum to piano, passing it around, sharing a smoke. Music rising higher until the smoke rings circle inward, down to a breath, barely there.
Lo Stam is the ideal track for the fidgety and easily distracted, each musician doing his own thing, all different on their individual paths. The music lets you be here and there and there… Sefi opened on Even If, a track with a soulful sound that somehow calls to mind Nina Simone. It has a rhythmic, repeating phrase with a hypnotic swing to it. Then it breaks into If Even, scattering fragments of sound run wild. And somewhere in there I can hear that phrase…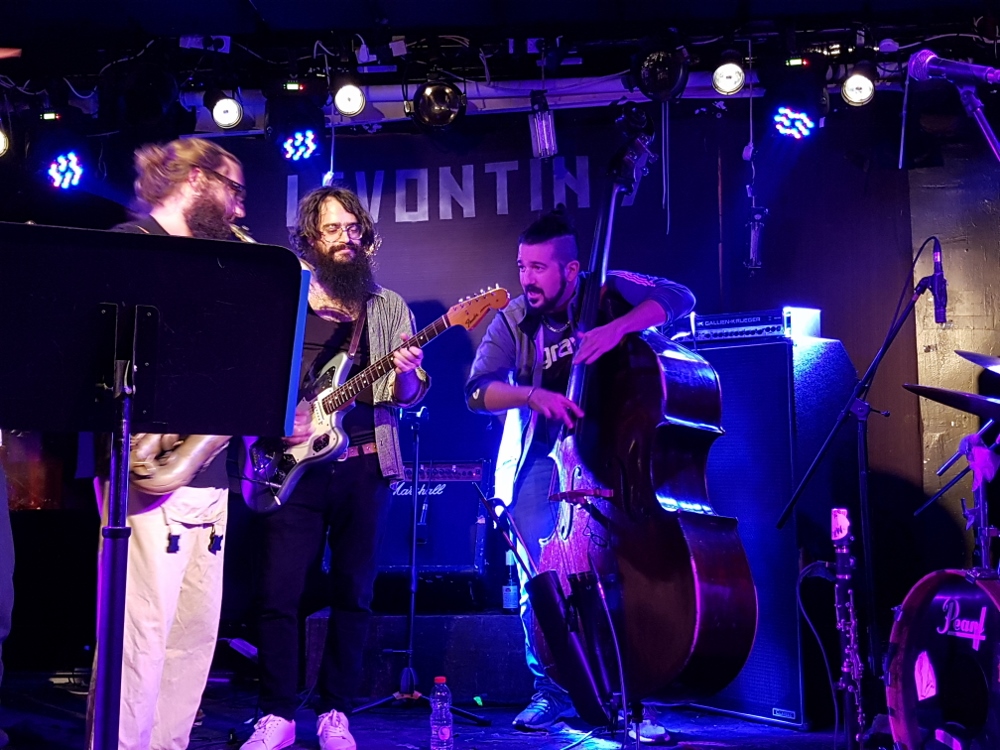 Gili and the Jets is fast and playful, and it let Gilad Abro shine out in all his intensity and the secret smile of his fingers dancing on the strings. When I Was 17 is a new, instrumental arrangement of It Was a Very Good Year, written and composed by Ervin Drake in 1961, and made famous by Frank Sinatra (it has been covered many times by many artists including Boris Karloff). Although the lyrics reminisce about past affairs, this version is about a more enduring love – Uzi and his electric guitar.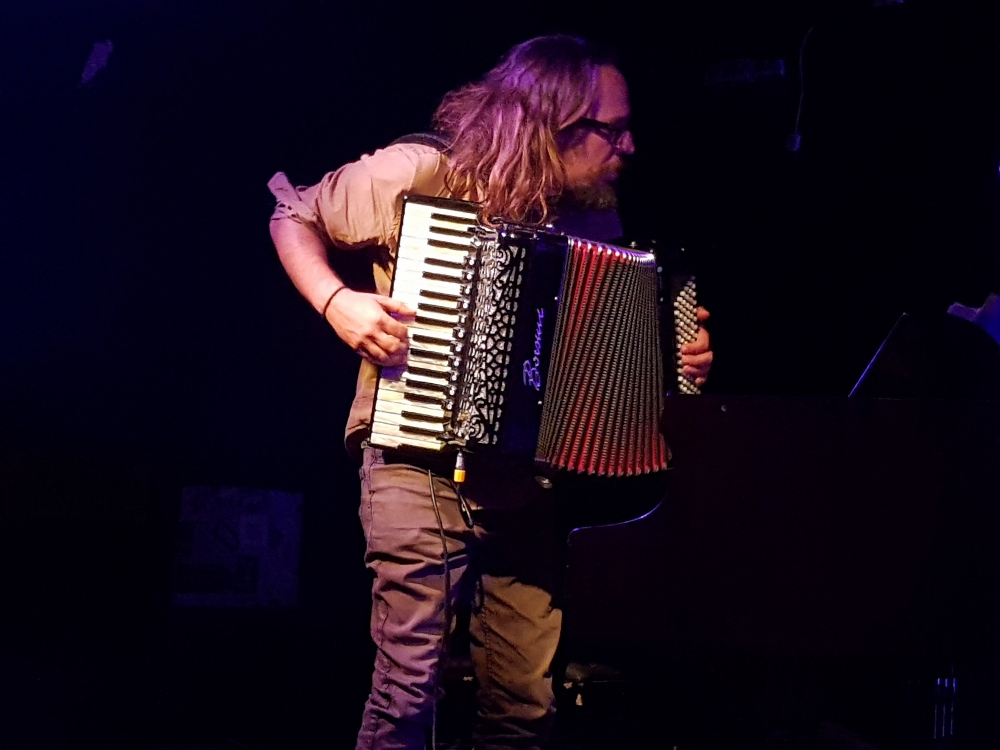 Following the performance of tracks from the album, Eyal and the gang performed some electrifying arrangements of Thelonius Monk – Think of One with Assaf on accordion and Aviv Cohen with a blazing drum solo, then Brilliant Corners – sharp, gleaming, and groovy. Bliss.
Links: Eyal Talmudi bandcamp