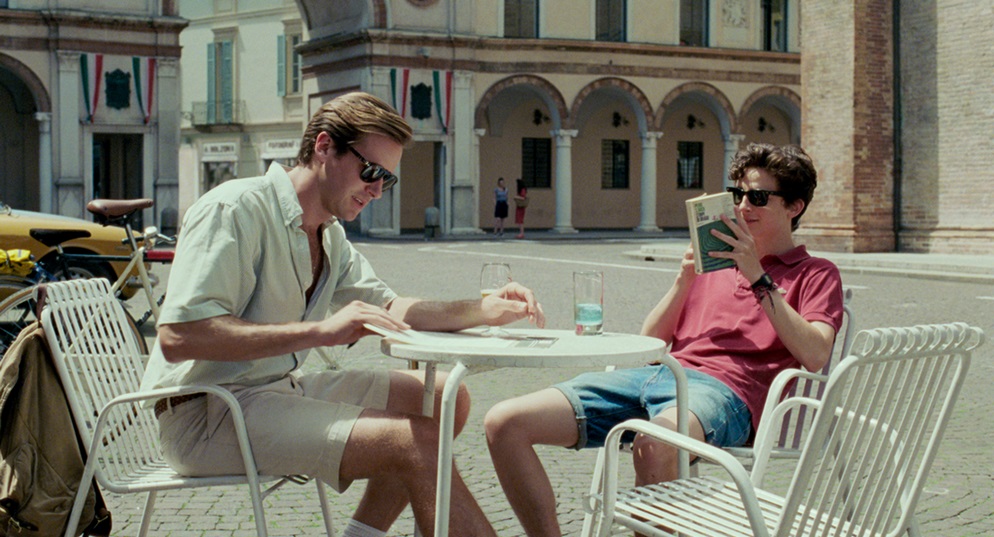 Call Me By Your Name is a rapturous excursion into the realm of the senses, a sensitive exploration of sexuality, love, and the possibilities of relationships, without surrendering the ambivalence, complexity, and ambiguity that is the essence of life. Luca Guadagnino's film, based on the eponymous novel by André Aciman, focuses on a pivotal summer in the life of 17-year-old Elio Perlman (Timothée Chalamet). Yet reaching beyond the scope of a coming of age film, it conveys the experience of a coming-into-awareness of self and others. The transformation of Aciman's novel is a stunning evocation of all the senses, with its eclectic soundtrack and lush visuals suggesting the scent of ripe peaches, the warmth of sunlight on bare skin.
The film takes place "somewhere in Northern Italy" in 1983, primarily in and around the spacious villa that is the summer home of the Perlmans, an intellectual, culturally Jewish, multilingual family deeply appreciative of culture, scholasticism, and the arts. There is a sense of abundance about this home, full of books and music, kitchen bustling with activity, and plenty of guests around the table. Elio has grown up in the kind of family that sits around reading medieval poetry together. A talented pianist, he's been spending the summer playing and transcribing music. Every summer, his professor father (Michael Stuhlbarg) hires a doctoral student to help with his research, offering room and board as part of the compensation. This year, it's Oliver (Armie Hammer), a magnificent, sensual beast of a man, with a casual demeanor and easy confidence that brands him at first glance as a brash "American" in contrast to the more nuanced entitlement of the European Perlmans, yet, there is more to Oliver than meets the eye.
There's a lot of ambivalence in Elio's reception of Oliver. There's understandable resentment of having to give up his bedroom for the outsider, but there is curiosity as well. Jealousy, perhaps, of the masculine perfection of Oliver's physique, as compared to Elio's adolescent thinness, yet a simmering attraction as well. Co-written by Guadagnino with Walter Fasano and James Ivory, the film takes its time in establishing the characters, relationships, and atmosphere, allowing the viewer to become immersed in this world, savoring and experiencing the events of the summer from Elio's acutely sensitive perspective.
Very wisely, this adaptation is light on dialogue, allowing Sayombhu Mukdeeprom's breath-taking cinematography and the expressive features of the actors to tell much of the story. Both camera and soundtrack play a significant role in the film, with music playing a crucial part in several scenes. In the tentative banter and ambiguity of Elio's relationship to the summer student, he sits outdoors lackadaisically playing the guitar, when Oliver asks him about a particular musical phrase. Elio refuses to play it again, then enters the house and mischievously plays Johann Sebastian Bach's "Zion höt die Wächter singen" from "Wachet auf, ruft uns die Stimme," in dramatically different versions, in an emulation or pastiche, of the style of different musicians. It's a teasing, flirtatious moment, emphasizing the underlying tension between the two, and also a reminder of adolescence as a time for experimentation, sexual and otherwise. Another great moment is a dance scene to the sound of Psychedelic Furs' Love My Way (how's that for an allusive title?), a joyous call to the pleasures and freedom of the body. Sufjan Steven's original compositions for the film, Mystery of Love and Visions of Gideon, are exquisite.
Chalamet is fascinating in his portrayal of Elio's vulnerability, inner conflict, and acute perceptions. Yet, for this viewer, it was Hammer's performance that held the most surprises, which says much about the power of this film. Unlike many coming of age narratives, which tend to focus almost exclusively on the experiences of the protagonist, Call Me By Your Name manifests an awareness and sensitivity towards all the characters in this tale, contributing to its richness and depth. If Elio's life is changed by the events of the summer, Oliver's is as well, as made clear by Hammer's nuanced performance. Even secondary characters like Mariza (Esther Garrel), Elio's childhood friend and potential girlfriend, emerge in their personhood.  These unexpected windows into the feelings of Oliver and other characters add heft to the film, redeeming it from potential lapses into cliché or sentimentality. In its leisurely look at love and sexuality, Call Me By Your Name is a love song to the joys of experiencing it all -hope and fear, love and loss, pain and pleasure.
Call Me By Your Name
Director: Director: Luca Guadagnino; Screenplay: James Ivory, Guadagnino, Walter Fasano; Cinematography: Sayombhu Mukdeeprom; Editor: Walter Fasano; Music: Sufjan Stevens; Cast: Armie Hammer, Timothée Chalamet, Michael Stuhlbarg, Amira Casar, Esther Garrel, Victoire Du Bois, Vanda Capriolo, Antonio Rimoldi, Elena Bucci, Marco Sgrosso.