Theatronetto, an exciting festival of one-person shows, will take place this year from April 1 – 3, 2018 in the Old City of Akko, and April 2 – 4, 2018 in the Old City of Jaffa. Founded by Yaadov Agmon, and now in its 28th edition, the festival will present 12 monodramas in competition. Theatre students of the Kibbutz College will present their annual original outdoor performance in the Jaffa Theatre courtyard. This year's theme will be "The Last Birthday Party."
Plays in competition: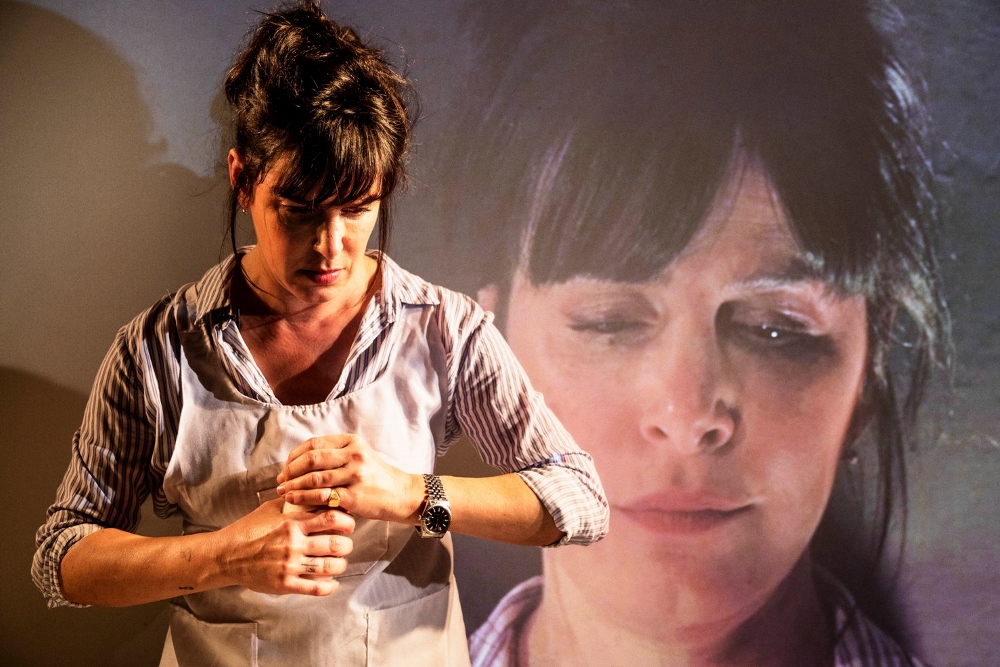 Still Alice
Adapted from the eponymous book by Lisa Genova, and directed by Dana Shtendel. Translated into Hebrew by Adi Ginzberg-Hirsh. Performed by Nina Kotler.
Alice is 48 years old, leading a full and active life as a university professor, wife, and mother of three, when she receives a life-altering diagnosis of Alzheimer's. Now she must fight to retain her sense of self against all odds.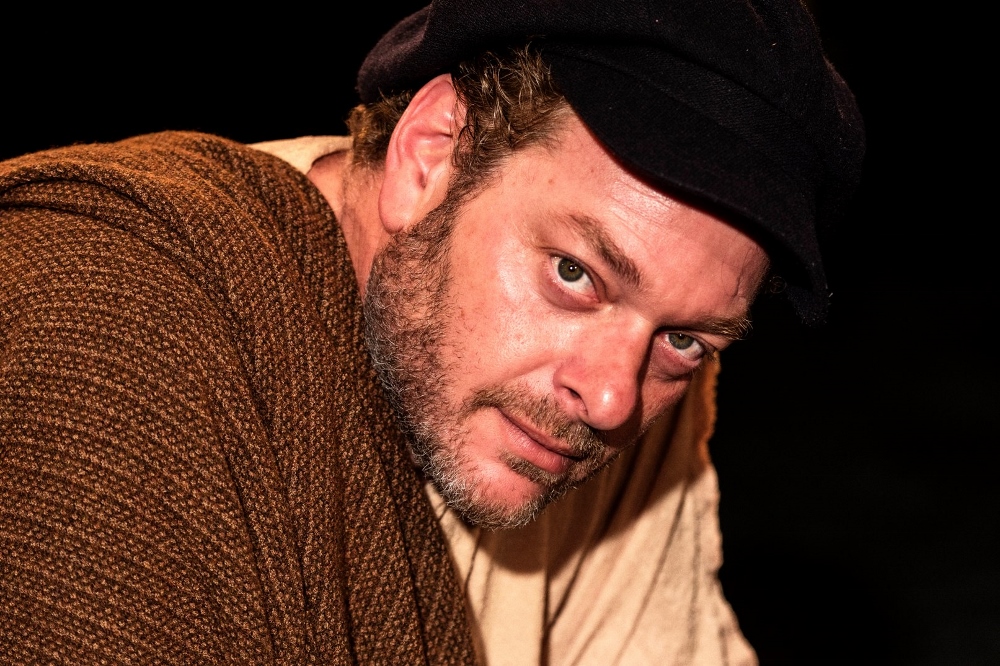 Lulkeh
Adapted from a story of the Baal Shem Tov. Adapted to the stage and performed by Yahav Gal. Directed by Yahav Gal and Bezalel Borochov.
When the Baal Shem Tov sensed that his days on earth were numbered, he gathered his followers and assigned them tasks for the future. He told Yaakov to take a horse and cart, and go from town to town, telling the people the tales of the Baal Shem Tov. This is the story of Yaakov.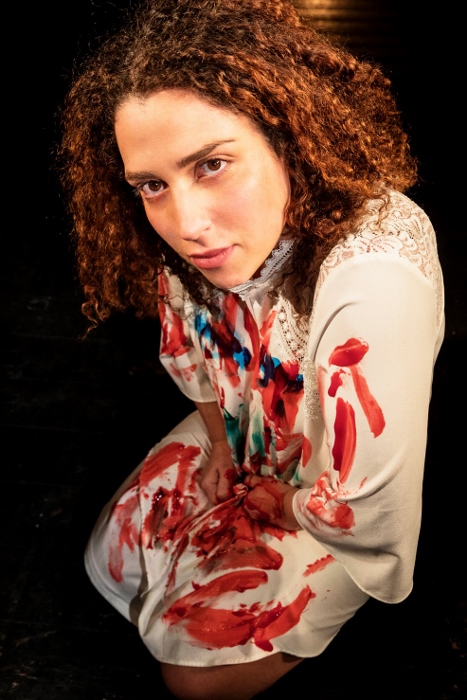 Leil HaSeder (The Night of the Seder)
Written and performed by Noa Bell. Directed by Carmit Dvori.
A 19-year old lone soldier is invited to the home of a family for the Passover Seder. Over the course of the evening, a unique bond is formed between the young woman and the mother of the family, a bond that makes past memories rise to the surface.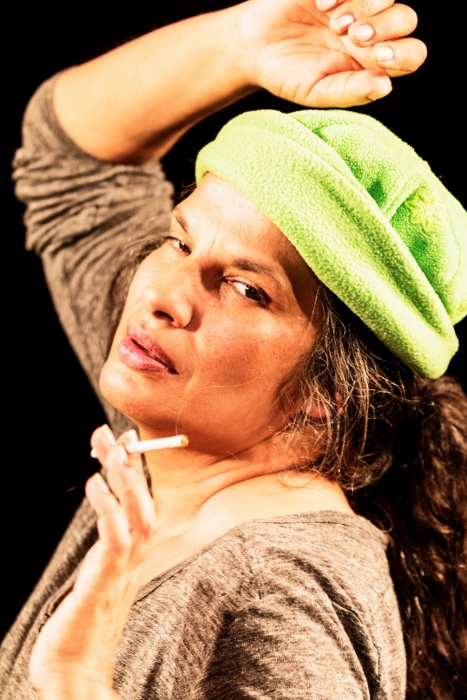 Pa'am Hayiti Yafa Meod (Once I Was Very Beautiful)
Written, directed, and performed by Tahel Raz
This is the story of Cheli, a drug addict who lives in the Central Bus Station of Tel Aviv. Cheli was born on a Moshav, she was a good girl, a good student, and her life followed the typical course of army and studies, until drugs altered her path. The events of the play take place the night before Giyora, a social worker, is scheduled to come and take Cheli to a rehab program. On that night, a documentary film director comes to the bus station, and wants to film Cheli. Now she tells her story.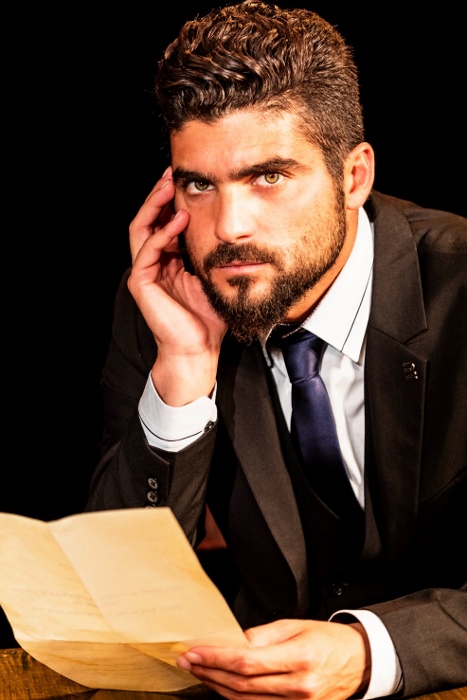 Yom HaDin (Judgement Day)
Inspired by Franz Kafka's The Trial. Written by Yossi Elka, directed by Opal, and performed by Oshri Cohen.
It's the day after Joseph K.'s 30th birthday. There is a knock on the door. Joseph K. faces two policemen who have a warrant for his arrest. The charge: unknown. At that moment, his life becomes a nightmare. A year later, when the verdict will soon be announced, he is still fighting to clear his name from the unknown charges. One man against the system.
Kol Ima (Every Mother)
Written, directed, and performed by Corrine Wolach. The play was written in the Akko Theatre greenhouse program.
A play about motherhood and its conflicts, the crazy, funny, and painful moments of one mother. When she is out in the world, she is a successful business person. But what happens, and who is she, when she is at home? What are her dreams? What are her demons?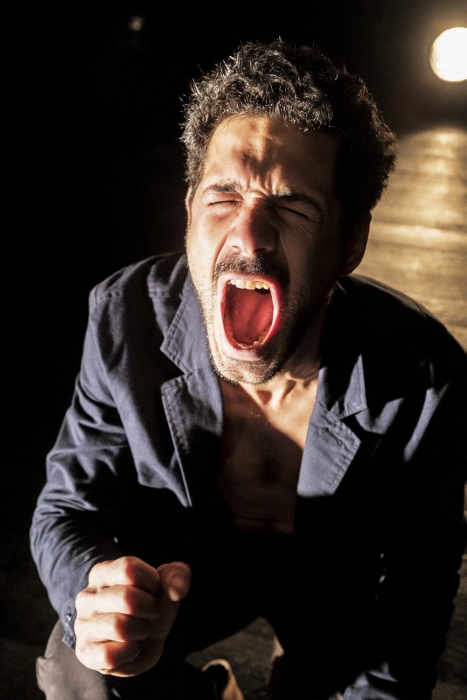 Chilean Moon
Written by Avi Nassa, translated by Yosefa Even Shoshan, directed by Yehudit Ginger, performed by Matan Preminger.
Juan believes that the moon will soon herald a new world. In preparation, he spreads the word, while waiting for Margarita his love. The play premiered in London in 1990. The story of Juan, who escaped from Chile following the military coup.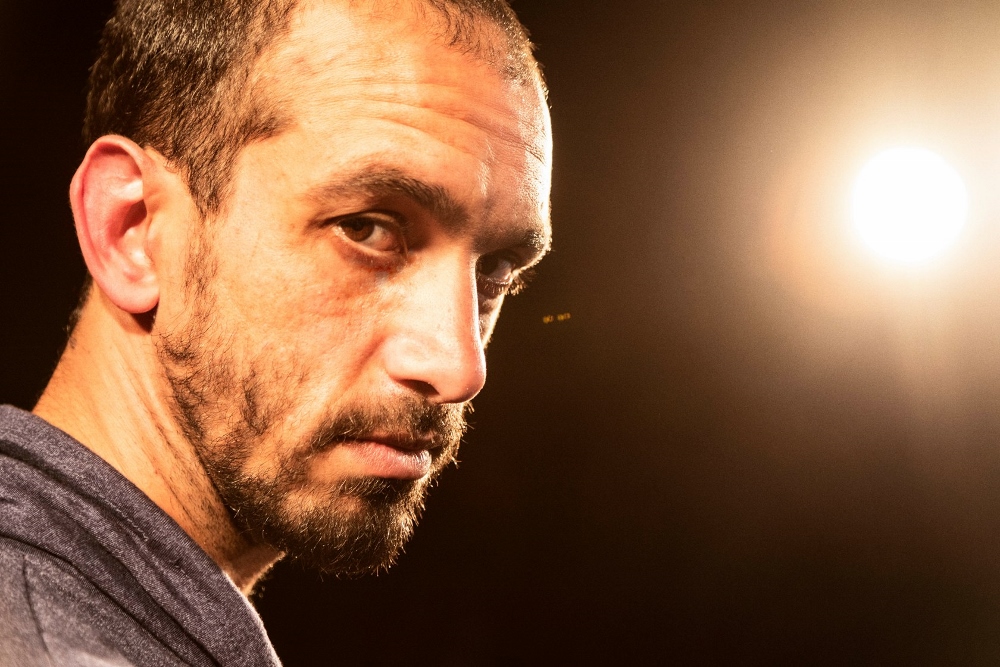 Resis BaLev (A Shard in the Heart)
Written by Wajidi Moawad, translation and dramaturgy by Ido Shaked, directed by Hanan Ishay, performed by Morad Hassan.
19-year-old Wahab was born in Lebanon. His family emigrated to the West when he was a child. Wahab also has a 'twin sister' born on the same day: the civil war in Lebanon. There is one memory that haunts him – watching a boy his age die painfully, flames engulfing his body. Years later, his mother is dying of cancer in the hospital. The personal and political encounters with death become entwined.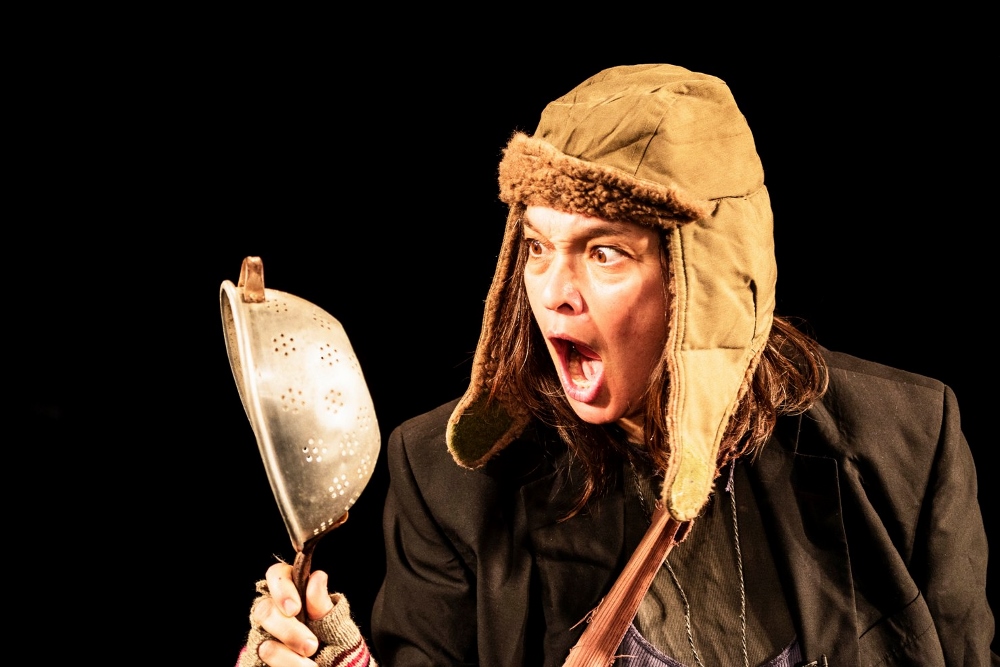 HaMofa Shel Mali (Mali's Show)
Creator/performer Sagit Segal, written and directed by Ori Goldstein.
Mali's show reveals the complex and charming character of Mali, a homeless woman, a street prophet. Mali wanders through the streets of Tel Aviv collecting moments and thoughts, as well as rusty old objects. She adds them to her collection, talks to them, and tries to cheer them up. Mali goes forward, never looking back. But the secrets of her past are hiding around the corner. She carries a small music box, it plays fragments from the soundtrack of her life.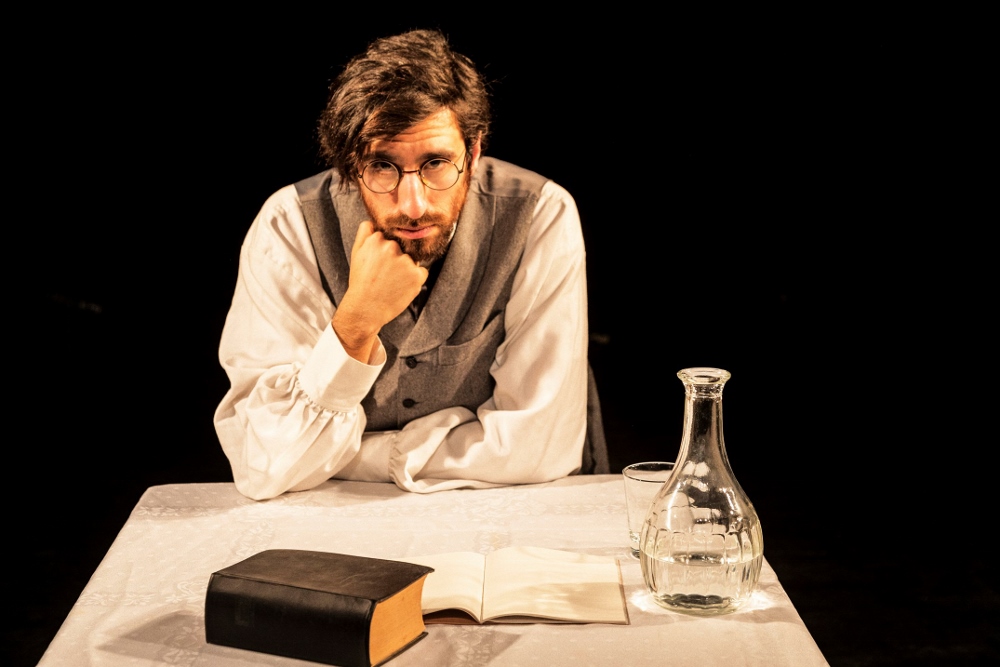 The Hidden Question
Original lecture written by Yitzhak Epstein, adapted and directed by Hagit Rehavi Nikolayevsky, performed by Maayan Rahamim.
Yitzhak Epstein (1863 – 1943) was sent to the land of Israel in 1886 by Baron Rothschild to study agriculture. After working in Yesod HaMaalah and Rosh Pina, he became a teacher and developed a method for teaching Hebrew. In his lecture, delivered at the Seventh Zionist Congress in Basel in 1905, he addressed the Zionist leaders, asking that they turn their attention to the Arab population in the land. In this text, one sees the rare ability of this man to see and hear the Arab narrative.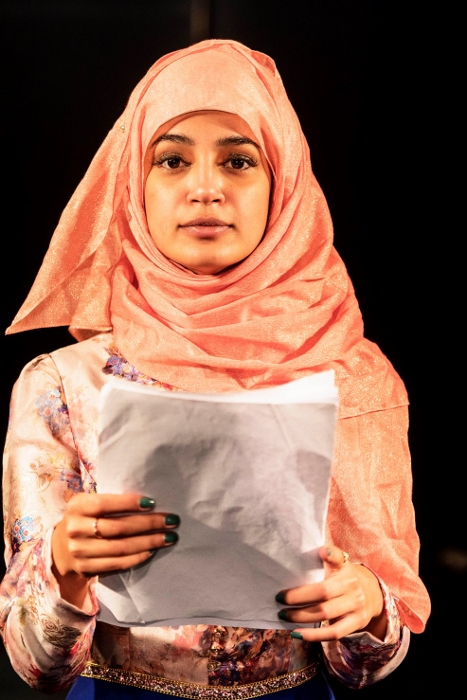 Wadi Milech
Adapted from the eponymous novel by Orna Akad, written and directed by Orna Akad, performed by Lamis Amar.
The poet Iyat Shitti is the first Arab woman to win the Nobel Prize in Literature in 2020. While delivering her acceptance speech, her mind goes back to the year 2000, when she was a 17 year old from Faradis, the only Arab student in a class of kibbutz members. The encounter with her teacher leads to a forbidden love affair, an obsession that goes out of control – in parallel to the loss of control on the Palestinian-Jewish-Arab streets of October in that year.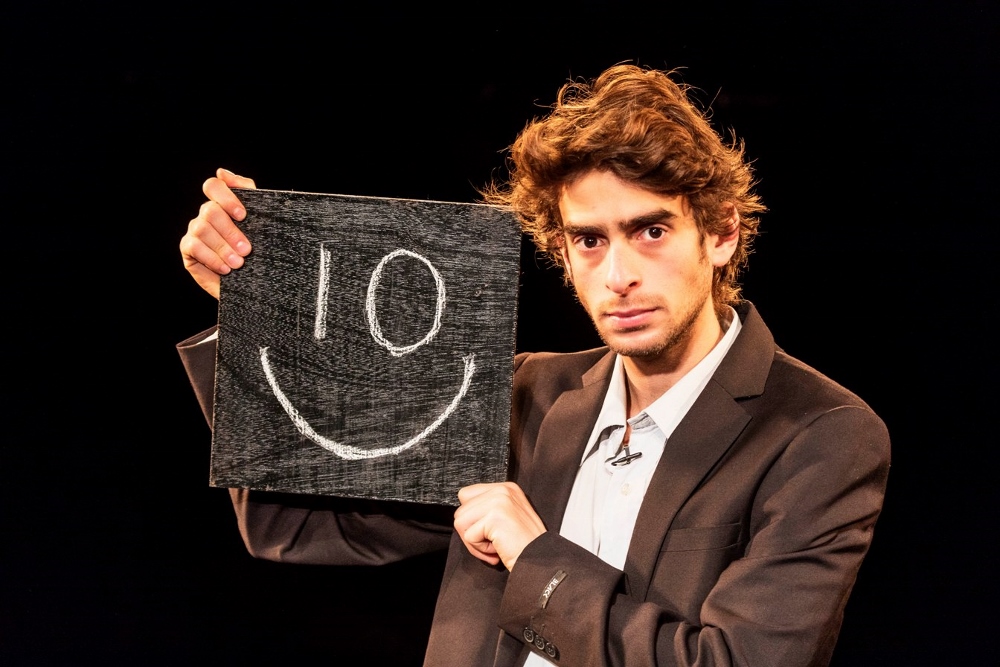 How to be Happy in 10 Steps
Written by Maayan Even, directed by Michael Gurevitch, performed by Shahar Netz.
"The only thing that stands between us and happiness is life." Miserable? Lonely? Can't believe you're still here? Want to run away but have nowhere to go? How to be Happy in 10 Steps is a seminar that suggests a simple and revolutionary way to achieve happiness.
Theatronetto information:
In addition to the plays there will be a nightly 2-hour tour of Jaffa art galleries. The tour leaves at 19:30 from the Jaffa Theatre courtyard and costs 20 NIS per person/10 NIS with theatre ticket. Tours will be limited to 30 people at a time.
Theatre tickets are 70 NIS, and may be ordered online at https://www.run-art.co.il or call 09-8945957.
More photos from the preview presentation on the Midnight East facebook page.
Play descriptions are provided by the festival, the English version is my translation.