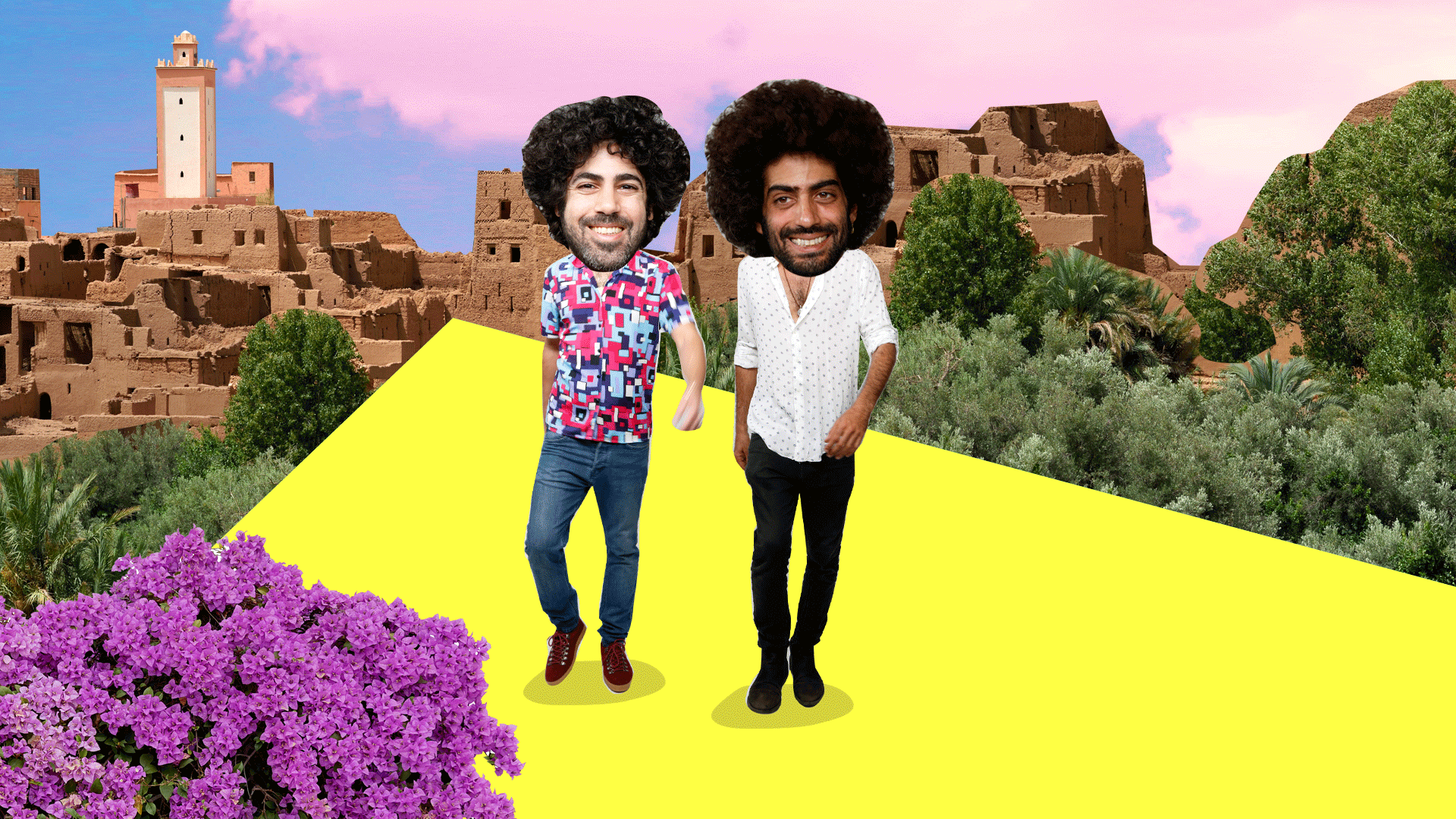 Look at today: when I take a walk outside, bathed in the warm glow of the sun, following the soothing blue rhythms of the Mediterranean Sea, surrounded by endless cloudless skies – today is beautiful. Yet at every turn I am reminded of the fragility of that serene view. The threat of war, internal conflicts, everyday loves and losses, global warming and other evidence of humanity's inhumanity – reality always comes crashing in; sometimes in the form of missiles literally crashing in. What's a person to do?
Look at Today is the title of Quarter to Africa's new song, written by Yakir Sasson and Elyasaf Bashari, and it captures those feelings with its easy groove infused with the sunny skies and blue seas of the Mediterranean, undulating Arabic tones, African rhythms, and the edgy cadence of rap. The video, designed and directed by Eran Sasson, is a cool chromatic companion to the song, with kaleidoscopic Arabesque-like patterns, vintage decoupage reminiscent of Monty Python's animation, and featuring stop-motion animated Yakir Sasson and Elyasaf Bashari wandering through Tel Aviv-Jaffa – it's a visual trip. Pop culture, Zohar Argov, and the Mona Lisa all find their way into this synesthetic experience. There's even an oblique reference to the mind-body problem in this psychedelic philosophical journey spiked with humor and herb.

Inspired by the sight of a missile literally crashing down during the Israeli-Palestinian conflict of 2014, the song speaks to the complicated experience of life here with all its contradictions, and the desire to escape… into music, into humor, into some psychedelic journey. Merging the real with the surreal, the song opens like this: "Look at today, it's so beautiful, a missile fell on it/Check out the sea, it's so blue, an elephant fell in it." It's a song about the longing for escape, but it's also a protest: "I'm talking to you about the fact that we were born into a reality of war, and we grew up/and it looks like the same war coming back, here, beyond the wall or on another continent."
Quarter to Africa will be celebrating their new single in a concert at The Abraham Hostel on Friday, May 25, 2018. Doors open at 21:00, show begins around 22:00. Tickets are 65 NIS in advance/85 NIS at the door – order online via this link.
Link to Quarter to Africa bandcamp, facebook event.
Look at Today
Music & Lyrics: Yakir Sasson and Elyasaf Bashari; Quarter to Africa: Yakir Sasson – Vocals, Sax; Elaysaf Bashari – vocal, electric oud, guitar; Artur Krasnobaev- trumpet; Arad Yeni- trumpet; Tal Kohavi- drums; Roei Friedman – percussion; Yaron Mitelman – bass; Yonatan Daskal – keys; Yaron Ouzana – trombone; Mix – Maya Lavi; Mastering – Michael Fosencamper. Videoclip credits: Visual art director- Eran Sasson; After effects & animation – Dudu Vazana; Green screen camera – Eran Sasson; Gilad Bar Shalev Studio. Production – Amir Rozanes, Southern Productions.