The Yiddishpiel Theatre and Shalom Aleichem House marked Holocaust Remembrance Day with a ceremony dedicated to the cultural life of the Warsaw Ghetto. The event took place on Sunday evening, April 11 at ZOA House in Tel Aviv, and Monday morning, April 12 at the Jerusalem Theatre.
The actors of the Yiddishpiel Theatre, primarily from the ensemble of young actors, performed in Yiddish (with Hebrew translation), scenes from plays, songs and satiric sketches written by residents of the Warsaw Ghetto. Cultural events in the ghetto took place in improvised venues – such as large apartments where Jews would come in secret to hear Klezmer music, cabaret and theatre performances. Among the works presented by the Yiddishpiel Theatre: scenes from "Job" by Itzhak Katzenelson (1886 – 1944), the operetta "Bar Kokhba" by Abraham Goldfadn (1840 – 1908), "The Village Youth" by Leon Kobrin (1873 – 1946), and review sketches of life in the ghetto written by Vladislav Shlengel, poet of the Warsaw Ghetto.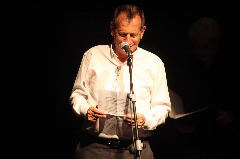 Mayor of Tel Aviv, Ron Huldai opened the ceremony, saying, "The survivors triumphed with their survival in the battle for the preservation of human dignity.  They saw survival as their duty, to live and tell the story, to make their voices heard. 'I will not die, but live' and tell of the actions of the devil – that is the message." The ceremony was arranged and directed by Moty Averbuch.