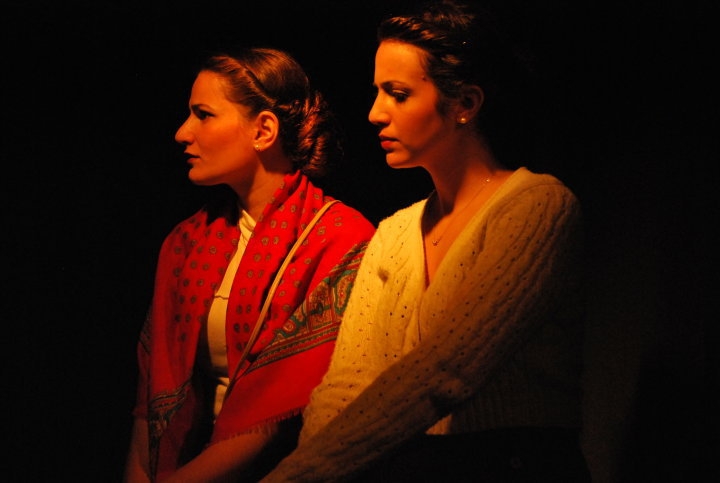 Now being performed in Jerusalem through April 22nd
For most of us, it's pretty much all we can do to just slog through the day, the week, the month…
Between work, family and our many other quotidian obligations, the most we can hope for when we reach home at the end of the day is to enjoy just a little discretionary time for entertainment at a computer or in front of a TV or DVD before collapsing into bed and starting the whole routine over again early the next morning.
There's nothing wrong with that. Or is there?
Gisa Peiper lived her life differently. She was one of those special people who, driven by her conscience and powered by seemingly inexhaustible wellsprings of energy, fought injustice tirelessly and sought to improve the lives of people all around her.
We know and admire people like this, idealistic people who somehow reach beyond themselves and create libraries, who build shuls, chessed organizations, etc. — people who try and often succeed to make the world better, sometimes even on a large scale.
Silence Not, A Love Story moves back and forth in time, but chronologically begins in 1929 as 19-year-old Gisa joins a group of committed activists undertaking a variety of activities in the labor movement to improve conditions for Austrian workers. The play takes a darker turn as the Nazi gain power, and the activities of Gisa and her group become dangerous in a more sinister way.
Based on the real lives of the protagonists, the play follows Gisa through the early years of her energetic social activism, letting us enjoy her budding romance with Paul Konopka, whom she eventually marries in real life. We also witness Gisa being captured and tolerating imprisonment by the Nazis, and we watch her escape to freedom — aided unexpectedly at a key moment by a bystander who just as easily could have decided to betray her.
The play is innovative in a number of ways. Just as the story takes place on several levels, the stage itself is designed in levels, with people at the railway station looming upstage as other action takes place at stage level closer to the audience. Many of the actors play more than one role, so a human face we come to know as a kind-hearted activist can later be the face of an unsympathetic Nazi.
Another innovative touch is that there are two versions of Gisa on stage at almost all times – the younger activist Gisa and her more grown-up counterpart viewing and commenting from the raised railway station. This adds perspective by enabling us to undergo experiences as they happen to the younger Gisa, and yet still look back at the action from the hard-earned vantage point gained by the older Gisa. 
The play is billed as a love story, and it is that. The charming deepening relationship between Gisa and Paul satisfies our romantic thirst. Yet the play is a love story on a larger level, too — a love for humanity, a love for the courage of people who care for others and fight for the betterment of all despite the personal costs, in ordinary times as well as in extraordinary times.
The question of how many of us live our lives like Gisa, or how many of us would want our children to live lives like Gisa, dedicated to helping others instead of promoting one's own wellbeing, may draw an answer of "very few."  Yet a great many of us appreciate and admire purity of spirit and mesirat nefesh like Gisa's, and that is one of the reasons that the play is so satisfying.
 
Seeing in the story a challenge to herself and to us all, Playwright Cynthia L Cooper writes in her prologue to the play, "When people are treated with indifference or callousness or disregard for all that is just and fair, what are we — what am I — called to do? I don't have exact answers, but now I have a better grasp of the questions: What can we know? What should we do? What may we hope?"
If you like leaving a play feeling not only entertained but also ennobled and elevated, then Silence Not, A Love Story is warmly recommended.
 
Silence Not, A Love Story
By Cynthia L Cooper
Directed by Gabriella Willenz.
Starring: Rony Gammer, Naama Nachum, Rubi Feinberg, Rina Kwartin, Guy Kapulnik, Hila Rubenstein and Orit Shtorchan.
 
Performances: April 11, 12, 13, 14, 15, 21, and 22 at 8 PM.
 
Performances are at Center Stage Theater CST, Rechov Dor Dor VeDorshav, 7a, German Colony, Jerusalem. Tickets are 60 shekel, with discounts for students, soldiers, seniors, and members.
For information and to order tickets please call 052-603-9115 or email
cst@themerkaz.org <mailto:cst@themerkaz.org>
All performances are in English
MIDNIGHT EAST