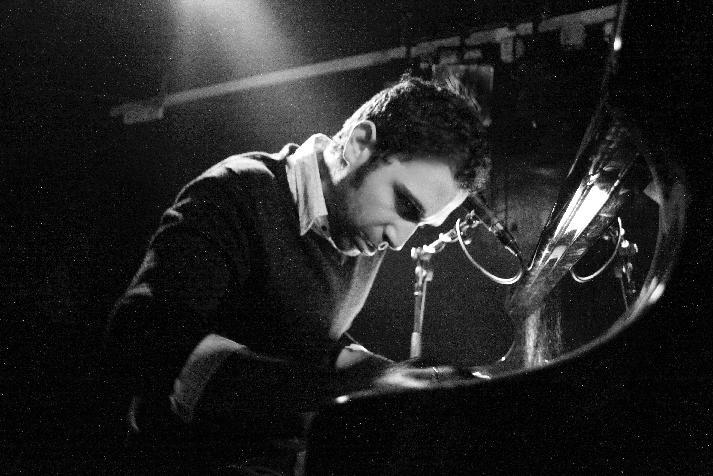 Music and literature merge as Shlomi Shaban sings with the piano, in the closing ceremony of the 2nd International Writer's Festival at Mishkenot Sha'ananim on May 6th. Shaban, a classically trained pianist and soloist with the Israeli Philharmonic went his own way at the age of 23 with a unique rock piano sound. Shaban is known for his innovative compositions, creative collaborations in dance and film, and literature -creating compositions for the poetry of Dory Manor.  Shaban will perform a medley from his most recent album, Migdal HaPizmon – Tower of Song, which takes its name from Leonard Cohen's song, presented here in a cool translation by Shaban and Kobi Medan. The album includes covers of Randy Newman (My Life is Good), Jacques Brel and Israeli artists such as Shalom Hanoch and Meir Ariel. The evening of literature and music will take place overlooking the Old City walls, featuring readings by Paul Auster, Siri Hustvedt, Nicole Krauss, Etgar Keret and Gadi Taub.
The concert is part of a series – Between the Lines – that ushers in a new initiative: an annual summer season of culture in Jerusalem. Scheduled to begin in 2011, the Jerusalem Season of Culture will focus on supporting contemporary arts and culture in Jerusalem by integrating existing art, introducing new programs, and facilitating collaborations among local and international artists, art organizations and venues across the city. Initiated by the Schusterman Foundation – Israel, with the support of the municipality of Jerusalem, the program's senior strategic advisor is Naomi Bloch Fortis, former General Director of the Batsheva Dance Company, and the artistic director is Itay Mautner, co-founder of ArtTLV and Pecha Kucha, both individuals with a strong creative presence in the Israeli cultural scene. Says Mautner of the new initiative: "Jerusalem's social, ethnic and religious diversity has fueled the imagination of generations of artists.  We are here to encourage this voice to thrive and flourish and to make the arts and culture accessible to all in Jerusalem."
A multidisciplinary series that combines literature, music, cinema and theater, Between the Lines is a good indicator of exciting summers to come in Jerusalem.
Between the Lines events at the 2nd International Writers Festival 2010:
Monday, May 3 at 17:30
Yoel Hoffman and Dror Burstein will meet musician Amir Lev in the Ticho House Garden to talk about "moods", literature and things that are nameless.
Tuesday, May 4 at 21:00
Sayed Kashua will talk about his new book: "Second Person" in the Confederation House hosted by Amalia Rosenblum with musician Yahli Sobol who will perform, and Yonatan Conda and Neta Viner (System Ali) who will perform the rap-fiction "Spoken Words."
Wednesday, May 5 at 19:00
Paul Auster in a one-time session with the audience followed by a screening of the movie "Smoke" by Wayne Wang in Sergei's Courtyard.
Thursday, May 6 at 17:00
A session of three women and the play "The Show Stolen Party", based on a story by Liliana Hecker. Three short stories about three women – in moments of maturation, disillusionment and change, performed by the Haifa University Department of Theatre at the Khan Theatre, with Liliana Hecker and Meirav Michaeli.
Closing concert with Shlomi Shaban and literary friends, Thursday, May 6th, festival tent Mishkenot Sha'ananim at 21:00.
Tickets are 50 – 60 NIS (100 – 120 NIS for the Closing concert) and may be purchased through: www.bimot.co.il, or call 02-6237000.
Click here to view the full program for the 2nd International Writer's Festival.
Get in the mood with Shlomi Shaban's cover of Leonard Cohen's "Tower of Song"!

AYELET DEKEL