Step by quirky step, the Inbal Pinto & Avshalom Pollak Dance Company leads the way to a darkly funny, strange, and utterly enticing world. Rushes was originally created in collaboration with Robbie Barnett of the Pilobolus Dance Theatre and has been developed by Pinto and Pollak into an evening length program, Rushes Plus, with the addition of a delightfully bizarre introduction that merges seamlessly with the original work.
Choreography, costumes, set and soundtrack – in this case featuring selections from John Blow (1609 – 1748), Charlie Chaplin, jazz greats such as Miles Davis and Django Reinhardt, and contemporary Estonian composer Arvo Part – are all created by Pinto and Pollak. Their unique perspective renders each production a world unto itself, in which all elements, however odd, are somehow integral parts of the whole. The piece begins in darkness, with two pairs of legs viewed from the knees down, doing their own little dance. A light bulb descends revealing tea cups resting on a small table attached to a red vinyl bench, where two slightly bedraggled ballerinas sit in their pastel dresses.
Grimacing, posing, singing – the rhythm of the movement and the way they use their body is characteristic of Pinto-Pollak choreography in which the ordinary and sometimes awkward gestures of everyday life are juxtaposed with visions of ephemeral beauty. Four men enfolded by a single black suit move as one body, a creature in white long johns, black bowler hat and tie dances with the rubbery elasticity and fluid motion of an animated cartoon character. A woman in a sparkling 20s era dress dances a touch of glamour into the fantasy world of these imaginary creatures. The precise timing, physical ability and expressive quality of the dance, enriched with a vocabulary that moves freely from a sneeze to the swinging arms of the Charleston, combine to create a work of poignancy and humor.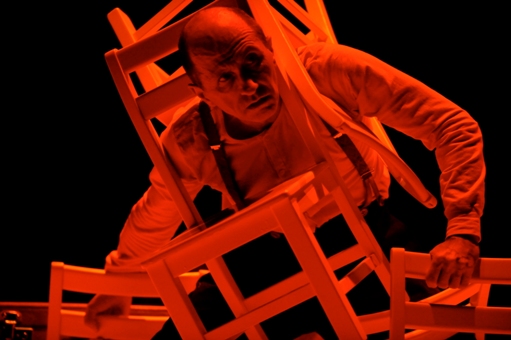 The company occupies a niche of its own between dance and physical theatre. The talented troupe of dancers includes Zvi Fishzon, a physically expressive and agile actor with a compelling stage presence. The April 16th performance of Rushes Plus included a special treat – actor Yossi Pollak in a comic interlude with Fishzon between the two parts of the evening. Pollak magically appeared onstage like an Eastern-European version of a character who either just walked out of a Magritte painting or a Lower East Side subway station, delivering hilariously improbable lines with the sweetly calm demeanor of a dreamer.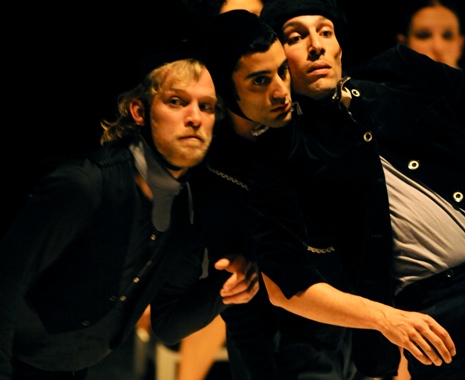 The apparently effortlessly synchronized movement and transformations of Pilobolus are evident in Rushes Plus, particularly in scenes where the male dancers move as one creature. But the feeling is very Pinto-Pollak, with echoes of the introductory piece enhancing the sense of story. Juxtaposing the funny and strange with the familiar, taking the familiar out of context and re-arranging reality so that its absurdity becomes visible and we begin to recognize familiar moments in the strange imaginary world onstage – this is the Pinto-Pollak experience, and by the end of the evening, these visions and creatures from a strange world have entered our hearts.
The company will be performing Rushes Plus, on February 24, 2011 at the Suzanne Dellal Centre in Neve Tzedek, Tel Aviv at 21:00, and on February 25, 2011 at 13:00 & 22:00.  Tickets: 03-5105656.
AYELET DEKEL