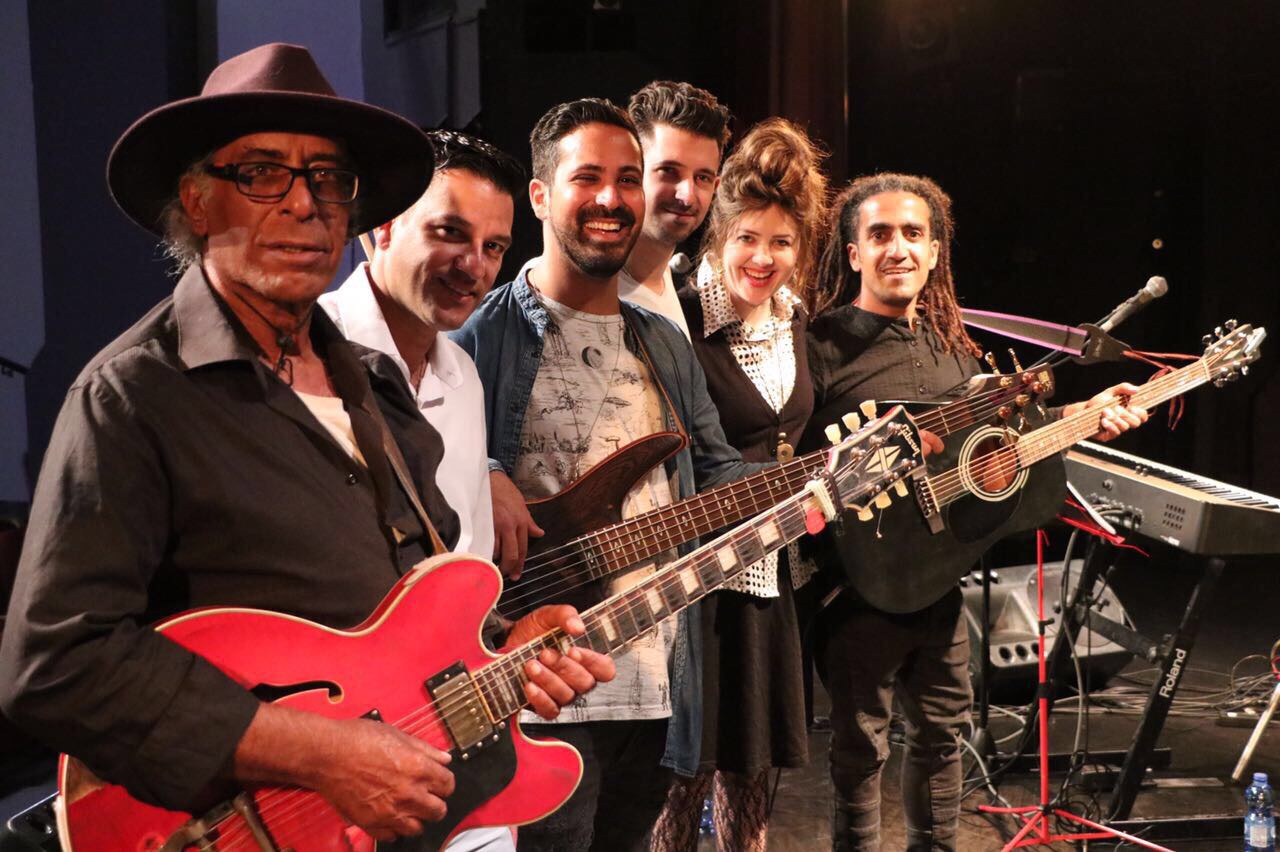 The Jerusalem Cinematheque will celebrate Mizrahi Music with a special program from June 19 – July 19, 2018. 8 films documenting the rich musical and cultural heritage of Arab and Mizrahi music and its struggle to establish its place within Israeli culture will be shown over the course of the month, as well as three live musical performances and selected works from the exhibit A Lonely Singer is the Heart, curated by Eran Litvin, that follows the story of Mizrahi music in Israel.
The full program:
Tuesday, June 19th at 20:30
Charley Baghdad – film and performance.
Music and songs from the Iraqi-Jewish tradition performed by Yair Dalal (oud, violin, vocals), Rachel Yehezkel (vocals), Herzl Sagi (darbuka, vocals). Screening of Charley Baghdad (Israel 2002, 70 min, Hebrew), directed by Eyal Halfon.
Thursday, June 21st at 19:00
Screening of Café Noah (Israel 1996, 26 min, Hebrew), directed by Duki Dror. In Israel of the 1950s, Café Noah was one of the few places where Arab music was performed live. Taqasim (Israel 1999, 42 min), directed by Duki Dror, follows the violinist Felix Mizrahi on a journey to Cairo in the mid-1990s, to search the Egyptian radio archives for recordings of his musician brother, Farag, who died when Felix was 9 years old.
Sunday, June 24th at 18:30
The Mystery of Aris San (Israel 2007, 80 min, Hebrew), directed by Dani Dothan and Dalia Mevorach. The film tracks the mysterious life of Aris San, a Greek (non-Jewish) musician, who arrived in Israel in 1957 and within five years, became a huge star.
Wednesday, June 27th at 19:00
Embrace Me (Israel 2001, 48 min, Hebrew), directed by Shaul Meislish and Michal Avraham, tells the story of Joe Amar, who had already been a success in Morocco before coming to Israel, where against all odds, he became a star of Mizrahi music.
Thursday, June 28th at 19:00
A Bit of Luck (Israel, 1992, 90 min, Moroccan, French and Hebrew, Hebrew subtitles), directed by Zeev Revah, who also stars. A feature film chronicling the life of Jojo, a well-known singer in Morocco of the 1950s, who immigrates to Israel with his daughter (Zehava Ben).
Tuesday, July 3rd at 19:00
The Story of Mizrahi Music in Israel – a talk (in Hebrew) by Ophir Toubul. Screening of The Sad and Foretold End of Zohar Argov (Israel 2017, 182 min, Hebrew) directed by Dalia Mevorach and Dani Dothan, the 3-part series follows the trajectory of Zohar Argov, from the environment of poverty and violence in which he grew up, through his struggles with the music establishment, drug addiction and death at age 32. There will be an intermission following the screening of part 1.
Thursday, July 5th at 21:00
Yehuda and the Keisars – live concert by one of the greats – Yehuda Keisar, and his band.
Thursday, July 12th at 19:00
Iraq 'N' Roll (Israel 2011, 52 min, Hebrew), directed by Gili Gaon, the film follows contemporary Israeli musician Dudu Tassa as he encounters the Al-Kuwaity brothers and his family history through their music, creating a musical dialogue between the generations. Saleh and Daoud, Tassa's grandfather, were celebrated musicians in Iraq. Yet when they immigrated to Israel in 1951, they remained on the margins of Israeli culture, performing at weddings and Bar Mitzvahs, and operating a small store selling kitchen utensils in the shuk to eke out a living. Crushed by circumstances, they forbade their children to become musicians or even learn to play an instrument. The film premiered at the 2011 Jerusalem Film Festival, read the full review here.
Thursday, July 12th at 21:00
Dudu Tassa and the Kuwaitis: Don't Be So Modest, You're Not That Great (Israel/US 2018, 64 min, Hebrew, Arabic and English, Hebrew subtitles), directed by Tal Hake. The film follows Dudu Tass & The Kuwaitis as they join Radiohead on tour. The screening will be followed by a conversation with Dudu Tassa. An additional screening (film only) will take place on Wednesday, July 18th at 21:00.
The full program is listed in English on the Jerusalem Cinematheque website.  Tickets may be ordered online or call *9377. Film tickets are 39 NIS (free for cinematheque members), live music shows are 40 NIS/20 NIS for members.