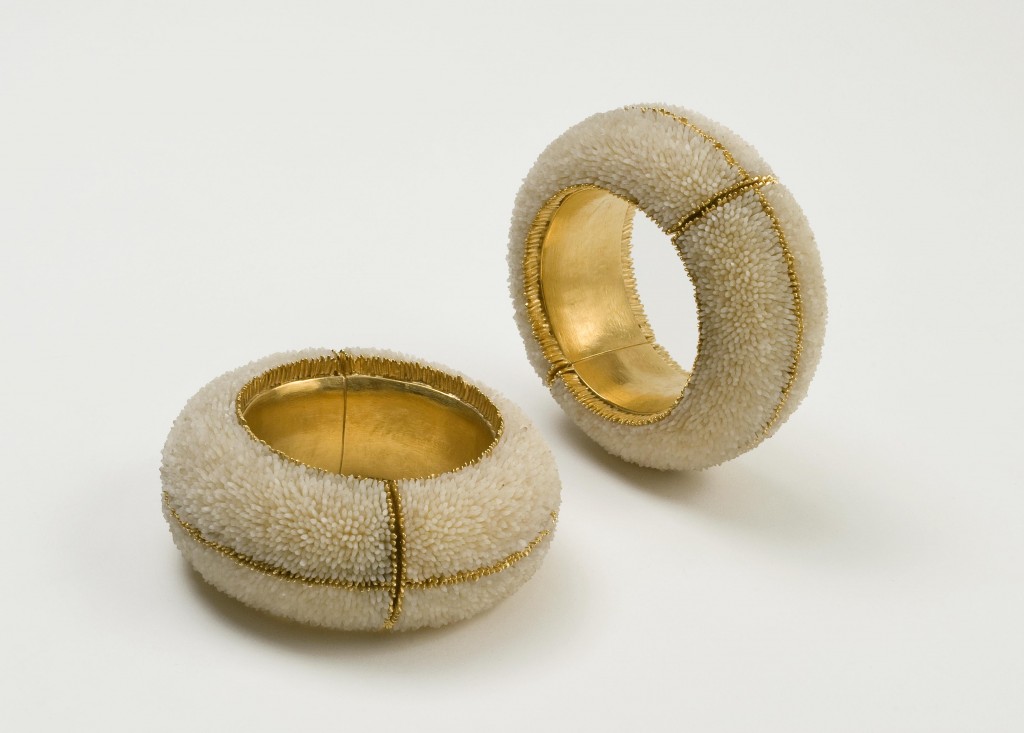 Sequences; Identities – Israeli Jewelry 5 will open at the Eretz Israel Museum on May 15, 2010. Curated by Sigal Barkai, the exhibit takes a different perspective on jewelry, relating it to social issues of individual and group identity.
Barkai said, "Jewelry is considered, first and foremost, to be commercial. I preferred to indicate a direction that led to personal, challenging self-expression." According to Barkai, there were 240 applicants in the first round of the selection process, 170 submitted sketches of their ideas and ultimately, 85 artists were chosen to participate in the exhibit. Some of the sketches will be displayed in the exhibit, showing the relationship between the artist's original concept and the finished work.
In most exhibits, jewelry is displayed lying on a surface, enclosed in glass cases. Alon Razgour, designed this exhibit in a manner that enables the viewer to "walk with the jewelry within the space." Many of the pieces are displayed on white pillars extending from floor to ceiling, whose curves create an illusion of movement. With a minimal number of dividing walls, there is a feeling of open space, allowing visitors to look around and see the exhibit as a whole, in addition to viewing the individual objects.
Accompanying the exhibit is video art created by Ran Selwin. Selwin gathered 21 of the participating artists in a fitness center, where he filmed them interacting with the jewelry, the fitness equipment and one another.
The form and materials of these works relate to concepts, symbols and narratives that create their own path through the exhibit. Many present themselves not as objects of adornment, but as expressive objects of contemporary craft.
Vered Babai's rings, made of tin, silver and aluminum have a small fold, or "pinch," which symbolizes for the artist the emotional pinch that one can experience, either in joy or sorrow. These emotions leave no mark on the human form, but the metal, once pinched, retains the mark, each metal responding in a different way. Babai says of her work, "I am drawn to delicate forms, small actions that represent a physical or emotional idea."
Kobi Roth's rings are perhaps impossible to wear, as they are created for groups rather than individuals. His design is inspired by flow charts, in which the different parts are connected to one another in sequence. "The rings suggest a hypothetical situation," says Roth, "it will be complete if I photograph a group of people wearing them."
Sequences; Identities opens May 15th, at the Eretz Israel Museum, 2 Haim Levanon Street, Tel Aviv.
AYELET DEKEL