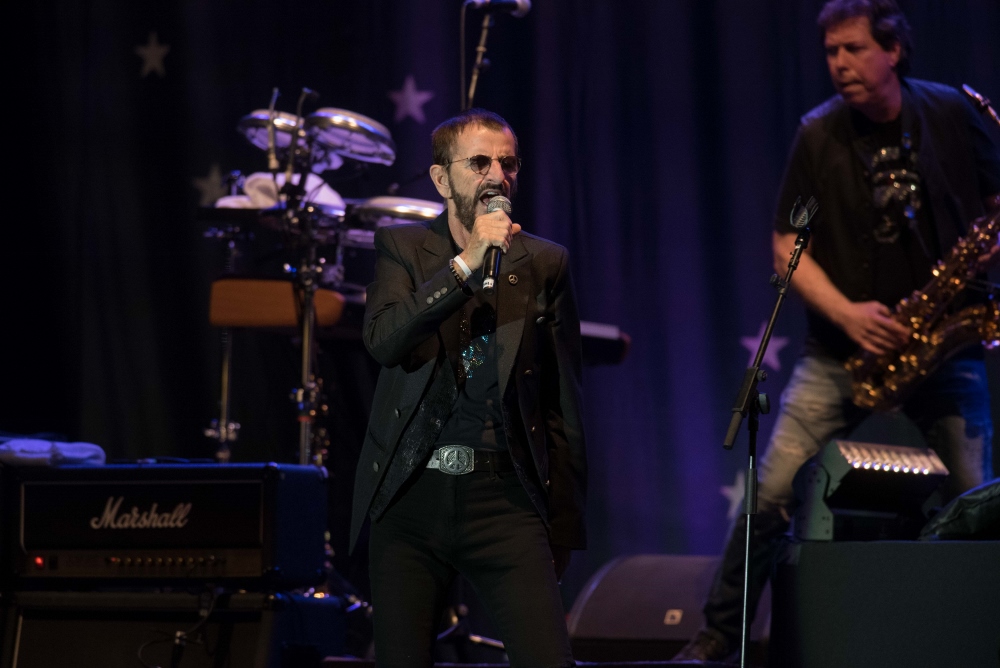 Ringo Starr rocked it in Tel Aviv last night, performing at the Menorah Mivtahim Arena with his All Starr Band. Soon to celebrate his 78th birthday (July 7th!), Sir Richard Starkey looks fantastic, exuding rocker cool and full of great energy onstage. As one of the two living members of a legendary rock group – drummer Ringo is the fun, uncomplicated Beatle – the fame is a double-edged sword, bringing crowds of adoring fans as well as high expectations to every concert. Ringo was charming, with his relaxed manner, sweet humor and flashing peace signs; musically, the show was terrific. Ringo's All Starrs really are amazing stars: Steve Lukather (Toto) – guitar; Gregg Rolie (Santana, Journey) – keyboards; Colin Hay (Men at Work) – guitar; Graham Gouldman (10cc) – guitar; Warren Ham – sax & percussion; Gregg Bissonnette – drums. All performed with huge heart, wonderful energies and impeccable musicianship. People, this is how it's done! Aspiring musicians could learn much from watching these guys, still rocking hard in their 60s & 70s.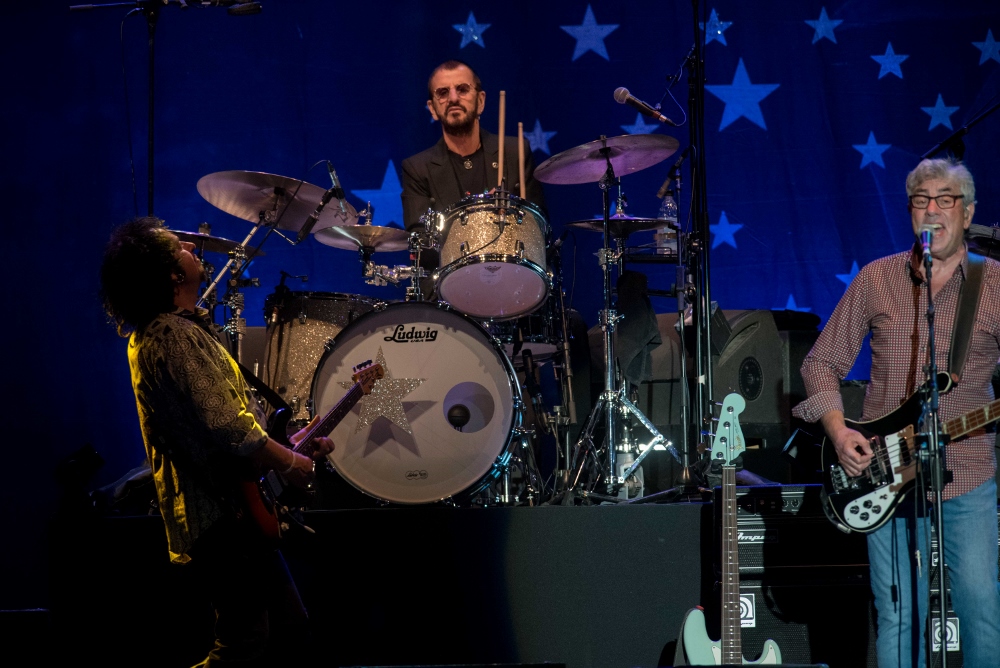 A very generous long set included Beatles songs, songs by Ringo Starr, and also songs from the other illustrious bands represented – Santana, 10cc, and Toto. As one might expect, Starr primarily selected Beatles songs on which he had originally sung lead, such as the opening Matchbox (written by Carl Perkins), and Boys (written by Luther Dixon and Wes Farrell, originally performed by the Shirelles). I had been hoping for Octopus's Garden, but in every other respect the set list was sheer delight. Yes, it was a total nostalgia trip for all of us who listened, danced, laughed, loved, and cried to music through the 60s, 70s, and 80s. But – these are all great songs – I'm Not in Love, Black Magic Woman, Rosanna, Down Under and more – and hearing them live was one high after another.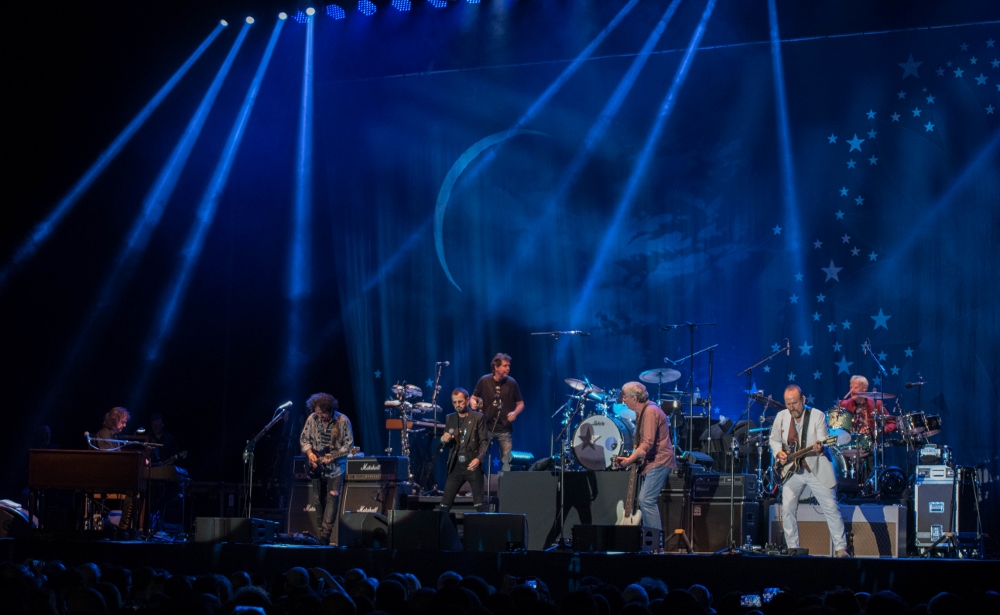 There were many memorable moments – Gregg Rolie and Steve Lukather's riffs on Evil Ways; Warren Ham – making it happen again and again on sax, drums and vocals; Graham Gouldman singing I'm Not in Love (sigh); Colin Hay on Who Can It Be Now; and Greg Bissonette's wild drums on Black Magic Woman. Not to mention the man in the row in front of me who was just bursting with enthusiasm and great vibes, clapping and singing; the woman with the long braids at my left who called out 'te amo Ringo'; and the two guys a few rows up who did a cute little dance to I Wanna Be Your Man. Every live concert is its own little temporary community, and it's the people who help make it great. There's really nothing like singing along with a Beatle and thousands of other people to Yellow Submarine, it's a moment I will cherish.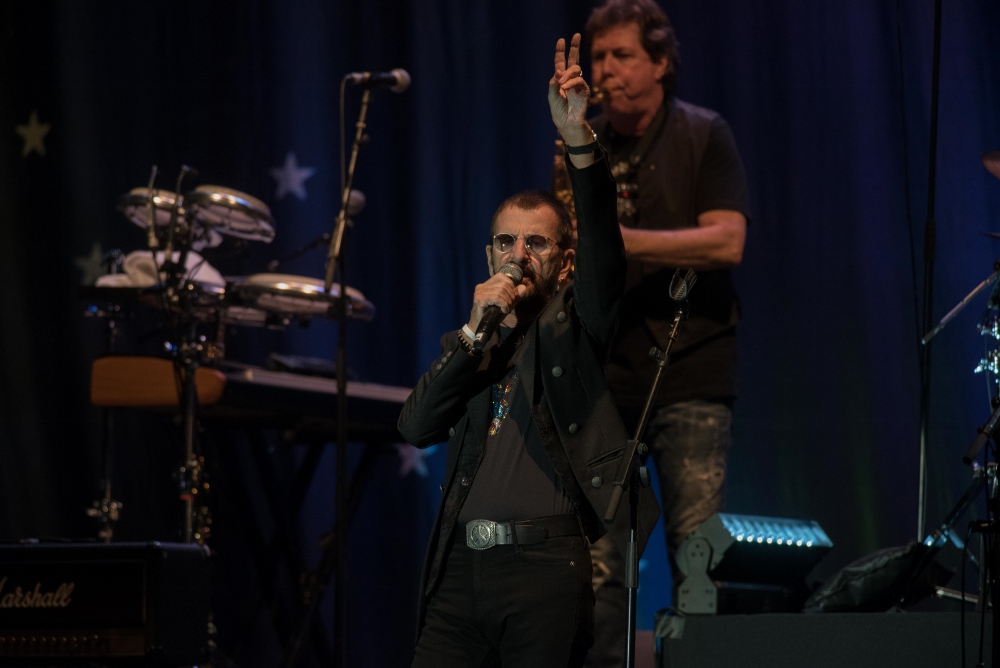 When Ringo sang Photograph, co-written with George Harrison, the song brought on the memories and people crowded around the stage in an outpouring of love. Hearing the country twang and silly fun of Act Naturally (written by Johnny Russell and Voni Morrison), I felt like I might be listening to a twenty-something Ringo onstage, his energy is amazing. It all came together on the final song – the music, the memories, the genius song-writing – as the entire arena sang With a Little Help from My Friends. What a night!
Ringo Starr and the All Starr Band will be performing a second show at the Menorah Mivtahim Arena, tonight, Sunday, June 24, 2018. Tickets via this link.