Eternally youthful and beloved chansonnier Charles Aznavour will return to Israel on the occasion of his 95th Birthday Tour for one performance only, on June 29, 2019, at the Menorah Mivtahim Arena. Tickets will go on sale Sunday, July 1, 2018 via Leaan www.leaan.co.il .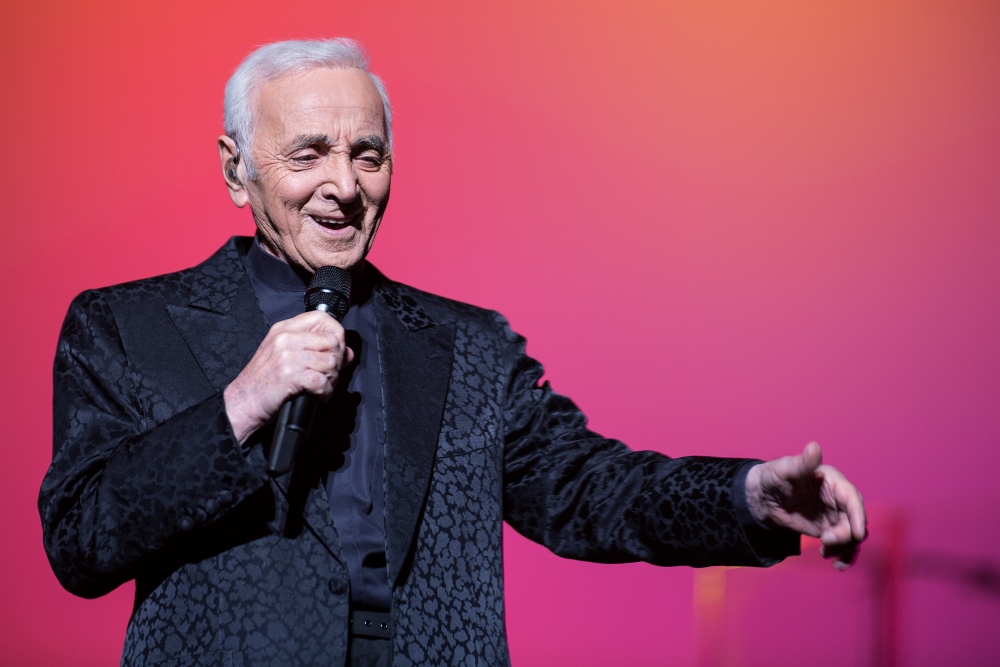 The prolific songwriter was born in Paris on May 22, 1924, to Armenian parents, who named him Shahnour Vaghinag Aznavourian. Although he took the stage name Aznavour, he remains loyal to his Armenian heritage, and in 2009 was named Ambassador of Armenia to Switzerland and Permanent Representative of the Republic of Armenia to the United Nations Office in Geneva. Among his many honors, Aznavour was awarded a star on the Hollywood Walk of Fame on August 24, 2017.
He began performing as a child, but his big breakthrough came thanks to Edith Piaf, who encouraged him to develop as a singer and invited him to join her on tour in France and the United States in 1946. He speaks and sings in several languages – French, English, Italian, Spanish, German, Russian, Armenian and Neapolitan, but in most of his songs, the language is universal; the language of love.  In a career that has spanned 70 years, he has composed over 800 songs, sung with Frank Sinatra, and his songs have been recorded by artists as diverse as Andrea Bocelli and Ray Charles.
The indefatigable and ever cheerful Aznavour is in the midst of a world tour that has included the U.S., Russia, Italy, Australia, Tahiti, Argentina, Morocco, Japan, Ukraine, Belgium, and France, and will conclude in Switzerland at year's end. What will come next for Azanvour? A celebratory tour in honor of his upcoming 95th birthday, with a concert in Israel!
Ticket prices begin at 295 NIS, and are available only from Leaan, via their website www.leaan.co.il, or call *8780. Tickets go on sale July 1, 2018. Aznavour's concert in Israel is produced by Gad and Ron Oron.