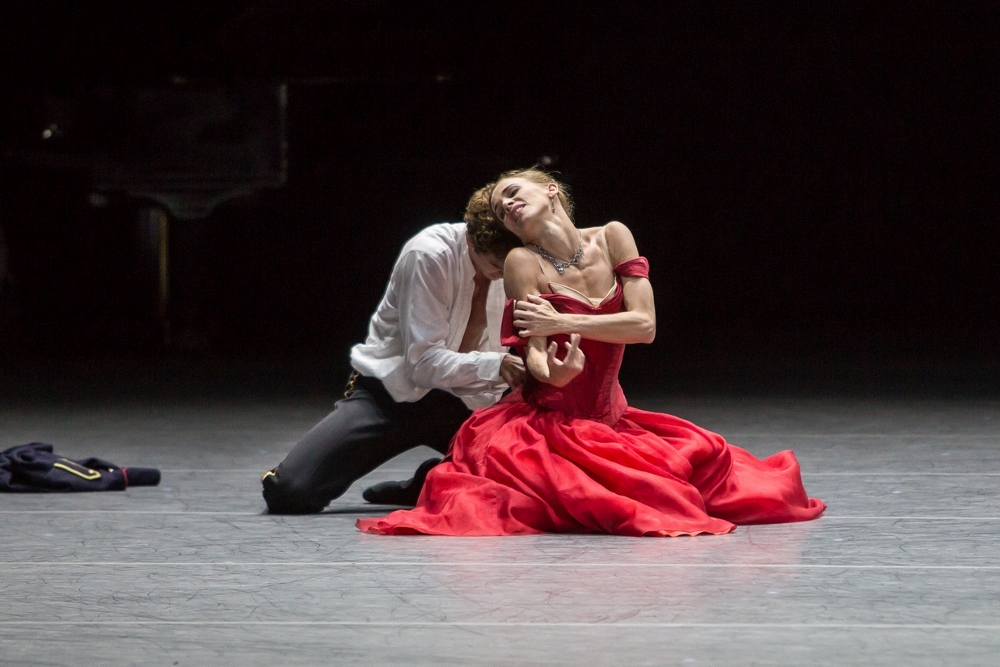 Christian Spuck's production of Anna Karenina for Ballet Zürich brings Tolstoy's novel to vivid life in a magnificent, visually opulent ballet, with a dramatic, compelling musical landscape. Last night's performance at the Israeli Opera was breath-taking in its beauty, the lavish period costumes with their ornate details set against the stark simplicity of the set evoked the feel of 19th century Russia as seen from a distinctly contemporary gaze. Tolstoy's tome is distilled into its emotional essence, revealing the turbulence and complexity of the characters and their circumstances.
There is no need to slog through the 800 or so pages of the novel in order to enjoy the ballet. Whether or not one is familiar with the novel has no bearing on one's understanding or appreciation of this production. The story-telling is meticulous in its precision and clarity, its all there onstage. The opening scene sets the tone, with its somber tableau of formally clad women and men, all in black against the black background of an almost bare stage, set off by the white trunks of birch trees, and an old phonograph. The movement is spare, solemn and almost ceremonial. A soldier appears in the midst of this stiff, social scene, his blue military coat open, his whole being exuding virility and vigor. No further explanations are required, it is clear that Vronsky is a breath of fresh air in these suffocating surroundings. Who wouldn't succumb?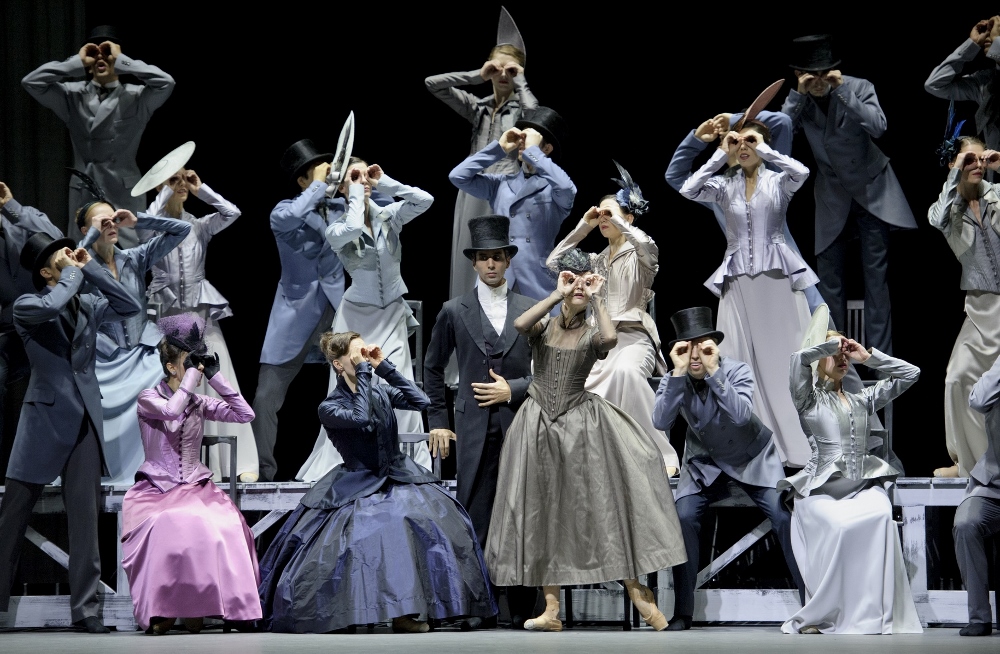 The soloists were spectacular, yet the strength of the ballet, may be found in the expressive performance of all the dancers and their proficiency in conveying emotions through the smallest of gestures. When landowner Levin dances with Kitty, it is merely a charming social dance. Yet when Kitty dances with her next partner, Vronsky, her entire being comes alive, her enthusiasm is palpable, as is Levin's dismay. The dancers in the salon are far more than ornamentation or a background for the main characters, their performance and appearance play a significant role in conveying the story's themes. The women's elegant costumes, with the elaborate sculptural folds of their bustles, and the shimmering pastels of the rich fabric, are in contrast to the simplicity of Kitty's pale blue dress; foretelling Kitty's future relationship to Levin and establishing the contrast that will be between the decadence and hypocrisy of city society and the purity of country life.  In their dance, which is lovely, they represent society and all it stands for.
At one point in this scene, the couples are posed around the stage, smiling at one another, almost frozen in mid-dance, yet making small, abrupt movements with their hands. It is the polite conversation of convention, the gestures referencing the mannerisms of society and the scripted, choreographed behavior that society demands. It is these kinds of moments, and there are so many of them, that give the ballet its rich layers of impact and significance.  Contributing to the musical palette of the ballet is the appearance of the singer Denis Uzun at key moments in the narrative – during Levin's despondence at Kitty's refusal, then again in the pastoral and sensual haymaking scene when Kitty comes to Levin, and then as Anna takes opium for the first time. The warmth and power of her voice magnify the scene, her presence much like a Greek chorus, a sense of something beautiful and mysterious that both expresses and transcends human frailty.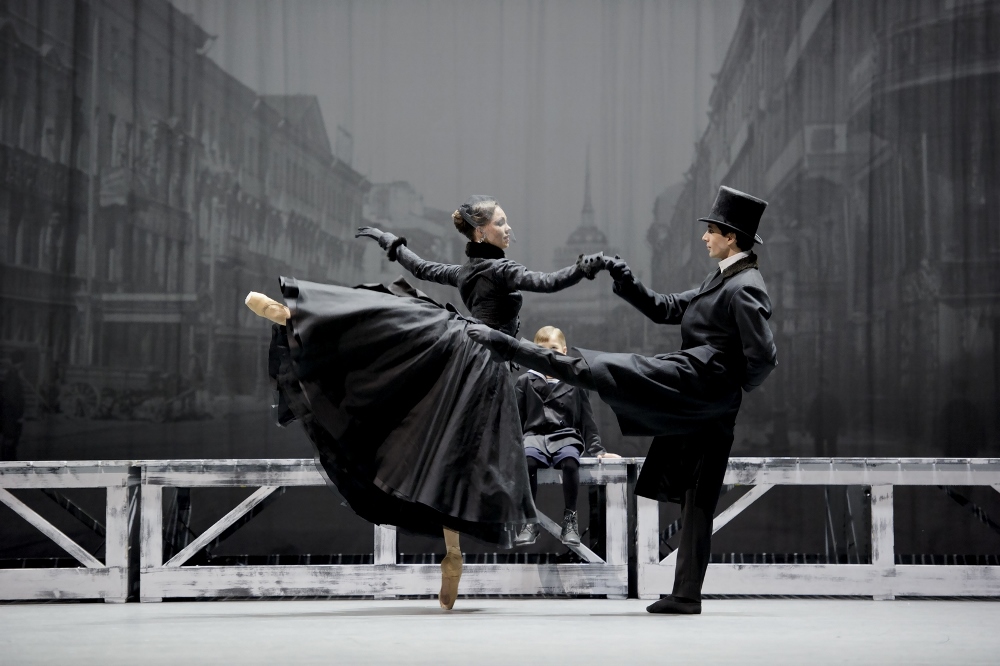 Never have I felt as much compassion for Anna Karenina as in Viktorina Kapitonova's striking, passionate, and nuanced performance. When she dances with Alexei Karenin (Filipe Portugal), their movements are formal, measured and precise. The impact of her dance with Vronsky (William Moore) is immediate and powerful – it is clear that she is experiencing an attraction and a passion that she has never felt before. At first hesitant, drawn to him yet reluctant to give in to those feelings, she soon flows into the sheer pleasure. Sadly, love does not conquer all, but art has a wonderful way of transforming suffering into beauty.
Anna Karenina
Choreography: Christian Spuck; Music: Rachmaninoff, Witold Lutoslawski, Sulkhan Tsintsadze, Josef Bardanashvili; Set Design: Christian Spuck, Jörg Zielinski, Costume Design: Emma Ryott; Lighting Design: Martin Gebhardt; Video: Tieni Burkhalter.
Performances:
Wednesday, June 27th at 20:00; Thursday, June 28th at 20:00; Friday, June 29th at 13:00; Saturday, June 30th at 21:00.
Ticket prices range from 249 – 399 NIS and may be ordered online from the Israeli Opera website. http://www.israel-opera.co.il/eng/?CategoryID=846&ArticleID=2611